By
George Ankers
Much was expected of
James Rodriguez
as
Colombia
faced off with
World Cup
hosts
Brazil
. The Monaco star had been arguably the single stand-out player of the tournament so far, with goals in every match as Jose Pekerman's men cruised into the last eight.
With the majority of the crowd against his side for the first time, James needed to step up if Colombia were to emerge triumphant.
Goal
examines how he did and what the future holds for this special talent...
PERFORMANCE AGAINST BRAZIL
It was billed as the clash of the No.10s between James and Neymar and the Colombian must certainly have felt singled out. It became clear fairly quickly that Brazil's plan to nullify the Monaco man's significant threat was to kick him relentlessly and he could hardly find space to work without getting a clattering from someone in yellow.
Despite that, James was able to express himself a little but it looked very much like he was a level above that of his team-mates, the likes of Victor Ibarbo and Juan Cuadrado not catching onto his ideas quickly enough for them to go smoothly. But he could not risk going it alone because of the Brazilian wolf-pack constantly chasing him so had to rely on his team-mates, who could not match him.
There was some extra frustration, too, as it was his foul that gave away the free kick from which David Luiz scored the magnificent second goal.
His game changed, however, when he burst into the penalty area and forced Julio Cesar to foul him for a penalty. The Brazilian goalkeeper should arguably have seen red for his challenge but was outsmarted by James's spot kick as he staggered his run-up to force a dive. It was a deserved strike and one which ensured that James leaves the tournament with a goal in every game that he played.
Anyone would make room. Real Madrid, the most likely suitors, would probably need to sell Angel Di Maria in order to justify the move and James would surely suit a similar role as the most advanced of a midfield trio behind Los Blancos' fearsome forward line.
Ideally, you would want a team built around his vast talent in the No.10 position and perhaps only Madrid - and their Clasico rivals, Barcelona - can boast squads where it would be difficult to fit him into such a position.
With Oscar having had a somewhat difficult second season in English football, Chelsea might well dream of accommodating James with Cesc Fabregas behind him and Diego Costa ahead of him, while Eden Hazard wreaks havoc to his left, though even the Blues are unlikely to be able to shell out the required money to engineer such a switch after having already been so free-spending so far this summer.
WHAT DOES THE FUTURE HOLD?
At any rate,
James does not see himself playing in the Premier League any time soon, explaining that La Liga suits his technical style a little more
than the frenetic physicality of English football.
Madrid are the team credited with the most interest in Spain and look the likeliest of anyone to tempt Monaco with a huge bid - and it would have to be huge as
the principality club have no desire to sell
. Politically, it might be tempting as Barca are set to beat them to the massive signing of Luis Suarez from Liverpool.
James's father has indicated that his son's preference would be to play for Madrid
, too. If the Colombian is to go anywhere this summer, it would likely be the Santiago Bernabeu but the smart money is on him staying where he is for the time being at least. Monaco have a date with the Champions League.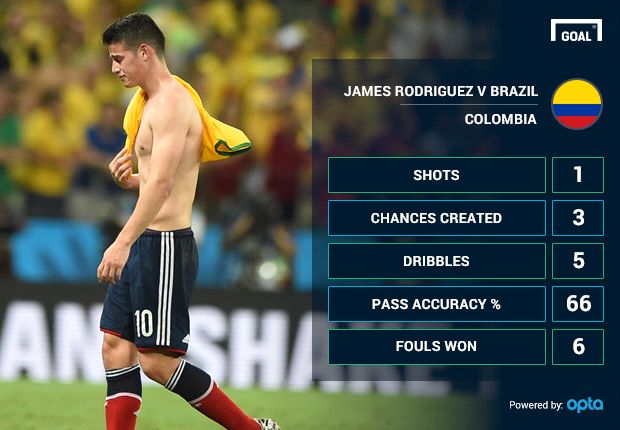 Follow George Ankers on