By George Ankers
Dear Mario,
It is with a heavy heart that we watch you leave Manchester City to join AC Milan.
The Premier League does not and has never lacked for great players. Perhaps, if all of them were fastidiously compared and ranked, you might not make even the first page.
But true characters, men who take on an identity greater than themselves, are much rarer.
For some City fans, perhaps the doubt over which Balotelli would turn up to any given match was too frustrating, too risky, for them to be sad to see you go. But, for the neutral, that is what made you so compelling.
MARIO'S BEST CITY GOALS

v ASTON VILLA


Oct 15, 2011

Adam Johnson's corner bounces off the sizeable chest of Micah Richards and into the path of Balotelli, who, with his back to goal, shows fine improvisation to knock a bicycle kick past Shay Given. It sends City on their way to a 4-1 victory

v MANCHESTER UNITED




Oct 23, 2011

City punch through United's right flank as James Milner takes the ball towards the byeline and cuts back into the middle. Balotelli is waiting to guide the shot into the corner before turning and displaying his 'Why Always Me?' message all in the same movement. It kick-starts a legendary 6-1 mauling
v NORWICH CITY


Dec 3, 2011

The Italian does most of the work with his initial shot, blocked by John Ruddy but dropping behind the goalkeeper just outside the goal-line. With total calm, Balotelli follows up to finish by knocking the ball in with his shoulder
Predictability is the enemy of football as a spectator sport but, with you on the pitch, anything could happen.
Maybe you would lose your temper and turn the game against your own team in a flash of uncontrolled passion. Maybe you would lighten the tone by forgetting how to put on a bib. And maybe you would seize the match by the scruff of its neck with an authority that few other players can match.
There are few more stirring sights in football than Balotelli in the mood. At your best, you play the game like the fiercest bull in a Spanish fighting ring; raging across the field with an elemental fury, unwilling to bow to the mere men flitting around you, and only barely contained by the stadium's walls.
The enduring image of your time in the Premier League will certainly be the lifting of your top to reveal that famous 'Why Always Me?' T-shirt. But the reason why that picture became iconic is because you had so thoroughly earned it with the goal moments before.
As an excitable, bounding City side rampaged down the flank, you simply took position in the centre to receive the pull back, aimed precisely into the corner and kicked with precisely the power required to get it there before David de Gea. No more, no less. It was ice cool; even more so for the nonchalant turn on the spot and reveal of your message.
All your best goals have the air of a man who is bored by how good he is and scores only to prove as much. As if the opposition were insolent for trifling you with such an easy chance. The finish with your shoulder against Norwich City was the high point of this breathtaking arrogance.
More than anywhere else, the penalty spot was where you proved that you merited the arrogance. Matt Le Tissier's record remains unchallenged but not even he dominated the box with the ball on the spot like Balotelli.
RETURN OF THE FIRESTARTER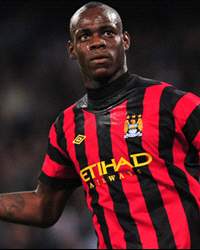 COMMENT: The return of such a compelling and explosive player brings back some of the spotlight that Serie A had lost, writes Kris Voakes


Your total, unflinching confidence from 12 yards was mesmerising and bailed City out on two particularly memorable occasions.
Once, with the final act of a sensational game against Tottenham in which you probably should have been sent off for stamping on Scott Parker. The sense of controversy that you were still on the pitch to take the vital kick was palpable and would have defeated some men but you dispatched it as ruthlessly as ever.
Then, in the ultimately doomed Champions League campaign of 2012-13, given a contentious penalty and a chance to earn a draw against a Borussia Dortmund side who had torn City to shreds for 90 minutes. Again, not a hint of pressure showed. The goal was never in doubt.
That ice-man persona on the pitch would have been enough on its own to ensure a cult following in England. But what really made you a phenomenon were the hints of a contrasting man off the field.
The fireworks, of course, were the most prominent episode, but being caught by television cameras practising magic tricks in the club box was a delightful quirk.
Being sent by your mother to John Lewis for an ironing board but instead returning with a quad bike, Scalectrix and a trampoline. Posing in a camouflage-pattern onesie. Compared to what some footballers are revealed to be getting up to in their private lives, the vision of you as an eccentric man-child was and remains refreshing. That it was juxtaposed with your strong, silent on-pitch demeanour only made it more fascinating.
Your strange and complicated relationship with Roberto Mancini, who described you quite movingly on Tuesday as "like one of my children", furthered that.
Considering your performances for City over your final 12 months there, did the manager show too much faith in you? Perhaps. But we are glad that he tried.
You made it clear that you did not seek the attention but, like it or not, you are a showman. You play with a force of personality that makes people watch. Why always you? Who else? Edin Dzeko or Sergio Aguero may score as many and more goals as you did but they just are not the same.
Good luck at Milan. English football will not begrudge you the chance to play for the club you love but it will be a lot less fun without you around.
Follow George Ankers on