Interim
Chelsea
manager
Rafa Benitez
has hinted he would like to see additional transfer movement in January, observing that his squad has not been big enough to cope with the demands of this season.
The Blues boss feels that he team playing in eight competitions this campaign is starting to take its toll, with him unable to rest as many players as he would like for Sunday's FA Cup trip to Brentford due to the lack of options at his disposal.
"We cannot rest too many players because our squad is not that big in certain positions," Benitez told the press.
BLUES NEED DOMINANT FELLAINI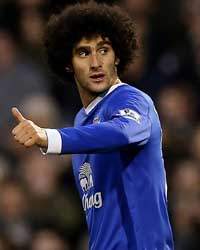 ANALYSIS: Liam Twomey explains why breaking the bank for the Everton star is the right move for Rafa Benitez's side


"I had a good conversation about this with the owner [Roman Abramovich] the other day. I gave my opinion, he listened to me, but I have to concentrate on the team.
"I have to play Frank Lampard and Ramires all the time because we have problems with injuries and suspensions and we have two players at the Africa Cup of Nations.
"We have had nine games a month since I came here and the players are a little tired.
"You can really see the difference when players are allowed to have a rest. When they have three or four days to recover they are fine. When they only have two they are not so good.
"The squad we have was successful in the past and as a result we have had more competitions this season. This season we have had to play extra games in Japan and Monaco. We have players at the African Nations Cup and we've had to cope with injuries to Lampard, John Terry and Oriol Romeu."
Benitez also argued that his side's new, more fluid style of play this season also means that it is important to have greater options in the squad, with the players not being the most physically blessed in comparison to the other top Premier League outfits.
"We cannot play long balls when we have Juan Mata, Eden Hazard and Oscar in our team," added the Spaniard. "Fernando Torres isn't a target man so we have to play the ball on the floor. We are a team that have to pass.
"You cannot change the characteristics of your players. Technically we are better than some teams but maybe they are physically stronger."