COMMENT
By Enis Koylu
In July 2010, there were few men in the world who would not have envied Wesley Sneijder. Fresh from leading Inter to a historic treble, he had almost single-handedly dragged Netherlands to the World Cup final in South Africa, and to cap it all, he was due to get married to actress Yolanthe Cabau.
That
Oranje
eventually lost out to Spain in the showpiece event would have undoubtedly been a disappointment to Sneijder, but it would not have been enough to take the gloss off what had been an extraordinary 12 months for the former Real Madrid man.
His decision to leave the Santiago Bernabeu had been emphatically vindicated. During his first year with the
Nerazzurri
, he had banished his reputation as a talent who had never quite delivered with a string of incredible performances.
Few
Interisti
will forget his feats. Right from his debut - a 4-0 win over AC Milan in which he starred - he looked right at home, and it continued in that vein.
He was the driving force behind Jose Mourinho's side throughout, scoring vital goals in the comeback wins over Dynamo Kiev and Siena - now considered key moments in their Champions League and
Scudetto
triumphs.
WESLEY SNEIJDER | ALL-TIME INTER STATS

MORE ON
WESLEY SNEIJDER


| | | | | |
| --- | --- | --- | --- | --- |
| Season | League Games | League Goals | Total Games | Total Goals |
| 2009-10 | 26 | 4 | 41 | 8 |
| 2010-11 | 25 | 4 | 39 | 7 |
| 2011-12 | 20 | 4 | 28 | 5 |
| 2012-13 | 5 | 1 | 8 | 2 |
| Total | 76 | 13 | 116 | 22 |
When they were facing Europe's elite, he was no quieter. When Inter travelled to Chelsea in the last 16 of the Champions League protecting a slender one-goal lead from the first leg, it was Sneijder who stepped up to the plate and helped them to a 1-0 win at Stamford Bridge.
When, in the semi-finals of the competition, they faced Pep Guardiola's all-conquering Barcelona side, Sneijder levelled the scores in the 3-1 first-leg victory at San Siro, which proved enough to see them through.
Fittingly, the final was at the Bernabeu, and the former Madrid man returned from injury to exorcise the demons that had haunted him at his old home. Diego Milito might have got the decisive goals in the 2-0 win over Bayern Munich that night, but there was no doubting who the star had been throughout the season.
Global recognition followed when he deservedly won the
Goal.com 50
.
Of course, Mourinho called time on his two-year spell in Italy that summer, and the success which Inter had enjoyed under the Portuguese soon disappeared.
A succession of coaches came and went at Inter, each trying to institute their own system. While 2010-11, under Rafa Benitez and Leonardo, was by no means a failure for Sneijder personally, the team floundered as they struggled to fill the void left by the now-Real Madrid boss.
His failed move to Manchester United that summer proved disastrous, though. Gian Piero Gasperini arrived from Genoa and attempted to implement his preferred 3-4-3 system in his new surroundings. Sneijder simply did not fit in.
With the star frozen out and the team struggling, the 54-year-old was promptly dismissed by Massimo Moratti, with Claudio Ranieri replacing him. Inter's form picked up temporarily, but soon enough they were back in the doldrums, and the tinkerman was soon shown the door.
As the team went through turmoil on the pitch, Sneijder was off it, nursing a series of niggling injuries. The star that had shone so brightly two short years before had now fizzled out.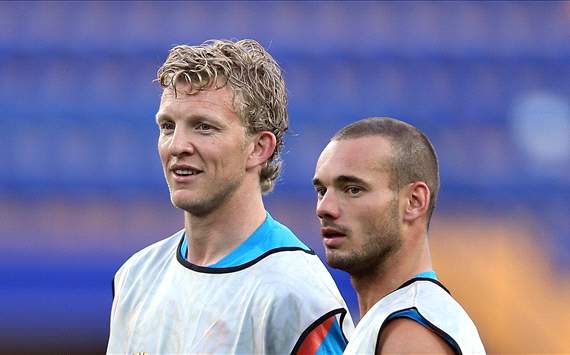 Double Dutch | Dirk Kuyt moved to Turkey when he could no longer compete in England
Things finally reached breaking point this season. With the club eager to prepare for financial fair play, Moratti was desperate for Sneijder to accept a pay-cut in order to stay put. He refused to, and was promptly frozen out of the team.
It was inconceivable in the summer of 2010 that so many teams would pass up the chance to sign a talent such as the Dutchman, particularly at a cut price. But so it was. None of Europe's big guns were willing to take a punt on a player on such astronomical wages with a dreadful record of injuries.
Galatasaray came calling for him, and his reticence to accept the Turkish champions' offer is telling - he was waiting for somebody better to come along. His eventual acceptance of their offer was, in essence, an acceptance that his top-level career was over.
While many big names, including Roberto Carlos, have elected to make the move to Turkey, it has been for one last pay day at the end of their career. Sneijder is 28 and simply has no other option on his hands.
The Turk Telekom Arena club can offer him Champions League football, a generous salary and legions of fans, but play in a league fraught with organisational difficulties and scandal. A league that ageing stars who are past their best often move to. He will not be challenging for Europe's top honours there.
In 2010, Sneijder was dealt a huge injustice when he did not receive the Ballon d'Or. Now, it seems, he will never have the chance to put that right.
Follow
Enis Koylu on