COMMENT
By Kris Voakes | Italian Football Writer
It was hardly regarded as the breaking of a state secret when Athletic Bilbao announced this week that their striker Fernando Llorente was in talks with Juventus over a summer Bosman free transfer. The Bianconeri's interest in the 27-year-old has long been obvious, and the Italian champions are still believed to hold some hope of bringing forward the Spain international's potential arrival by paying up to €7 million for his signature this month.
However, while the addition of Llorente to their squad would be a real statement of intent from the Old Lady, the need to continue aiming high is a great one. The 21-cap marksman would undoubtedly be the figurehead of a strike force which has underperformed massively in recent seasons, but one cannot shake the feeling that there is a further echelon of centre-forward from which Juve could select a true superstar if they so wish.
'STRONG, FAST AND COMMANDING'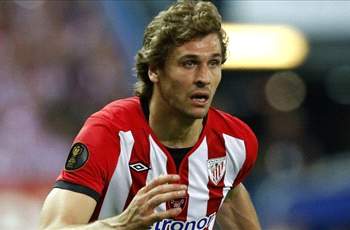 THE SPANISH VIEW ON LLORENTE

"Llorente was key to the fantastic form of Athletic Bilbao last season, scoring a career-high 29 goals as the Basques reached the final of the Europa League and the Copa del Rey in Marcelo Bielsa's first season as coach at San Mames.
"But Llorente delayed over a contract offer in the summer and began to doubt his future at the club, particularly after team-mate Javi Martinez joined Bayern Munich in a big-money deal. Llorente, like Martinez, has had problems with Bielsa and has seen himself sent off in training this term, as well as being forced to spend much of the campaign on the bench. At 27, he is also keen to play Champions League football, something he believes he is unlikely to fulfil at Athletic.
"A traditional and old-fashioned centre-forward, Llorente is strong, fast, commanding in the air and with a fierce shot. A World Cup winner and European champion with Spain, he received an ovation at Real Madrid recently and has attracted interest from numerous clubs across Europe. Once his head is back and focused firmly on football, he'll be a superb signing for his next club."
Ben Hayward, Goal.com's Spanish Football Writer.

The Scudetto holders may well get a great deal of success out of Llorente, but they are not a club that needs to sell themselves short. Money is always a factor, but with regular sell-outs at Juventus Stadium, newly-added Champions League funds, and their standing as one of the most marketable club histories in the game, the Bianconeri have no excuse not to compete for the signings of players like Edinson Cavani and Radamel Falcao if they really want to aim high in Europe.
There are other options too, with the likes of Robert Lewandowski and David Villa also potentially on the market, with each offering attributes which Juve would do well to add to their locker. The likely arrival of Llorente gives them a boost, but a forward line which was led in the goals column by Alessandro Matri's 10 strikes last term needs more than that in the longer term.
Goals from midfield are all well and good, but in tight games on the big occasion, the central department have more to do than just steamroller weak opposition, and it is on these nights that Juventus sometimes need to show they have more power to their arm. Mirko Vucinic adds flair, but is now eight years removed from his last and only 20-goal season. Sebastian Giovinco also shows creativity, but he too is not a heavyweight supplier of goals.
Llorente's skill-set fits well with what Juve lack, with his ability in the channels matching his qualities in the air and in physical combat, but he is yet to play Champions League football, and few can calculate what a player can offer in that most prestiged of tournaments before he has had the chance to prove it for himself. There is no guarantee of goals from any player, of course, but then that is why the Cavanis and Falcaos are so highly-valued.
The move for Llorente feels like a great January signing. A player of obvious quality who is not having a great time with his current club, could add a big boost to his new side, and could use the remaining five months of the season to give the management pause for thought ahead of the full summer transfer window to come. But a figurehead summer signing? Maybe not.
A club like Juventus holds great sway in the market, and if they play their cards right they can ensure that Llorente is only the start of their renovation up front. Having put together a midfield and a defence of several differing attributes in recent times, now is the time to do the same with their strike force.