COMMENT
By Kris Voakes | Italian Football Writer
"Bendtner is not the high-profile striker we were hoping to sign, but it's a chance we had to take in a difficult market like this."
So said Juventus director general Giuseppe Marotta in August after the Bianconeri ended a summer-long search for a top-class striker with the loan signing of a player who had become little more than a laughing stock in the English Premier League.
And things haven't got any better for Nicklas Bendtner since he first donned the black and white shirt of Juventus. With just 323 minutes of Serie A football under his belt, he now finds himself ruled out for at least three months after sustaining a tendon injury in the Coppa Italia victory over Cagliari on Wednesday.
But Juve have basically got what they deserved from the Bendtner deal. Marotta's admission that the Dane was not a player they really wanted in their squad should have been more than enough to stop them taking the 24-year-old on in the first place. A club boasting Mirko Vucinic, Sebastian Giovinco, Fabio Quagliarella and Alessandro Matri in their ranks needed an addition of attacking quality, not quantity, and Bendtner was never going to give them what they were after.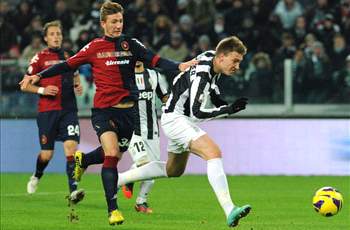 "Bringing in a fifth-choice striker was one of the most clueless, aimless moves in any transfer campaign"
Having never managed to score 10 goals in a single top-flight season, Bendtner was hardly the hot-shot centre-forward that Antonio Conte's side lacked in 2011-12, and a summer full of pursuits for the likes of Fernando Llorente, Stevan Jovetic and Edinson Cavani should have borne much more flavoursome fruit. What Juve got was little more than a booby prize.
The result – even before his midweek injury misfortune – was the realisation that the Bianconeri will again be spending the entire transfer window next month looking for something better. Llorente and Robert Lewandowski are at the top of the list of players towards whom the Old Lady is sending amorous glances, but they must be careful not to waste money and time on another filler if they don't get the man they really want.
It is not the attitude of champions to simply take the dregs from what remains at the end of the transfer window; rather they should be looking to buy better than what they already have. Bringing in somebody who was always likely to end up as a fifth-choice striker came across as one of the most clueless, aimless moves in any transfer campaign, and that is exactly how things have developed for Bendtner at Juventus.
With his height, he should be capable of causing problems, but too many of his headers lack direction and end up being wasted. His movement is slow and laboured, his intelligence less than noteworthy. Whatever qualities Juve saw in him, he has not been able to deliver any of them so far.
The Serie A leaders must now show that they have learned from what has been an unmitigated disaster of a loan signing. If they can't get Llorente and Lewandowski, then they will be better off getting nobody at all than making a useless panic buy similar to that which saw Bendtner arrive. Fans and pundits will often cart out the phrase "anybody would be better than nobody" but the 24-year-old's desperate season is proof that that is not the case.
And it is not as though this opinion comes with the benefit of hindsight. This is the same player who was once admonished by Arsenal team-mate Emmanuel Adebayor for a feckless performance in a cup game which forced the Togolese striker into action when he'd been expected to have the night off. Bendtner has become known in several quarters for not having the game to back his bravado, and Juve's decision to take him on was basically a re-run of the episode which ended with Marco Borriello spending five months in Turin.
Bendtner will now undoubtedly spend the large majority of the next three months under the watchful eye of Arsenal's medical team as he makes his way back to fitness, but if Juventus have any of their wits about them they will ensure that this is a perennial arrangement. They have the option of making the Dane's move permanent at the end of June, but surely there is not a single person in the world that can give a compelling argument for such a step. A decision that always looked ridiculous – even to the man who made it – must be reversed sooner rather than later.
Follow Kris Voakes on