Kick-Off: Tuesday, July 27, 2010, 16:00 CET.

Louis Villemer, Saint-Lo, France.
Favourites for the final
Going into the final round of action in the group stage on Saturday, Spain were the only nation guaranteed of a place in the semi-finals of the UEFA Under-19 Championship. With two wins out of two in Group B, the Iberians had secured qualification to the last four.
Nevertheless, Spain carried on their winning momentum on Saturday as they defeated Italy 3-0 to maintain a 100 per cent record in the tournament. The talking point of the match, however, was Ezequiel Calvente's marvellously executed
'switch hit' penalty
.
Arguably the most impressive team in France, la Rojita have been peremptory in the competition and will start as favourites against England on Tuesday afternoon. After their win against the Azzurrini on Saturday, Spain coach Luis Milla expressed his delight at having bagged yet another victory, but added that they need to carry on winning.
Milla told
Uefa.com
: "We made some changes to our starting line-up for various reasons but the guys who came in wanted to give a good account of themselves. It was important that we kept our momentum going.
"We were always positive out on the pitch and there are really good vibes within this group. I didn't know Ezequiel Calvente could take a penalty like that to be honest. He's full of confidence and joined us in great form.
"We received a great reception from the supporters here. We need to work hard and continue on the same path."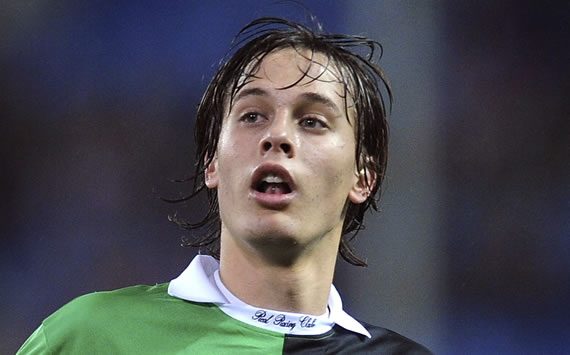 Narrow escape
England finished runners-up in Group A but only just. Noel Blake's side drew 1-1 with France in their final group game after coming from a goal down, while the Netherlands, who were expected to go through along with France, finished bottom of the group following a 1-0 defeat to Austria after Luc Castaignos twice hit the crossbar for the Dutch.
England had started the European Championship campaign with a 3-2 win against Austria but went down 1-0 to the Netherlands in their second game. However, the performance against the French in their final match pleased Blake and has given him a new target.
He told
Uefa.com
: "We're obviously very pleased. At a tournament like this you come with certain objectives. Our main one was to qualify for the World Cup. The second was to qualify for the semi-finals. Now we have a new one and we'll see how that unfolds."
Blake also hit back at English football's detractors and said that the U-19 team's progress shows that the Three Lions do produce talented footballers.
"I have had a bellyful in the last few weeks of people saying young English footballers aren't good enough and can't play football the right way," Blake told
The Independent
.
"We have got some good young players in our country. We know we're lacking in depth, there's no question about that, but I don't think we praise our own players enough.
"As a nation, we're very good at telling people what they are no good at and what they can't do. Sometimes we need to highlight what we are good at and what we can do. Because if you keep telling people they can't do something, they end up believing it and, no matter who they are, their confidence will drop. That's just human nature.
"The more you tell people what they are good at – and be honest with them – the more they will start to believe it. I'm not saying my players are the finished articles. They all need to improve and we know that. But we have got some decent players and it's time people acknowledged that."
A tough test against Spain awaits for the English on Tuesday afternoon.