RIP Paul the Octopus (alt. 'Paul Oktopus', 'Pulpo Paul', 'Paul der Kracke')
What can a mere octopus achieve in just a two year life-span?
It is a question of mortality that has held back millions of other eight-tentacled Cephalopods from ever attempting to achieve anything; but in his short time on Planet Earth Paul the Octopus showed that if you reach for the stars, you may at least land on a mussel.
MORE...
Octopus vulgaris
, there was nothing really vulgar about the young Paul, and staff were sad to see him leave after his initial period of quarantine ended.
"He didn't show any special abilities while he was here for his eight weeks of quarantine, but that's probably because we didn't have a chance to give him the opportunity," senior aquarist Matthew Fuller told the
BBC
in a summer profile of Paul, while at the height of his fame.
"Octopuses are the most intelligent of all invertebrates, so it's not a shock that Paul turned out to have such impressive skills."
It was at his second home, at another Sea Life aquarium in Germany, that Paul would finally show the world his talents. Euro 2008 was his coming out party, as he correctly predicted the winner in four of Germany's six Euro 2008 matches (only erring for a group game against Croatia and the final against Spain).
But Paul himself would admit he was young and naive in those days — rather like a young Pele in the 1958 World Cup — and it wasn't until this summer's World Cup in South Africa — effectively Paul's Mexico 1970 — that he would really make his mark on the wider world.
Observers at the Oberhausen Sea Life centre say his preparation for the summer tournament was unremarkable, that he rarely left his tank and never studied form guides or watched any of the pre-tournament friendlies. But when it came to the main event, he was ready and raring to go.
He correctly predicted all of Germany's group results — including a surprise defeat to Serbia — and spotted the talent within Joachim Loew's side to correctly back them to make it all the way to the semi-final. That included difficult decisions against Argentina and England, the country of his birth, a decision insiders admit was one he found very easy to make. "He'd seen Matthew Upson enough to know how that train wreck was going to turn out," his carer reportedly noted.
Like all famous thinkers, Paul would soon face a backlash from opposition fans unhappy at his accurate judgments. He would eventually face the same vitriol from his own previously adoring German public, after going out on a mussel to predict Spain to beat them in the semi-finals.
Threats were made against his life after his prediction proved to be correct, with various Facebook statuses reported as saying, "Paul the Octopus is Sushi tomorrow morning!", "That bloody octopus should be killed, cooked and eaten...!!!!"
He would even become the subject of criticism from Iranian president Mahmoud Ahmadinejad, who accused him of spreading "western propaganda and superstition."

Defining moment | Paul makes the decision seen around the world
But, to his eternal credit, Paul didn't shy away from such threats and continued to make his brave predictions. He correctly identified Germany as likely too strong for Uruguay in the third place playoff, before taking on one final prediction — the final itself.
He picked Spain. It would prove to be a masterstroke.
After all, it was around this time that Paul faced some unlikely competition, as Singapore's own Mani, 'the psychic parakeet', reportedly correctly predicted five straight results leading up to the final. But the bird was exposed as a fraud after picking the Netherlands to win the final, leaving Paul to assume his rightful place among the animal kingdom's most revered academics.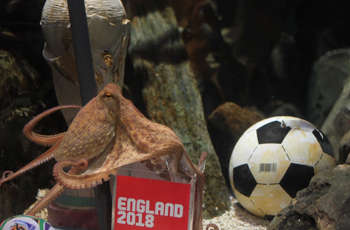 "His success made him almost a bigger story than the World Cup itself"


Fame became too much for Paul, however, who opted for retirement soon after Iker Casillas lifted the famous trophy, but could not extracate himself from the high life he now found himself in. He gorged himself on the mussels that had previously been his main weapon, and he became harder and harder to deal with.
"He turned his back on a lucrative career on the after-dinner speaking circuit," one observer may or may not have bemoaned. "It was like how I imagine watching Elvis in his final years was."
Eventually, such excess caught up with him, and Paul suddenly died on October 26 of natural causes. He was two. He left no heirs, no one to continue his predicting legacy. Euro 2012 — let alone World Cup 2014 — will be a minefield without him.
"His success made him almost a bigger story than the World Cup itself," Stefan Porwoll, manager at Oberhausen, said afterwards.
"We may decide to give Paul his own small burial plot within our grounds and erect a modest permanent shrine."
His shrine might be modest, but his legacy certainly won't be. His final public act was to officially support England's World Cup 2018 bid. It would surely only be fitting that such a final prediction eventually came true — it is only too bad he will not live to see it.
So long, Paul. You are an inspiration to octupuses (octopii?) everywhere. The ink will run dry on this obituary, and within your own body, long before the jokes do.