In our World Cup Comment series, individual writers at Goal.com offer their views on the hot World Cup topics of the day with local expertise and a global outlook...
The South American challenge in 2010 can be neatly summed up in one overused phrase: so near, and yet so far. The continent made history by sending four teams through to the last eight; only to see all four eventually cut down by European opposition and sent packing.
In this final look at how South America fared in South Africa we will see which teams lived up to the wishes of their fans and were greeted with fireworks and confetti; and which slinked into the airport and sneaked out through the back door to avoid the rotten tomatoes. We will also take a look at which players wowed the world; and who would have been better off staying home and watching on the TV.
Argentina: Defeated but apparently not down
Diego Maradona's boys could have been forgiven for anticipating a rough ride on their return to Buenos Aires. Widely tipped to be in the thick of a title challenge, the Albiceleste were instead unceremoniously dumped out by Germany in the quarters, with 'El Pelusa's' kamikaze tactics mooted as the primary reason.
The Albiceleste were perplexed then on landing, when 15,000 overjoyed fans turned up with fireworks, tickertape and blue and white stripes by the bucketload to thank the team. Argentina may not have won the tournament or even come close, but by being one of the few teams to risk everything in attack throughout a tepid World Cup allowed fans to overlook the rather pitiful end to their campaign.
Star Man:
A difficult gong to give out, as none of the incredibly talented stars in the Argentina side really hit fifth gear to stand out.
Carlos Tevez
gets my shout overall though; for sheer work rate, tenacity and for also being one of the few able to strike the cursed Jabulani.
Weakest Link:
Calamitous against Korea, fortunate against Greece and downright non-existent against Germany,
Martin Demichelis
had a horror show in South Africa after a host of personal errors. 'Micho', however, was merely the worst of an entirely poor defence, from which no-one emerged with much to shout about.
Brazil: Booted out and Boring

South American audiences can be a very fickle and unpredictable bunch, with the style of play just as important as the overall result. Get thrashed with a suicidal attacking plan and you will get a hero's welcome, a la Argentina. Lose narrowly with a dull, negating philosophy and you will become public enemy number one - just ask Dunga and his Brazil squad.
Dunga gambled everything on winning, sacrificing the
Jogo Bonito
in favour of a tight, physical counter-attacking game. When this failed it was inevitable fans would turn on them. It is one thing to lose in Brazil playing nice football - just look at the esteem and fondness the 1982 squad are held in. I wouldn't bet on Felipe Melo, Juan and Nilmar being remembered with the same affection 30 years later.
Star Man:
In a tournament where very few Brazilians did anything to endear themselves to the world, Inter's
Maicon
was one man who looked right in the canary yellow shirt. He bombed down the right-hand-side, put in some great set-pieces - and a wonder goal against North Korea in the first game will go down as one of the highlights of the tournament.
Weakest Link:
A lot was expected of
Kaka
, who was supposed to be the creative genius in an otherwise pragmatic and physical side. Unfortunately the playmaker carried exactly the same indifferent form to South Africa that he demonstrated all season in Madrid, and was a petulant lost boy as he was outclassed by Real rejects Wesley Sneijder and Arjen Robben in the Selecao's quarter-final defeat.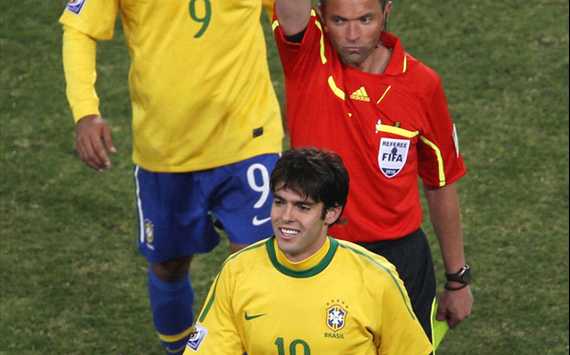 Seen off | Kaka was harshly shown a red card but failed to impress in South Africa
Chile: The Loco took over the asylum and we loved it

In the actual tournament Marcelo Bielsa's Chile reached a very creditable last 16 slot, but their contribution to attacking football and the wonderful antics of 'El Loco' will be remembered much longer than their final defeat against Brazil.
Refusing to listen to those preaching safety-first, Bielsa pioneered a cavalier 3-3-1-3 formation which meant constant pressing and all-out attack; an approach which ensured a hero's welcome back in Santiago. The welcome committee included the current president and numerous ministers to hand out the plaudits - something you can't quite imagine occurring in London when fellow last-16 losers England returned home.
Star Man:
Although it was the attacking boys who grabbed attention, such a forward-looking philosophy needs a solid base. They don't call
Gary Medel
the 'Pitbull' for nothing. The defender was immaculate throughout the group stages as Chile's net was only breached by future champions Spain. He was then suspended and sorely missed in the next game as a reshuffled Chile succumbed to Brazil.
Weakest Link:
All the blame cannot be laid at the feet of half-fit target man
Humberto Suazo
for Chile's incongruously low goal count but a fair bit can. The Zaragoza player was top scorer in CONMEBOL qualifying, but missed a hatful of chances in South Africa and left with a grand total of zero goals. Very disappointing.
Paraguay: Proud finish for tearful Guaranies

Gerardo Martino's side did not show the same attacking panache, comfort on the ball and creativity as Argentina and Chile; but they made up for it with an incredible team spirit and defensive fortitude.
The Albirroja did themselves proud in reaching the quarter-finals for the first time ever, and could even have stolen the game against eventual champions Spain. Not the best South American side, certainly not the most attractive but without doubt one of the most cohesive and effective, and they should be well-placed for next year's Copa America.
Star Player:
The Guarani solidity was built on strength through the centre, typified more than anyone by
Cristian Riveros.
The midfielder worked tirelessly to win the ball in the middle of the park, and a goal against Slovakia also showed that he was no slouch in getting forward either.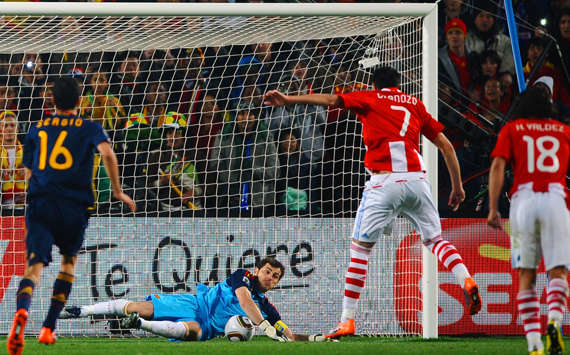 Paying the penalty | Oscar Cardozo's missed penalty proved costly for Paraguay
Weakest Link:
All of the Paraguay forwards were guilty of squandering chances at one point or another, but perhaps the biggest culprit was
Oscar Cardozo
. Coming into the World Cup after a great season with FC Porto, the forward was anything but razor-sharp in front of goal, the nadir coming in his tearful exit from South Africa after missing a penalty against Spain. He will be back though.
Uruguay: After 40 years (Sky) Blue is once more the colour

Uruguay are football's perennial overachievers, and the country with roughly the population of Wales proved it once more in 2010 with a deserved semi-final appearance. It certainly wasn't without its controversies, and it could be a while before Luis Suarez is invited on a visit to Ghana; but a sturdy defence, tenacious midfield and no shortage of great attacking talent meant that the Celeste left South Africa with great pride.
Star Man:
No question about this one, as
Diego Forlan
also walked off with the Golden Ball officially naming him player of the tournament. The Atletico Madrid star absolutely revelled in his role playing off two strikers; and a joint-highest tally of five goals included a trio of absolutely beautiful long-range finishes.
Weakest Link:
In such an accomplished team there were no real weak links - although most English fans would point out a certain linesman compatriot with an apparent inability to see a ball cross a line.
Alvaro Pereira
was one of the few relative disappointments, as the winger failed to inject real width and pace into a sometimes static Charrua attack.