Anthony Annan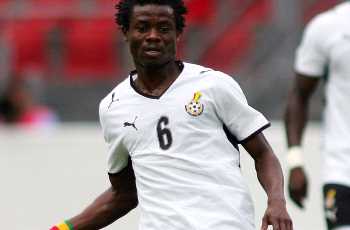 Country:
Ghana
Current Club:
Rosenborg
Age:
23
Position:
Midfield
Linked With:
Chelsea, Manchester United, Olympique Lyonnais, Genoa, Bologna
Ghana's Black Stars were the pride of Africa at World Cup 2010 and a good deal of their success revolved around the steady bedrock provided by John Mensah, Isaac Vorsah and the Rosenborg midfielder, Annan.
That trio allowed the likes of Andre Ayew, Kwadwo Asamoah and Asamoah Gyan the freedom to go forward by giving steel and security on the halfway line. The 23-year-old's passing was exquisite and his tackling crisp.
It is hard to imagine that he will resume his season in Norwegian Tippeligaen after an outstanding campaign in South Africa. A host of Serie A and Premier League clubs have been credited with interest. The player himself is 'unfazed' by the rumours so far this summer.
Michael Bradley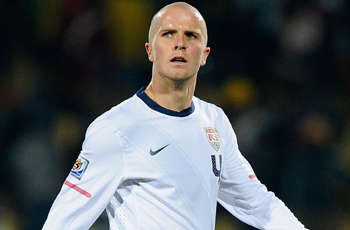 Country:
USA
Current Club:
Borussia Moenchengladbach
Age:
22
Position:
Midfield
Linked With:
Everton, Blackpool
Landon Donovan may command the column inches for Team USA but there can be no doubting that the coach's son, Bradley, is the man who makes the United States tick.
Nominally a ball-winning midfielder, the 22-year-old has far more in his locker than simply tackling. He is an accurate passer who times his forward runs well. Moreover, he has a winning personality and drive.
The former Heerenveen man is about to start his third full season at Bundesliga team Borussia Moenchengladbach, for whom he is a starter after resolving an early season row with the trainer, Michael Frontzek, last term, but has been linked with a Premier League move.
Egido Arevalo Rios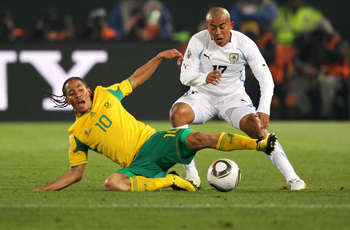 Country:
Uruguay
Current Club:
Penarol
Age:
28
Position:
Midfield
Linked With:
Cagliari
With the help of a Peruvian businessman, a deal between the 28-year-old holding midfield player and Italian Serie A side Cagliari looks almost complete. A fee of £2 million, with compensation for Penarol, is in place.
Arevalo was a relative newcomer to the international scene before the World Cup but established himself as a formidable presence alongside the excellent Diego Perez in the heart of a combative midfield. A true World Cup find in the sense that he was more or less unknown outside his home continent before the finals.
Keisuke Honda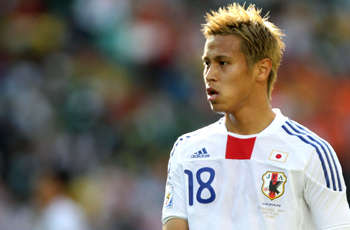 Country:
Japan
Current Club:
CSKA Moscow
Age:
24
Position:
Attack / Midfield
Linked With:
Real Madrid, Arsenal, Liverpool, Tottenham Hotspur
The CSKA Moscow star was Japan's standout performer at South Africa. For the Blue Samurai he plays as the named centre-forward instead of his regular station as attacking midfielder, which he occupies for his club side. He was a scorer of three goals en route to the knockout rounds at the World Cup and provided one of the assists of the tournament for Shinji Okazaki against Denmark.
Honda only signed for CSKA from VVV Venlo in January in a £5m deal but has made sounds about moving on to one of the more prominent European leagues in the near future.
Mauricio Isla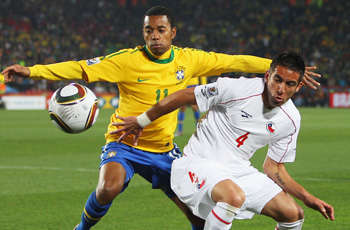 Country:
Chile
Current Club:
Udinese
Age:
22
Position:
Defence / Midfield
Linked With:
Milan, Roma
The versatile Chile right-sider barely featured for Udinese last season, playing only half of his club side's Serie A games. However his campaign in South Africa will surely have piqued interest from potential suitors.
The 22-year-old is capable of filling a variety of positions and featured for Marcelo Bielsa at right-back, right-midfield and centre-midfield throughout the group stages and second round. The Universidad Catolica graduate is an intrepid sort who is more comfortable attacking than defending and often finds himself as the furthest man forward.
He demonstrated at the World Cup that which he has failed to do in three seasons in Italy; namely that he is a player of immense potential and dependable when given his opportunity.
Fabio Coentrao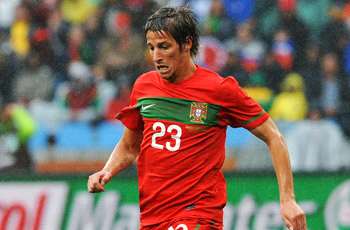 Country:
Portugal
Current Club:
Benfica
Age:
22
Position:
Defence / Midfield
Linked With:
Chelsea, Manchester City, Real Madrid, Bayern Munich
No stranger to observers of Portuguese football, Coentrao nonetheless only made his international debut in November 2009. The 22-year-old is more adept at playing left-wing, but featured for Carlo Queiroz's side at left-back throughout the games in South Africa.
2009-10 was a landmark season for the former Real Zaragoza player, who won the Portuguese Liga Sagres, the Portuguese Cup and the Breakthrough Player of the Year award; as such, his stock has risen manifold. Chelsea are thought to be among the clubs monitoring his progress.