Taking on the duty of coaching a winning team comes as a double-edged sword. On the one hand, the job can be thought of as initially straightforward: the team is already functioning as it should and established players are already performing successfully within a defined system. All one must do is take the wheel and remain true to steering in the same direction.
On the other hand, the expectations are very high, with the previous successes serving as a precedent to be improved upon, and over the long term, it becomes more and more difficult adapting new players into the already-established squad, cycling older players out of the squad, and maintaining the winning standard that has won so much praise.
It was this situation that Spain coach Vicente Del Bosque faced after taking over for the retired Luis Aragones in the wake of La Furia Roja's historic Euro 2008 championship. While many viewed Del Bosque as a brilliantly capable coach, having already won La Liga and Champions League titles at club level, the new coach was largely branded as the beneficiary of much of Aragones' hard work in developing the unique one-touch passing, possession-style of play that Spain had developed on the way to ruling Europe.
The core of the Roja ranks was largely set and the team's tactics needed few adjustments (at least initially). But where Del Bosque was set to truly make his impact on the Spanish national team was in his ability to create a
piña
; a Spanish term that literally means 'pineapple', but figuratively references a close-knit band of brothers, resembling the tropical fruit's close bunching.
A soft-spoken, unassuming man who rarely wears his emotions on his sleeve and frequently stays far from the limelight, the Salamancan coach remains a master of diplomacy. Despite his traditional Castilian background, Del Bosque is a man of progressive ideals and excels in bringing people together to create a sense of pluralism in his teams. It was this quality in particular that allowed the coach to blend a squad of players from across Spain's diversity of semi-autonomous regions and create the first Spanish national team that actually played like a team at the World Cup. And where this work was particularly notable was in Del Bosque's management of the historically volatile Barcelona-Madrid narrative.
Parting with some of the old guard that helped Spain win the European crown (Marcos Senna and Dani Guiza, among others) and rejuvenating the team with some blossoming talent (Pedro, Pique, and Busquets), Del Bosque brought a team of seven Catalans (Puyol, Xavi, Pique, Fabregas, Busquets, Valdes, Capdevila), six Castilians (Casillas, Reina, Iniesta, Torres, Mata, Arbeloa), three Basques (Xabi Alonso, Llorente, Martinez), three Andalusians (Sergio Ramos, Navas, Marchena), two Canary Islanders (Pedro and Silva), one Asturian (Villa), and one Valencian (Albiol) to South Africa.
Top of the world | Spanish celebrate historic win
Of these players, seven of the eleven players who started for Spain in the World Cup final against the Netherlands play for Barcelona and just three of the remaining four were gleaned from the Real Madrid ranks - Del Bosque's old club (both as player and coach) and Spain's traditional ambassadorial club to the world.
But such traditional politics were of no consequence to the mustachioed coach who, even given his history with Real Madrid and personal relationship with Blanco talisman Raul, upheld Luis Aragones' decision to drop the country's leading goalscorer, Madrid golden boy, and Spain's El Gran Capitan from the national squad.
Instead, Del Bosque took what have long been Catalunya's champions, the Basque country's idols, Madrid's new stars, Andalusia's talismans and transformed them collectively into Spain's heroes - creating a diverse team that would fight together under one flag, in one shirt, and bring Spain closer to itself as a unified nation of many regions that share more in common than they do in differences.
Of the World Cup (lowest) record eight goals La Roja managed to score in South Africa, all were put into the back of the net by Barcelona players. While 'San' Iker Casillas descended from the heavens to make match-saving interventions that kept his team alive in the Paraguay, Germany, and Holland duels, it was Villa, Puyol, and Iniesta who were crowned as Spain's true saviours. It was a particularly notable curiosity to see Carles Puyol's long locks featured in heroic fashion over Madrid tabloid
AS
' headlines, given the fact that the defender serves as arch-rival Barcelona's captain.
One love | Spain united behind Del Bosque's men
Now, with the Iberian Peninsula overflowing with both this summer's bottles of vino tinto as well as tidal waves of ecstasy in the wake of a lifetime of disappointment, it is not just the captain and Madrid talisman Casillas who has received the praise from the Spanish royal family, Prime Minister Jose Luis Zapatero, and the throng of fans that have travelled far and wide to the Spanish capital to celebrate with the team, but also the lion-hearted Puyol and the diminutively shy Iniesta who have been catapulted into immortality and revered as emissaries of the heavens.
In constructing and managing his squad, Vicente Del Bosque has created a family of players hailing from across Spain who have integrated and created such a palpable feeling of camaraderie, it has served as a symbol for a country that still bears the raw scars of the Spanish Civil War and a generation of dictatorial oppression. By allying the traditional bullish pride of '
España
' with the staunch support for autonomy in, most notably, Catalunya and the Basque regions, Del Bosque has, in effect, unified a country that has long been polarised in its politics, particularly in recent memory.
Del Bosque has allowed all people from across the Iberian Peninsula to see a bit of themselves in the Spanish squad, allowing them to develop a common identity in the phrase that has been chanted across the country in the past 24 hours, "
¡Somos español, español, español!"
[We are Spanish, Spanish, Spanish!].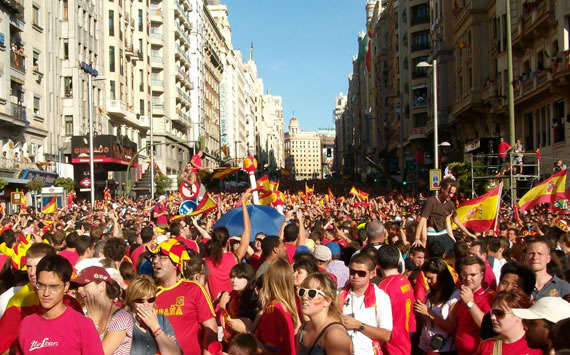 Scorchio! | Madrid swarmed with celebrating fans
The incredible truth is that winning the World Cup has fundamentally changed the face of Spain in the past 24 hours and a sense of separatism, exclusion, and protectionism, has instead been replaced with a celebratory sentiment of fraternity, solidarity, and unity, despite unique cultural singularities.
Yet in all the glory and delirium of the festivities, Del Bosque still refuses to acknowledge his hand in helping his country heal and progress, modestly telling a crowd of one million Spaniards who travelled from across the country to meet La Roja in Madrid, "Gracias a todos" [Thank you to all] in his customarily stoic tone. But this time, one could make out a small smirk under the coach's big bushy moustache, as finally, there is good reason to smile.