So the
World Cup
is over, and now millions of football fans across the globe have to survive almost an entire month (a month!) before any sort of domestic football begins again.
How will we all cope?! It'll be a struggle (except for the Spanish, who might not be off cloud nine for some time to come), but
Goal.com UK
are looking to help you cope by having a good ol' reminisce about the month of action we just witnessed.
Read on, if only to find out the answer to all the big questions, such as: 'which Diego Maradona quote was his greatest?' and 'which octopus was the star of the tournament?'...
STARS IN SOUTH AFRICA

Best manager
Diego Maradona (Argentina)


There should be a public inquiry if El Diego doesn't win this award in every such article (tongue-in-cheek or otherwise) across the web.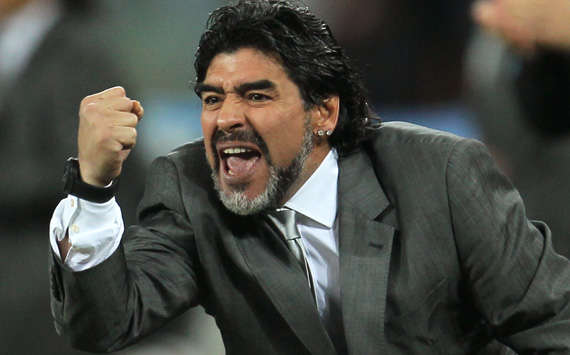 Quite simply the revelation the media all hoped he would be, Maradona provided a triple threat with his crazy training methods (including schoolyard games of 'dog's arse'), puzzling press conferences ("Many journalists should apologise to the players. I'm not suggesting you drop your trousers, but it would be honest and great so we all get along better") and crazy touchline antics (see above). A true legend.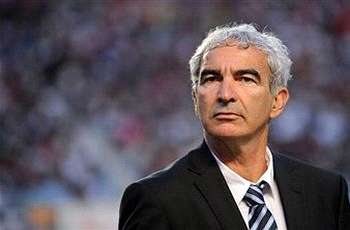 The David Brent award for worst manager

Raymond Domenech (France)
Edging out the equally mundane Paul Le Guen (what is it with French managers?), Domenech steals the crown through the small matter of managing to inspire a full-on squad revolt.
Even Domenech's faith in astrology couldn't help him this summer, as everything that could go wrong, did. Perhaps he should have turned to something more reliable than the stars — an octopus, for example?
Having said that, even Paul might not have had any encouraging words for the madman. The French agonised for months over whether Domenech should have been sacked before the tournament — they have their answer now.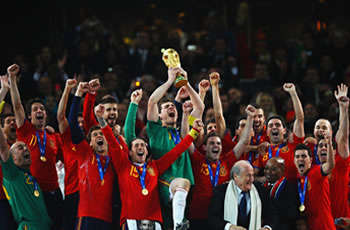 Batman & Robin gold award for best team
Spain
Because, you know, the whole point of the competition was to find this out. Would be pretty pointless to give the award to someone like New Zealand just because they were the only team to go the competition undefeated.

Worst team
England


Any time a team comes into a tournament as one of the favourites, but goes home having notched just one (narrow) win in four games against teams of hardly unmatchable quality, you really do have to ask questions. Perhaps firstly, "are these players really all as good as we've all made out?"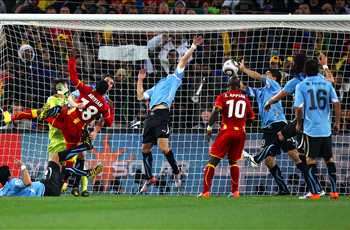 The award for best save that Gordon Banks refused to be associated with
Luis Suarez (Uruguay)
Thierry Henry barely made it onto the pitch in the Raymond Domenech-directed disaster that was France's campaign, so it was left to Luis Suarez to take matters into his own hands (get it!?!).
The Ajax forward made a fine goal-line save to deny Ghana a potentially historic victory in their quarter-final clash. Cheating of the highest order — and that wasn't the end of it...
Best post-match apology, sponsored by BP
Luis Suarez (Uruguay)
A career in the diplomatic corps surely beckons for Suarez, after his adept defusing of the outcry following the above handball 'incident' (to put it lightly).
"The Hand of God now belongs to me," Suarez opined. "Mine is the real Hand of God. I made the best save of the tournament." Surprisingly, that only seemed to fan the flames. Go figure.
Best octopus
Paul (the octopus)
The British-born, German-raised mollusc trampled the competition for this award as he successfully predicted eight of eight results during the World Cup. Okay, he was the only octopus asked such questions (to my knowledge) but it was still a fantastic performance, one that captured the imagination of millions around the globe.
Having now retired from the prediction game, Paul is free to pursue other interests. A film career, perhaps?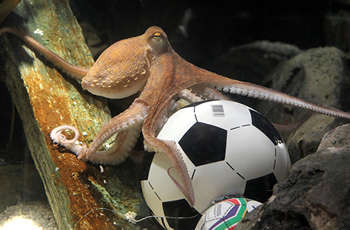 Best handling of the press
Iker Casillas (Spain)
To be fair, dealing with the questions of the press probably isn't the hardest thing when you've just won the World Cup. But Spain's captain fantastic sure took a
novel approach to dealing with the stern inquisition of his girlfriend
following the final victory against the Netherlands. Besos.
Worst handling of the press
Rafik Saifi (Algeria)
Everyone's probably considered doing it at some point. But, memo to Mr. Saifi, slapping a female reporter following your team's World Cup exit is almost never as good an idea as it seemed like when it was rolling around in your peanut-sized brain.
Diego Forlan-donated award for best player
Kim Myong-Won (North Korea)
A player so good, North Korea couldn't even decide where to play him. "Kim Myong-Won was a striker and now he is registered as a goalkeeper (for the World Cup). He began as a goalkeeper," their coach explained early in the competition.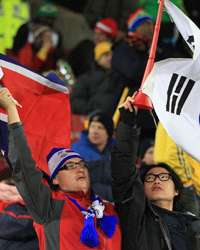 "He really is a goalkeeper but he is very fast so we switched him to a striker, but we felt for this World Cup he wanted to be a goalkeeper again, so that is what we did for him."
Unfortunately, this choice prevented the world from seeing the player's wonderful variety of talents — as he sat on the bench throughout his country's early tournament exit.

Best fans

North Korea
Dear Leader Kim Jong-Il ruled that the entire team couldn't come home unless they won at least two of these awards, so let's throw them a bone.
And you've got to admit, their fans were pretty good. Even if they were reportedly paid Chinese actors.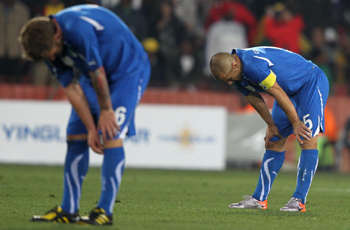 Worst title defence
Italy
Midfielder Gennaro Gattuso claimed the Azzurri had gone from world champions to billy goats, which was probably one of the more generous statements uttered during South Africa's time in the spotlight.
A shambles from start to finish, Marcello Lippi's side did it all without the benefit of a virtual mutiny. On the plus side, at least they took their punishment like proper men (
see right
).
Best hosts
South Africa
For some reason, the South Africans were confident of winning this title for almost eight years. The performances of Bafana Bafana on the pitch might not have been up to scratch, but off the field the Rainbow nation provided a fine landscape to a successful tournament.
And the country as a whole deserves extra respect, if only for the citizen who came up with the 'FICK FUFA' slogan. Anti-Blatter banter is always much appreciated.

'Should have gone to Specsavers' award for best eyesight
Mauricio Espinosa (assistant referee, Uruguay)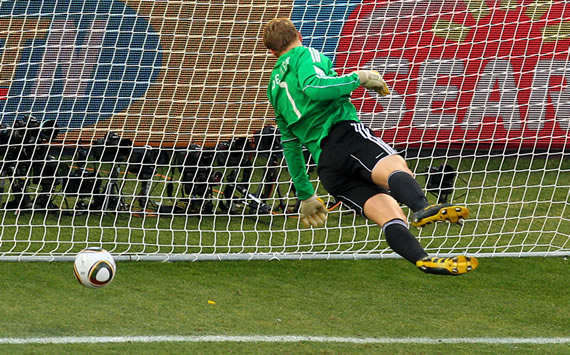 Words shouldn't really be necessary for this one. But, as an understated Englishman, I'll offer just four:
YOU. COMPLETE. RUDDY. MORON.
Otto Rehhagel award for anti-football: Otto Rehhagel (Greece)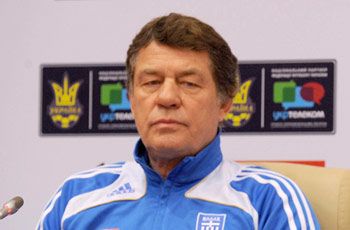 The Greece manager — believed by some (primarily
BBC
pundit Alan Shearer) to actually be a northern tactician in the mould of Sam Allardyce called 'Ray Hargle' — wins his own award for once again plumbing the depths of anti-football in pursuit of another dramatic success for his side.
Beating off the challenge of the likes of Switzerland and Algeria, Greece defended constantly in rather soul-destroying defeats against both South Korea and Argentina, but Rehhagel still somehow managed to oversee his side come from behind to defeat 10-man Nigeria — scoring twice (twice!) in the process.
He must still be seething about that. No wonder he quit right after the team's exit.
Best dance moves
South Africa
Bafana Bafana seemed to adopt the mantra, 'At least if we lose, we can do so playing up to all the lazy stereotypes people have about us.' So they danced their way into the stadium ahead of every game, showing even more choreography and organisation than their back four ever showed on the pitch.
And then they went and beat France. Which, under normal circumstances, might even have been considered impressive. But... well, Domenech and all...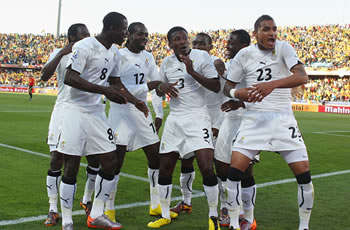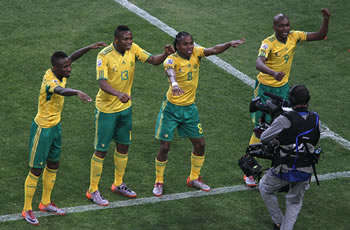 Best celebration
Ghana
Because it really was about time that 'screwing in the lightbulb while simultaneously patting the dog' dancehall phenomenon entered the mainstream, finally reaching the same level of popularity as 'traditional' (read: boring) dances like the foxtrot and waltz. Good work, Gyan and co.
Best Diego Maradona quote
"I prefer women. I am dating Veronica, she is 31, she is blonde and she is beautiful. No, I've not gone limp-wristed!"


Even a 12-year-old wouldn't be proud of this rather childish retort, to media suggestions of homosexuality that were so thinly-veiled they weren't even there.
Although obviously it would be pretty weird if a 12-year-old was dating a 31-year-old (whether or not she was called Veronica).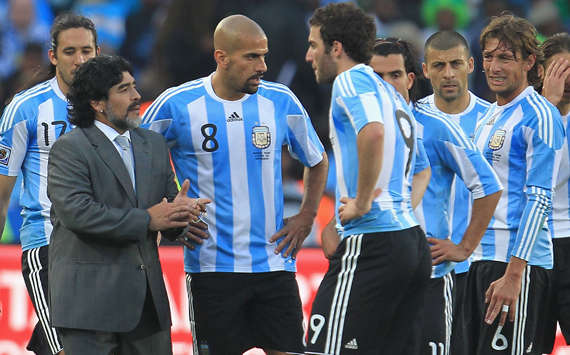 Award for best revolt, inspired by the French Revolution
France
Vive la revolution!
Any time you go on strike from training, come close to forfeiting a World Cup match and go on to bring shame on your country, it's fair to say you've gone above and beyond the call of duty.
Kudos to Domenech & Co. for reminding everyone that the French aren't just cheese-eating surrender monkeys. They're even more petty than that.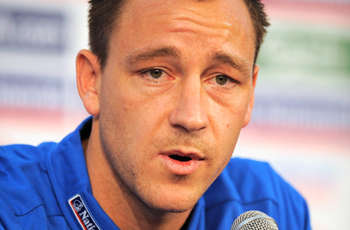 Worst revolt
England


At least the French know how to revolt. While the English could certainly organise an enviable p***-up in a brewery, former captain John Terry's attempts to publicly confront Fabio Capello about his tactical choices seemed to go down just about as well as his decision to get friendly with best mate Wayne Bridge's former girlfriend. Embarrassing.

Best bandwagon-jumping
Marcel Desailly
The man so proud to be Ghanaian that he turned out a mere 116 times for France, Desailly puzzled millions of ITV viewers with his over-the-top support of, admittedly, the country of his birth.
But, as many have pointed out, if you love the Black Stars so much, Marcel, perhaps you really ought to have played for them.
The Dennis Rodman award for spectacularly bad haircuts: Algeria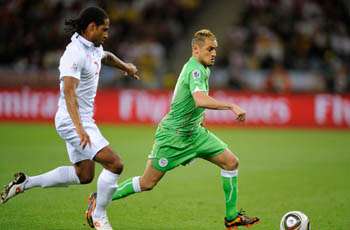 Every World Cup one country seems to embarrass itself with a 'novel' take on follicular fashion. This time it was Algeria, with some of the most outrageously bad hairstylings seen this side of a Sascha Baron Cohen character.
Many players were sporting the same look, with it cut short at the back and sides with what remained on top bleached a hitherto undiscovered shade of blonde.
What is worse, they couldn't even back it up with any ability, losing two of their three games. Truly awful — even if it did seem to scare England into submission.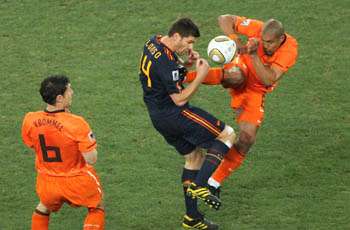 Eric Cantona award for Kung-fu proficiency
Nigel de Jong
Pictures do De Jong's flexibility and power more credit than I ever could.
The Manchester City man was a key component in the Netherland's rough-and-tumble tactics in the final against Spain — the biggest culprit for ruining a major spectacle since the script to
Pirates of the Caribbean 3
.

The Chris Iwelumo award for worst miss

Yakubu (Nigeria vs South Korea)
The forward enjoys a decent reputation in English football, but he didn't do his worldwide reputation any good with a glaring miss from all of three yards against South Korea in a game his side needed to win to progress.
In other circumstances, how the Nigerian managed to divert a well-weighted pass wide of the near post might have been mock celebrated. But in a World Cup, it was unforgivably bad.
And the Oscar for best dramatic performance goes to..
Kader Keita (Ivory Coast vs Brazil)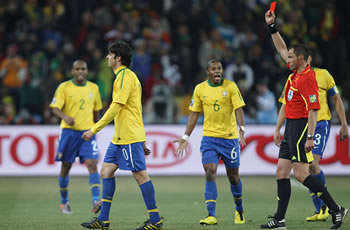 Played the Brazilians at their own game (remember Rivaldo in 2002?) in effective style, managing to get Kaka sent off for little more than putting his arm out to cushion against an accidental impact.
Just a shame that it was a particular pointless move, considering Ivory Coast would probably have quite liked Kaka to play in Brazil's game against Portugal — which they rather needed the Selecao to win if they were to progress.
They didn't, and the Africans are out. Good work, Keita.
Best rational response to tournament failure
Nigeria
Because any time you perform so badly in an international tournament that your government feels forced to intervene, the obvious response is to simply withdraw from national games for two years.
But then again, when you elect a president named 'Goodluck Jonathan', you pretty much get what you pay for.
Worst rational response to the actions of a man named Goodluck Jonathan
FIFA
FIFA's hatred of government intervention in a country's sporting affairs is well documented, so how did they respond to Goodluck Jonathan's dramatic intentions to withdraw the Super Eagles from competition for two years?
Why, by threatening to ban them from international competition for two years, obviously.
Put it this way, Albert Einstein's position as humanity's premier genius is not under threat from anyone at the football governing body's Zurich headquarters.
The handed out without much thought award for tournament's best goal
Fabio Quagliarella (Italy vs Slovakia)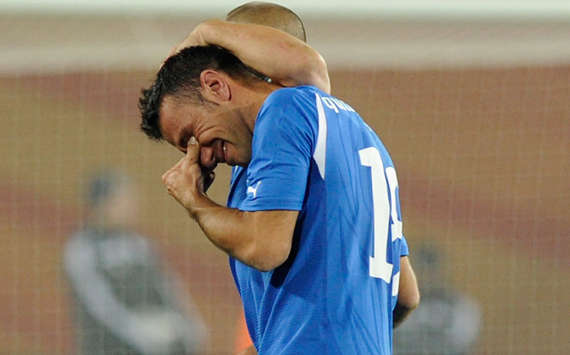 The Italian narrowly edges out Siphiwe Tshabalala's opening day strike against Mexico, if only because the award deserves to be handed out with the same lackadaisical attidude that helped the Napoli man score his 25-yard chip.
To think about trying that shot, never mind to attempt it —
never mind actually score it
— showed quality (and questionable judgment) of the highest order. Shame Italy couldn't show more of that during their campaign.
Zinedine Zidane sponsored award for best random act of violence

Sani Kaita (Nigeria vs Greece)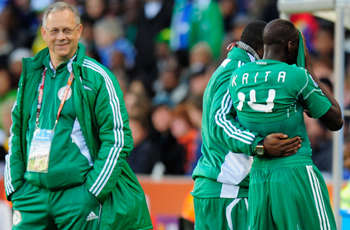 The midfielder catered his country's World Cup downfall with an inexplicable moment of madness in the first half of the game against Greece.
Already 1-0 up, Kaita's push and kick on the undeserving Vassilis Torosidis earned him his marching orders, and changed the face of the game — and his country's tournament.
Nigeria went on to lose the game, and their subsequent failure to beat South Korea in their final game ensured they went home early.
Best Palacios brother: Wilson Palacios (Honduras)

Edging out Jerry — who looks just like a slightly older version of Wilson, which shouldn't really be surprising because that is exactly what he is — the Tottenham Hotspur midfielder grabs the crown thanks primarily to a fine display against Spain where he seemed to be in about six places at once on the pitch as he tried manfully to frustrate the Europeans.
Honduras could do with eleven Palacioses — shame they had to make do with three.
The Sarah Palin award for worst campaign: Cameroon
Three defeats in three games from a group they might reasonably have expected to escape from, especially considering the quality of the players involved.
After their exit, manager Le Guen was quick to imply blame for the disaster was with his players, while some players were less coy in blaming their boss.
The conclusion? They're all to blame.

Best drama: France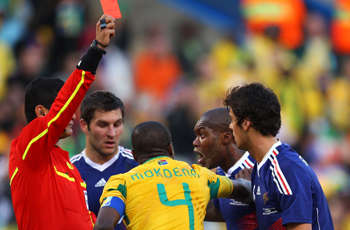 Usually
LOST
would win this category quite comfortably, but that's finished and
Entourage
hasn't properly started again yet so France win by default. For all their problems, at least Les Bleus can comfort themselves with the knowledge that they were involved in one of the biggest controversies in World Cup history.
Not content with failing spectacularly to live up to their potential, Nicolas Anelka was sent home after insulting Domenech (pretty comprehensively, by all accounts), which then encouraged some players to go on a training strike.
There was even talk that they would not play against South Africa, which thankfully proved unfounded — they just lost to them instead. Nice.
Mystery, intrigue and tragedy, without a smoke monster in sight. That's impressive.
Follow-on award: Martin Luther King prize for using the right to free speech Nicolas Anelka
(France)



"I have a dream, that one day... French strikers of dubious character will be able to abuse their managers with some of the most creative swearing known to man."

And finally....


The special achievement award for man who must be given his own reality show
Diego Maradona (Argentina)
We finish where we began No one should need Paul the octopus to tell them how much of a raving lunatic Maradona is. But boy, is he fun to watch. It has all the ingredients. It would be like
Big Brother
or
The Hills
except... well, it would actually be fun to watch.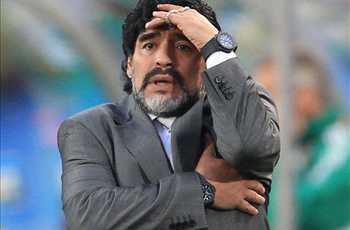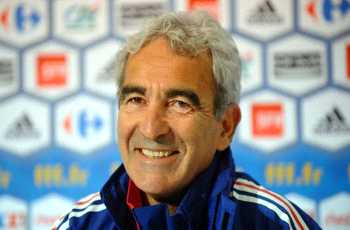 How about adding Raymond Domenech to the show (working title:
'Life stories with Diego & Dom'
)? It would be nothing short of the best thing ever. Any television executives in the house, get on it...