When Ottmar Hitzfeld finished his below-average playing career as a striker in 1983, there was only one thing on his mind: He wanted to be a teacher.
However, bureaucratic difficulties forced him to postpone his dream for a while, and take a job as a football coach at tiny Swiss outfit FC Zug. He ended up as one of the most successful coaches of the modern era.
The man who masterminded the first true sensation of South Africa 2010, leading modest Switzerland to beat hot favourites Spain, is one of the most experienced tacticians on show. One of only three coaches in history to lift the Champions League with two different teams, Hitzfeld also won seven Bundesliga titles and three DFB Cups, not to mention two championships and three cups in Switzerland.
The 61-year-old is known as 'The General', and has an image of a cold-headed old-school German coach, mostly focused on installing perfect order inside the team and organising a tight defensive-minded line-up. However, nothing could be further from the truth. Behind Hitzfeld's poker face hides an emotional and sensitive person, whose success is mostly due to excellent man-management skills and good psychological instincts.
At the start of his career he even found it hard to sleep at night before matches, and that was not because he was afraid to lose. Hitzfeld felt uncomfortable that he must bench some of the players who made their utmost efforts in training sessions, and was trying to find a way of bringing the news to them without shattering their confidence.
Hitzfeld possesses a winning mentality and manages to pass it over to his players, but he knows only too well that the secret is not avoiding losses, but managing to survive disappointments and come back stronger than ever.
The list of his last-second failures, when he got 'so near, yet so far' is pretty impressive. After all, he was on the bench when Bayern Munich lost that amazing Champions League final to Manchester United in 1999. Leading for the length of the game thanks to a deflected Mario Basler free-kick, Hitzfeld succumbed to an amazing Beckham-Sheringham-Solskjaer turnaround in stoppage time.
Two years later, he was back in the final and lifted the cup.
When he first went to the Bundesliga in 1991, Hitzfeld turned mid-table also-rans Borussia Dortmund into geniune title contenders, but lost the fight to Stuttgart, on goal difference, on the final day of the season. He never relented, and brought the historic title to Die Schwarzgelben in 1995.
His first European dream ended in tears when Dortmund lost to Juventus in the UEFA Cup final in 1993. Four years later, the very same Vecchia Signora were sensationally beaten 3-1 in the Champions League final.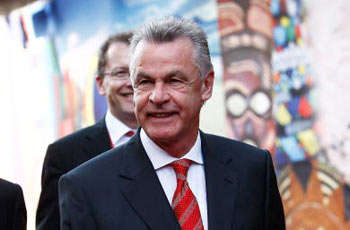 Record of success | Hitzfeld's track record is highly impressive
The General also has a very keen eye for helping players to develop their natural talents. It was Hitzfeld who converted Matthias Sammer, a good box-to-box midfielder, into a brilliant sweeper — voted European Footballer of the Year in 1996.
It was Hitzfeld who convinced Andreas Moller, a player for years thought to be the German cry-baby, that he was a leader, capable of guiding Dortmund to their maiden title and stepping forward to score the winning penalty against England in the Euro 96 semi-finals.
It was Hitzfeld who brought inexperieced Frenchman Willy Sagnol to Bayern and turned him into one of the best right-backs of the decade.
THE TROPHY HAUL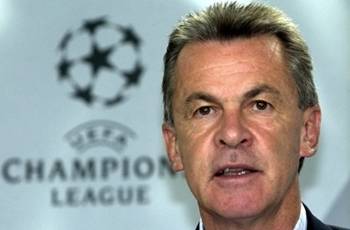 2 Champions League
2 Intercontinental Cup
7 Bundesliga
3 DFB-Pokal
2 Swiss League
3 Swiss Cup
Although Hitzfeld likes to analyse games with his players, and always makes sure they are aware of every little mistake they made, he would never criticise his men in public or demoralise them.
"We learn from our mistakes to perform better in the future. The most important game is always the next one, not the previous one," he says.
Those wise words were undoubtedly useful when Switzerland were beaten 2-1 at home by Luxembourg in one of Hitzfeld's first games in charge of the Nati. Any other coach would never survive such a disaster, but the General duly installed supreme confidence in his players, and the qualification for South Africa was never really in danger once they'd recorded a huge 2-1 win in Greece.
In the last warm-up friendly game, the Swiss lost to a managerless Costa Rica. A few days later, they took the field in Durban, fearless when facing the most talented team in the world. The victory over Spain might have been lucky, but it would have been absolutely impossible without Hitzfeld's mentality.
With him on the bench, Eren Derdiyok, Tranquillo Barnetta and Diego Benaglio believe they can move mountains, and that's why the young Swiss side raised as many eyebrows as they did in South Africa.
In a way, that's what a good teacher does – he is able to unearth hidden talents in students and make them believe in themselves. Therefore, the old dream of Ottmar Hitzfeld was never dead. He is living it every single moment of his illustrious career.