Spain
's
World Cup
heroes returned home on Monday to a raucous reception as thousands in the capital city of Madrid took to the streets to welcome back the players.
La Furia Roja etched their name in history on Sunday when they defeated the Netherlands 1-0 in the final at the Soccer City Stadium in Johannesburg to win the World Cup for the first time ever.
The triumphant Spain squad arrived at the
Barajas airport in Madrid around
2pm on Monday and after a quick meal together at a hotel were taken to
the Royal Palace, where they were received by King Juan Carlos at around 5pm.
Queen Sofia, the Prince and Princess of Astiurias and Princess Elena were also present at Zarzuela Palace.
As reported by Real Madrid's official website King Carlos welcomed the players, saying: "Thank you for making our dreams come true and for projecting the name of Spain throughout the world. You are a great example of sportsmanship, nobility, good football and team work.
"Thank you for setting such an example and for showcasing such spirit. Long live the Spanish national team and long live Spain."
The daughters of the Prince and Princess of Asturias, Princesses Leonor and Sofia, wore Spain shirts throughout the reception and also touched the World Cup when Iker Casillas presented the trophy to them. Fellow Real Madrid player Alvaro Arbeloa let them to wear his gold medal.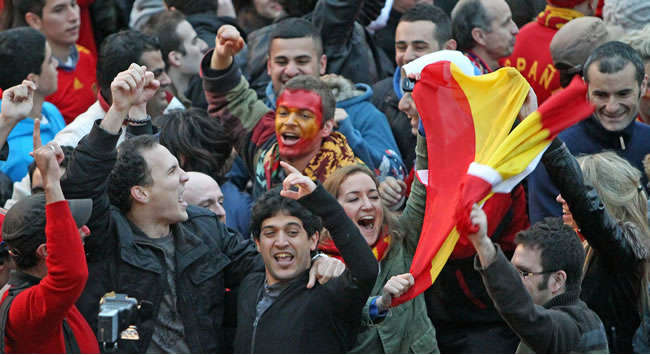 Viva Espana | Spaniards celebrate historic win
The Spain players then
made their way to the
Moncloa Palace
where they met the country's Prime Minister Jose Luis Rodriguez Zapatero, who enthused:
"Congratulations to the champs and to Spain for this success. I wish to congratulate all 23 players, all Spaniards, the coaching staff and the FA from the heart.
"This trophy belongs to them and to all the previous generations who tried to win it. They won because they were the best and showcased teamwork, fair play and excellent behaviour both on and off the pitch."
Captain Casillas said at the reception: "I have the great fortune to represent all these great players. We've brought this trophy back from South Africa because we deserve it.
"This is for you and for the whole of Spain. Thanks for everything and long live Spain."
Reserve keeper Pepe Reina rather unfairly forced a Barcelona shirt on an embarrassed looking Cesc Fabregas during the celebrations, the Arsenal man quickly whipping it off.