Spain
's victory in the
2010 World Cup
final has been widely greeted as a victory for football - not just because winning the trophy was reward for their attractive and progressive passing style, but also because their opponents
Netherlands
adopted an overtly physical approach, especially in the opening 45 minutes, which seemed designed to intimidate the Spaniards.
While the abiding memory will be of Andres Iniesta's winning goal, it will not be quickly forgotten that the final produced 47 fouls and more yellow cards - 14, two of them equalling a red for Dutch defender Johnny Heitinga - than any other match in the tournament. Or that Nigel de Jong and Mark van Bommel were both singularly lucky to remain on the pitch after atrocious first-half fouls.
Holland in fact racked up an amazing 126 fouls during the tournament to top the ill-discipline table, had three players among the top ten most ill-disciplined in South Africa, and have actually committed the most fouls in four of the last seven World Cups in which they have competed - suggesting that bright orange has become a tad soiled over the years, and that the heirs to Johan Cruyff's ideal of Total Football have added an uncomfortably sharp edge of cynicism to their game.
But for all the perceived brutality of last night's final, it's important to keep a sense of perspective. From the 1994 tournament - when FIFA outlawed the tackle from behind - onwards, World Cups have been notably less violent than their earlier incarnations, as this flick through the pages of infamy suggests...
1938 - Brazil v Czechoslovakia
While the 1934 tournament had seen Hugo Meisl, manager of Austria's
Wunderteam
, complain that their 2-1 quarter-final victory over Hungary was "a brawl, not an exhibition of football", in which Hungarian winger Imre Markos had been sent off, it was not until 1938 that a World Cup game earned the dubious distinction of being labelled a battle.
'The Battle of Bordeaux' was a quarter-final between Brazil and Czechoslovakia that began with Zeze kicking Oldrich Nejedly, the Czechs' prolific inside-forward, to earn an early dismissal, precipitating a rough-house that ended with Nejedly nursing a broken leg, Frantisek Planicka, the Czech goalkeeper, with a broken arm, another Czech and two Brazilians injured and three players (two Brazilians and a Czech) sent off. The game itself finished 1-1 and necessitated a replay, a remarkably unremarkable affair in which depleted Czechoslovakia succumbed 2-1.
1954 - Hungary v Brazil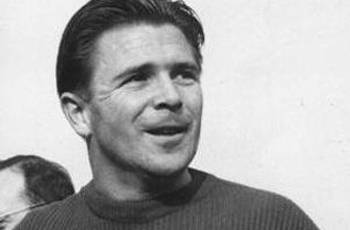 'The Battle of Berne' pitted together two sides hailed as the best in the world at the time, both renowned for their sublime footballing skills. It was something of a shock therefore that the game degenerated into a minor war. After Hungary took an early two-goal lead they resorted to a series of niggling fouls that clearly enraged their volatile opponents.
A penalty to each side made the score 3-1 before Brazil pulled another goal back and scented a breakthrough. But Jozsef Bozsik and Nilton Santos were sent off for trying to throttle each other and vicious tackling was soon the order of the day. Zoltan Czibor was at one point chased around the pitch by an incensed Djalma Santos intent on exacting retribution, but Czibor provided the assist as Hungary added a fourth goal and Humberto Tozzi of Brazil was dismissed for kicking Gyula Lorant.
But the fireworks certainly didn't end at the final whistle. There was an after-match riot involving players and spectators, a brawl in which Ferenc Puskas, above -whose injury had ruled him out of the match - was alleged to have struck Brazil's defender Pinheiro in the face with a bottle after the South Americans invaded Hungary's dressing-room. Pinheiro left the stadium heavily bandaged while Gustav Sebes had a cheek cut open.
1962 - Chile v Italy
The seeds of 'The Battle of Santiago' were sown when a couple of Italian journalists wrote intemperate articles that were highly critical of host country Chile. The South Americans were already unhappy about Italy's tendency to poach the continent's best talent.
On the pitch English referee Ken Aston had his hands full from the off, but the worst incident took place behind his back, though it was caught by the TV cameras. Players from both sides had been hacking at each other before Leonel Sanchez, son of a professional boxer, broke Humberto Maschio's nose with a perfect left hook. Neither linesman felt it necessary to draw Aston's attention to the incident.
Giorgio Ferrini sought his own justice against Sanchez, but was actually dismissed for kicking Honorino Landa. He refused to go and the match was halted for 10 minutes. Ferrini was eventually marched off under police escort. Then Mario David was dismissed for trying to kick Sanchez in the head. Italy, down to nine men, lost 2-0. Ferrin was suspended for one match but David and Sanchez were merely 'severely admonished' by FIFA. The managers of all 16 countries in the tournament were summoned to a meeting by the organising committee and warned about their teams' behaviour.
1966 - Brazil v Portugal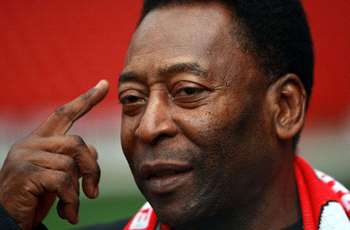 Word champions Brazil arrived in England with great expectations, especially of their global superstar Pele, then 25 and at the height of his abilities. But he was cynically fouled in their opener against Bulgaria, missed their next game injured as a result, and returned less than fully fit to face Brazil's cousins from Portugal in their third and final group game, one they had to win.
Portugal were clearly the better team, which made their resort to brutality all the less explicable. Hatchet-man-in-chief was Joao Morais, whose appalling scything down of Pele in a notorious double foul effectively put the Brazilian out of the game and had him promising never to play in another World Cup. Happily, he'd changed his mind by the 1970 tournament. As for Morais, he was allowed to stay on the pitch by referee George McCabe.
1982 - France v West Germany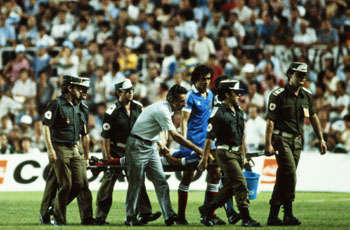 The 1982 semi-final, ultimately won on penalties by West Germany, was infamous for one particularly brutal incident - the assault by German goalkeeper Harald 'Toni' Schumacher on Patrick Battiston. The score was level at 1-1 and Battiston had just come on as a 57th-minute substitute when he chased a well-weighted through-ball. Schumacher raced from his goal, Battiston beat him to it, but the keeper deliberately crashed into him, smashing his cheek with his forearm.
Battiston was knocked out cold and lost two teeth; there were even fears he might die as the police in Seville had banned the Red Cross from the pitch. The Frenchman was eventually treated after an inexcusable three-minute delay, and carried off on a stretcher still unconscious.
Schumacher escaped unpunished and West Germany were even awarded a goal-kick. The match finished 3-3 but the French, forced to reorganise, went out 5-4 on penalties. Their manager Michel Hidalgo observed: "We have been eliminated brutally, I would say scientifically."
1990 - Argentina v West Germany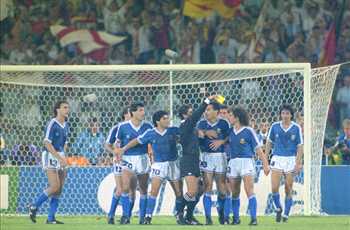 The final in Rome was a tawdry affair, a litany of niggly fouls and gamesmanship that wrote a new chapter in the book of World Cup cynicism.
Argentina went into the game without three key players, suspended thanks to previous transgressions; they would lose two more over the next 90 minutes for foul play. The Germans were not much better, adopting an approach of calculated gamesmanship designed to lure their opponents into punishable offences.
Pedro Monzon became the first player to be sent off in a World Cup final after the effects of his foul on Juergen Klinsmann were theatrically dramatised by the German striker. Five minutes from time Rudi Voeller was similarly convincing in the area after a tame challenge by Roberto Sensini to win his team a dubious penalty from which Andreas Brehme netted the game's only goal.
Two minutes later Gustavo Dezotti was sent off for grabbing Juergen Kohler by the throat as he tried to retrieve the ball which had gone out of play. Kohler had been guilty of deliberately wasting time. Mayhem ensued, in which Diego Maradona was booked for dissent.
2006 - Netherlands v Portugal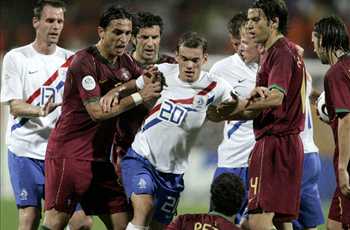 The Dutch may have made it to the 2010 final, but four years ago in Germany they went out in the second round to Portugal in a distinctly unsavoury affair. The performance of the Russian referee, Valentin Ivanov, was bordering on inept, but the players were ultimately to blame as the match equalled the World Cup record for bookings - 16 - and also produced four red cards.
It should have been five as acclaimed Portuguese veteran Luis Figo escaped dismissal despite head-butting that man Mark van Bommel, who did his best to influence Ivanov's decision. Khalid Boulahrouz had set the tone by perpetrating a reckless foul on Cristiano Ronaldo to earn a yellow. He collected his red for fouling Figo, who responded by feigning serious injury. By then Costinha had been sent off for a sliding foul on Philip Cocu compounded by a blatant handball.
Deco was booked for a high tackle on Johnny Heitinga and was sent off soon afterwards when he refused to hand the ball back to Holland. Ivanov maintained his busy scribbling when, in the fourth minute of stoppage-time, he showed Gio van Bronckhorst a second yellow for a foul. It led to the bizarre sight of Van Bronckhorst and Deco, Barcelona team-mates, sitting next to each other in the stands, still wearing their kit, like naughty schoolboys sent from the classroom.
The game's one redeeming feature was the quality of the goal with which Maniche won it 1-0 for Portugal.
2006 - Italy v France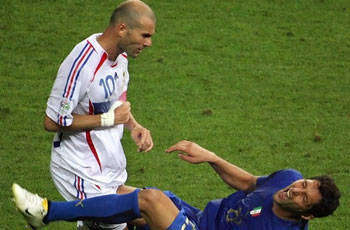 The World Cup final of 2006 was not especially violent overall, but arguably its turning point came when Zinedine Zidane reacted to verbal provocation from Marco Materazzi by spectacularly head-butting the Italian in the chest to earn a red card and end his career on a note of shame.
Materazzi denied that he insulted Zizou's wife and sick mother three times, as the Frenchman insists he did.
Materazzi had earlier fouled Florent Malouda to concede the penalty from which Zidane had given France the lead; then the controversial Italian defender's eventful day continued when he scored Italy's equaliser before the final was settled on penalties in the Azzurri's favour.