With the
World Cup
coming to a close, the world prepares for that final great event: the final. And truly it belongs to the whole world. Yes, it's a contest between two European teams, but the interest stretches across each country, where untold millions will watch tonight's action from Soccer City.
As we looked at before the tournament began, sourcing exact figures for TV audiences is
hardly an exact science
- so far, at least. But as the press were told this morning at FIFA's daily media briefing, the world's governing body believes that this year's figures "must" outweigh those of previous tournaments.
Indeed, for the vast majority of fans, football is watched in the home on the television. But this is not the full story. What we instead learn is that for a sizeable minority, this most global of events takes on a trul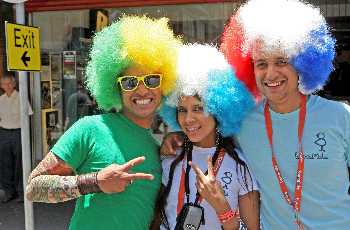 y communal character.
Take for example the
Fan Fests
. These official FIFA zones operate in each World Cup host city and indeed all over the world. So far well
over 5,500,000
fans have enjoyed at least one match from a Fan Fest.
Most of these were in South Africa, of course, be they in parks, in city squares, or (in the case of Durban) on the beach of the Indian Ocean. But on Saturday night there was a particularly special one:
200,000 fans crowded into the Berlin Fan Fest
to witness Germany's third place win over Uruguay.
And then there are those at the stadium. So far the official World Cup attendance is over
3,000,000
, with almost
50,000
attending each game.
It just goes to show that football truly is the world's game.