Ahead of Sunday's
World Cup 2010
final,
Goal.com UK
wanted to know whether our readers would stick, or twist, with
Spain
's starting line-up that defeated
Germany
in the semi-finals, for the grand finale against
Holland
.

MORE...
The overall opinion was unanimous. Over 80 per cent have called on Spain manager Vicente del Bosque to tweak his side for the final in Johannesburg, with Arsenal captain Cesc Fabregas the man many want to see included in the starting line-up.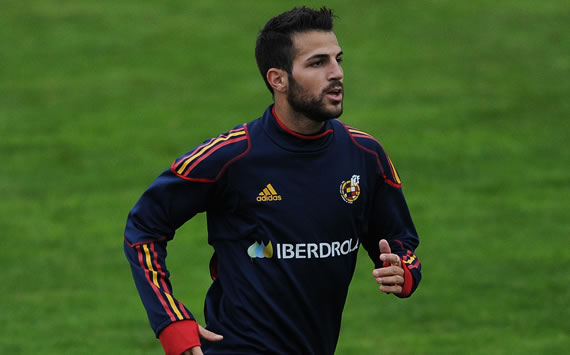 Fab Choice | Readers want Del Bosque to pick Fabregas
52.29 per cent
of you want the Gunners skipper included, citing him as a better player than Real Madrid's Xabi Alonso. One reader insisted:
"
Cesc [Fabregas] is definitely worth more than Xabi Alonso... And I'm not saying this just because I'm a Barca [Barcelona] fan. Pedro and [David] Villa up front with [Fernando] Torres available as a possible 2nd [second] half substitution. In other words: Let the best players play. Do not put players in the field just because they play for Madrid!
"Jullien, Lausanne
However, not everyone shares the opinion that the midfield quartet should be adjusted.
30.72 per cent
feel that Liverpool's Fernando Torres should come back into the side, despite having failed to find the back of the net in the six games he's featured.
Class is clearly eternal in the eyes of our readers, with one arguing the case for the Reds hotshot, in regards to the benefits that his inclusion has on the team:
"
It should be [Fernando] Torres [who starts]. He occupies the centre-backs and deals with them very well and creates space for others such as David Villa. When villa doesn't have Torres and plays [as the] leading striker like in the semi-final, he struggles. Torres must start. Forget form, the guy is a big game goal scorer.
"Arran, Sri Lanka
Surprisingly,
10.66 per cent
feel Del Bosque should stick with the eleven that defeated Germany, despite many arguing the European Champions semi-final performance was their best yet in South Africa this summer.
However, readers don't feel that Manchester City signing David Silva is the man to bring into the equation. With only
2.95 per cent
of the votes, he remains very much a last resort along with Jesus Navas at
1.96 per cent
, and Atletico Bilbao's towering forward Fernando Llorente –
1.12 per cent
.
No trip to South Africa is complete without a visit to its most beautiful and sunniest city. Durban offers much more than sandy beaches, safaris, casinos and the World Cup, for information on what to do and see, please click here