In our World Cup Comment series, individual writers at Goal.com offer their views on the hot World Cup topics of the day with local expertise and a global outlook...
In just a few hours, Germany and Uruguay are set to face off in the World Cup's third-place match. Some may dismiss it as a meaningless fixture, but over the years, the playoff fixture has produced some outstanding performances. Here's a look at the cream of the crop:
1982 – Poland 3-2 France
Just two days after bitterly losing to West Germany on penalties, France were forced to play without talismanic midfielder Michel Platini, who was suspended. Rene Girard put Les Bleus ahead with a low drive from outside the box, but his effort would be in vain. In perhaps the most exciting six minutes in World Cup history, Andrzej Szarmach scored from a volley, Stefan Majewski headed in a corner, and Janusz Kupcewicz fired in a sublime free kick to give Poland a commanding 3-1 lead. Alain Couriol pulled a goal back for France in the 72nd minute, but the Poles held on to equal their 1974 record-brest finish and claim third place.
1986 – France 4-2 Belgium (a.e.t.)
Platini was eligible to play four years later, but coach Henri Michel opted to omit him as one of six changes he made to the side that lost to West Germany in the semi-finals. France met a fatigued Belgium first team that started quite brightly; Jan Ceulemans made a sublime first touch before netting an early opener. France responded before the half hour mark as Jean-Marc Ferreri finished after some attractive lead-up play before Jean-Perre Papin made it 2-1 at the half. Belgium's Nico Claesen forced extra time with his late goal, but having played 120 minutes in two of their previous three matches, the Red Devils had nothing left. Bernard Genghini took advantage of a defensive mistake to put France ahead in the 104th minute, and Manuel Amoros rounded off France's 4-2 victory with a penalty kick.
After the match, Belgian Eric Gerets allegedly gave his jacket to a fan. In doing so, he unknowingly surrendered his fourth-place medal, which had been in his pocket.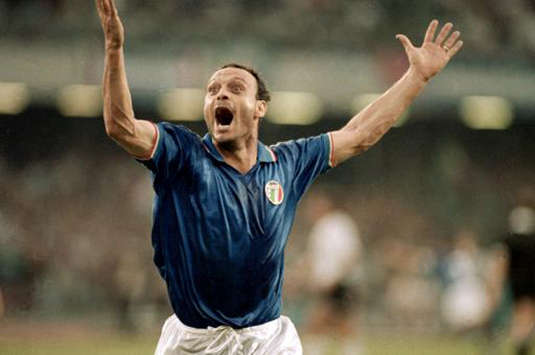 1990 – Italy 2-1 England
By the time the semi-finals came in Italia '90, England were running on empty. The Three Lions had gone to extra time in the Round of 16 and the quarter-finals, and like Italy, they lost their semi-final on penalties.
The footballers may have been weary, but they played with real spirit. The game seemed destined to go to extra time until the 71st minute, when Roberto Baggio coolly pounced on a howler committed by England goalkeeper Peter Shilton, and put his team ahead. Ten minutes later, David Platt headed in the equaliser, but Italy responded quickly. In the 86th minute, Salvatore Schillaci earned a penalty and coolly converted to earn himself the Golden Boot and seal victory for Italy.
The day will also be remembered for commentator George Hamilton's infamous quote, "If that's not offside, I'm a Chinaman!" Hamilton was referring to Nicola Berti, who was clearly six yards onside before his goal was disallowed.
2002 – Turkey 3-2 South Korea
In a distinct 180-degree policy reversal, the football gods smiled upon Turkey and looked unfavorably upon South Korea. Earlier in the tournament, Turkish defender Hakan Unsal was sent off after a disgraceful bit of play-acting by Brazilian midfielder Rivaldo. South Korea, by contrast, had benefited from the whistle against Spain and Italy before losing to Germany in the semi-final.
Just 10.8 seconds into the third place match, Hakan Sukur took the ball off the foot of South Korea captain Hong Myung-Bo, and scored the fastest goal in World Cup history. Lee Eul-Yong equalised with a gorgeous free kick in the 9th minute, but that would be not enough to save the tournament's co-hosts. Before halftime, Sukur set up Ilhan Mansiz twice, forcing South Korea to chase the game. Song Chong-Gug's deflected effort made the final result more respectable, but came too late in injury time for it to have any effect on the result.
1930 – Yugoslavia ?-? United States
FIFA's offical records state that no third place match occurred at the first ever World Cup, and that the United States took third due to their superior record throughout the tournament.
However, the 1930 third place "match" is the subject of much folklore. Some cite a 1984 bulletin from FIFA, which indicated that a match was indeed played, and that Yugoslavia won 3-1. Others claim that a match was scheduled, but Yugoslavia mistakenly went home early, and a local Uruguayan university team was called in to face the United States team as a formality. My suggestion: let's settle this by asking Paul the octopus.