Howard Webb's appointment as the World Cup final referee has prompted the inevitable headlines about England having a representative in the last match of the tournament. Cliches aside, FIFA's decision caps a remarkable year for Webb — who also officiated May's Champions League final.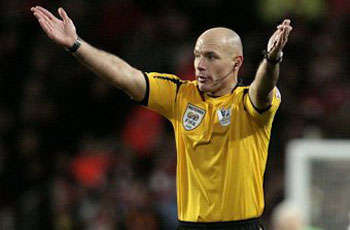 The former police officer was a surprise choice after he had been omitted from handling any of the quarter or semi-finals. Sunday's final will be Webb's fourth match of the tournament, during which he has already taken charge of Spain once. La Furia Roja will be hoping that isn't an omen as they lost that match, against Switzerland.
Opponents the Netherlands don't have all the luck on their side. The last time an English referee was in charge of a World Cup final was back in 1974 when Jack Taylor officiated West Germany's defeat of the Netherlands. Taylor famously awarded two penalties in that match, which were the first to be given in World Cup final history.
Compatriot Webb has been more shy about pointing to the spot. In his three WC games so far he hasn't given a penalty, while in the Champions League he didn't give a single spot-kick during his seven games in charge.
All things considered a penalty on Sunday looks unlikely. Both teams have a record when it comes to penalties in the competition. Spain have missed two while the Dutch have conceded two both of which were scored.
*
Penalty Awarded - Yes 3.50, No 1.28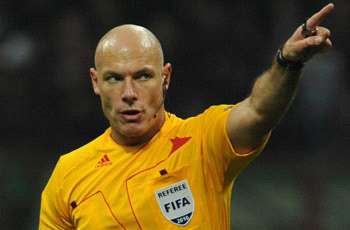 Things open up a bit when we take a look at cards. Webb has averaged 5.6 per game during the World Cup but has yet to award a red. In the Champions League it was a similar story, with the English referee giving 29 yellows and zero reds in his seven matches in charge. That averages out at 4.1 cards per game.
He isn't in the habit of giving out cards very early in games. Webb gave just two bookings in the first 15 minutes of his seven Champions League games and none during his three World Cup outings.
*
Card to be shown in first 15 minutes - 3.0
Webb only gave out three yellow cards in the Champions League final but one of those was awarded to Dutchman Mark van Bommel, who was cautioned late in the game for unsporting behaviour. The stats reveal Van Bommel has only committed 12 fouls and picked up a solitary booking. Anyone who watched the semi-final with Uruguay will know Van Bommel is lucky to be playing in Sunday's final as he charged into several reckless tackles only to escape an early bath.
Van the man knows the Spanish opponents well from his time playing with Barcelona and will no doubt look to get 'stuck in' from the outset. He is a booking just waiting to happen.

* Mark Van Bommel to be first player to be booked - 8.0

* Red card to be awarded over 90 minutes to any player - Yes 3.50/No 1.28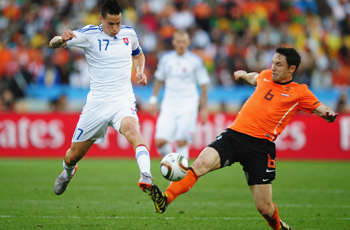 Howard Webb Odds - By Titan Bet

Award a penalty: 3.50
Send a player off: 3.50
Book a player for simulation: 5.50
Order a penalty to be retaken: 23.0
Send a manager to the stands: 26.0
Leave the field through injury: 41.0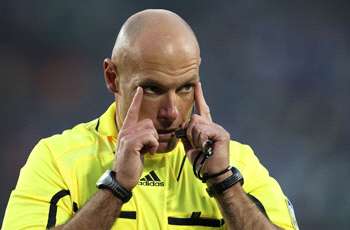 Sunday's final pits two sides with contrasting disciplinary records. Spain have been one of the cleanest teams in the tournament, notching up just three cautions and committing 62 fouls, putting them second behind North Korea in the good behaviour stakes.
Netherlands are at the other end of the spectrum notching up 15 bookings and racking up 98 fouls putting them top of the foul charts.
We know Howard Webb is fond of his yellow card and the Dutch have a questionable temperament. If you follow the growing market of placing a bet on the number of cards in a game consider the following.

* Over four yellow cards - 1.85/ Under four - 1.85

* Netherlands to get first card - 1.57/ Spain 2.25

* Netherlands to get most cards in 90 mins - 1.67
Spain - 3.50/ Tie 4.35
FIFA's showpiece occasion will be Webb's 46th game of the season. During that time he has been dispatched to Kiev, Southampton and Madrid, among others. In total he's given 167 yellow cards and just four reds. Two of those red cards were given in a spicy Premier League match between Wolves and Wigan, where he flashed nine yellows and awarded a penalty.
Webb has shown he can handle the big occasion. Just ask his fan Jose Mourinho, who rates him highly. Another good showing on Sunday will cap an incredible season for the Englishman who celebrates his 39th birthday a few days after the final. We wish him well.

Howard Webb's record in the World Cup so far Group Stage
Spain 0-1 Switzerland
Four yellows, no reds (All Swiss)
Time of first card: 30
Time of last card: 90 (+4)
Slovakia 3-2 Italy
Eight yellows, no reds (Four each)
Time of first card: 16
Time of last card: 83
Last 16
Brazil 3-0 Chile
5 yellow cards, no reds (2 Brazil, 3 Chile)
Time of first card: 30
Time of last card: 80
Follow all Goal.com's World Cup betting content here

Place a bet now on the World Cup with Goal.com's official betting partner Titan Bet who are offering an exclusive bet £25 get £25 offer for Goal.com readers

Odds correct at time of publication. Goal.com encourages all readers who bet to do so sensibly.