A lot has been made of how Barcelona have been able to boast so many Spanish players and youngsters from their youth system and mould them together into a championship-winning unit over the past two years.
That success seems to have been translated to the Spanish national team as a cluster of Barcelona stars guided La Furia Roja to the World Cup final for the first time in the country's history.
It was Barca captain Carles Puyol who nodded La Seleccion to the showpiece extravaganza on July 11 with the most heavy-metal of headers - against Germany no less. A goal from the most unlikeliest source and the most un-Spain like goal you'll ever see.
Up until Wednesday night's semi-final Puyol - already dubbed 'King Carles' in the Spanish press - has not had the best of tournaments, but against Germany he had the best chance of the game in the first half when he hammered a flying header just over the bar, before atoning for his miss with a glorious bullet a header in the 73rd minute to send Spain into the final.
The assist was ofcourse provided by Xavi from a corner, which was won by Andres Iniesta, one of Spain's most consistent players throughout South Africa so far but one who has had to live in the shadows of David Villa and last night, Xavi.
Speaking of which, the midfield maestro had inarguably his best outing of the World Cup. Xavi was simply back to his majestic best against Germany as he completely commanded the game, having struggled to really impose himself in the previous five matches.
And it was young Pedro Rodriguez who looked the most dangerous player on the field against the Germans with his (over) weaving runs and a few close attempts at goal. He really should've added a World Cup goal to his record-breaking collection after becoming the first player to score in six different club competitions in 2009 when he was presented with a chance late in the game. He over-weaved, ofcourse, instead of shooting.
Sergio Busquets, meanwhile, really has come of age. Often criticised for being the weak-link in the Barcelona and Spanish side, with good reason, he has really flourished into one of the most under-appreciated players in South Africa.
The latest Barca addition David Villa, who has yet to play a game for the Blaugrana after his pre-World Cup move to the Camp Nou from Valencia, has already shown how effortlessly he can collaborate with the likes of Pedro, Iniesta and Xavi.
Such is the telephatic understanding that these players have that it's little wonder that this Spain outfit can function so fluently and cohesively, and it's even less of a surprise that they appear more like a club side than a national team made up of the best players in the country - or in some other nation's cases, the biggest egos - and they look like they have all been playing together week after week, year after year.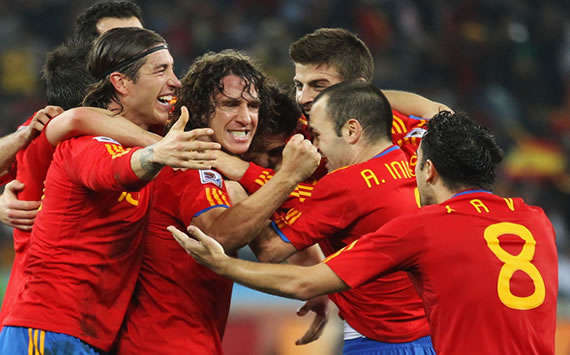 Fit for a king | Puyol crowns glorious night for Spain
Many would accuse the Spanish national team of trying to copy Barcelona's style of play. Others would say it's the other way around, seeing as how Barca only really took possession football to new heights under Pep Guardiola in 2008 whereas La Seleccion have been exhibiting their dominant style even before Euro 2008.
But the truth is that this is the way that Spaniards love to play their football, from Joan Capdevila to Sergio Ramos to Xabi Alonso, the three only other out-field players not from Barcelona in Wednesday night's triumph.
Credit really has to go to the entire Spain squad, made up of players from all over Spain... a united Spain who now have only one goal in common: to become world champions. From the towering Pamplona-born Fernando Llorente, who made a brief but game-changing substitute appearance in the last-16 against Portugal, to Madrid-born Liverpudlian Pepe Reina, who advised Iker Casillas on how to save a Paraguay penalty in the quarter-finals, to Salmantino coach Vicente del Bosque who once again made all the right changes and alterations to his team before and during a match, everyone has played their part in guiding La Roja to the brink of a historic first ever World Cup triumph.
No prizes will be handed out, though, if you've managed to spot this before anyone else, but all of Spain's goals in South Africa 2010 so far have been scored by players who will don the Barcelona colours next season.
No trip to South Africa is complete without a visit to its most beautiful and sunniest city. Durban offers much more than sandy beaches, safaris, casinos and the World Cup, for information on what to do and see, please click here.