Goal.com details the reaction to controversy...
Some might say that the Celeste have pedigree for this type of thing...

[Uruguay] have constantly failed to make friends on an international stage due to the uncompromising nature of their play. While South American rivals Brazil became immortalised for their attractive, attacking football and Argentine heroes such as Diego Maradona, Mario Kempes and Gabriel Batistuta became household names, Uruguayan football became synonymous with negativity, cynicism and constant, often violent and dangerous foul play.
Daniel Edwards, Goal.com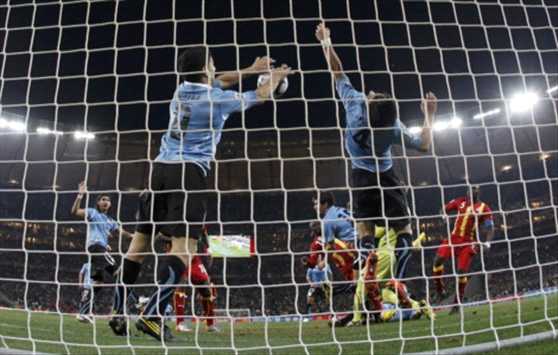 In the heat of the moment, words slip out...
"[Suarez is] a cheat because if the ball is going to the goal if you're not in a good position to stop the ball you shoudn't use your hands, because then the ball goes in the net, but instead using your hands means you know what you are doing. You're a cheat and it wasn't easy.
"It wasn't a good decision the referee took. I'm not sure what the linesman and referee were thinking. We are disappointed. The referee should have awarded the goal, it was 10 seconds to go, the red card doesn't change anything, there's no punishment to that. If there had been 45 mintues to go that would have been ok but 10 seconds to go; no chance."
John Paintsil, Ghana
The incident is perfectly in-keeping with Suarez's attitude...
This is typical Luis Suarez. In the Eredivisie at Ajax he has always strange, but often brilliant actions. He has already said in an interview that this is part of his mentality. He would do anything to win. It doesn't matter to him how they win. The referees in the Netherlands are well known Suarez. He was hated in the Netherlands because he was a diver. You love him or you hate him.
Yanick Vos, Goal.com
Support from team-mates...
We knew it was going to be difficult. The way it finished was incredible. It was a pity Suarez was sent off. Instead of scoring, he saved one, he saved the game.
Diego Forlan, Uruguay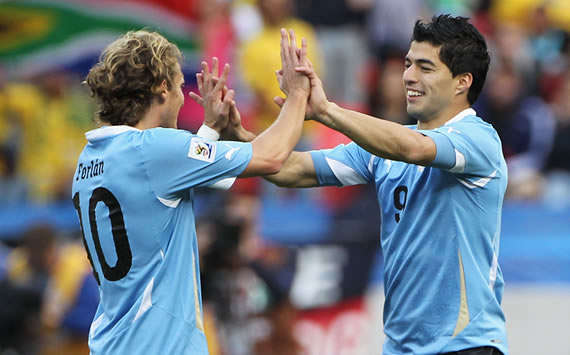 A bit of perspective, please
?
We have to put this handball into context. First of all, it wasn't a free kick in the first place. Secondly, Appiah was offside when he shot just before the header. So the handball should never have occurred in the first place.
In view of this, Suarez should not be criticised at all. He is in fact extremely hard done by to be banned for the semi-final. If the referee and linesman had done their jobs properly he would be playing in the semi. If we assume that everything that went before was fine, it still isn't cheating.
Anyone who has played football will tell you that the way the ball came at him so fast and from such a short distance it was instinctive for him to handle the ball away while on the line. He would have almost had to dive out of the way to avoid the ball. Suarez is absolutely justified in his actions
.
Carlo Garganese, Goal.com
Official ruling...
FIFA's disciplinary committee ruled Saturday that Suarez was guilty of "denying the opposite team a clear goal-scoring opportunity" as it imposed the one-match suspension.
FIFA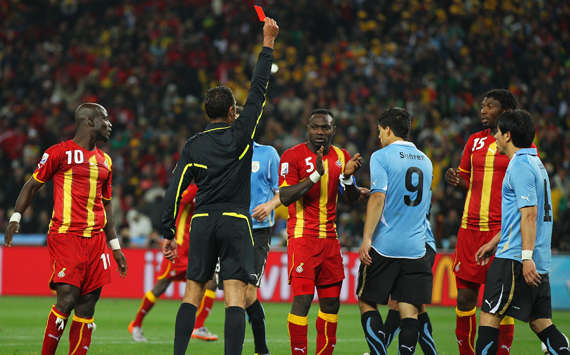 A place in infamy...


The emnity surrounding Suarez has of course been catapulted to a new level as he will now be cast as a hate-figure for a whole continent. The man who, in their eyes, single-handedly denied Ghana what they felt was their destiny of a place in the last four of the World Cup. In every corner of a seemingly endless expanse that is the footballing world, players, pundits and fans alike will be picking apart every aspect of what the Americans might call "Suarez-gate".
Gary Niblock, Goal.com
Resilience from Gyan...
"I'll bounce back, I'm strong mentally. I had the courage to take the penalty, but that's normal, I'm the penalty taker. But that's not the game, now he [Luis Suarez] is the hero in his country, the ball was going in, he stopped it and I missed the penalty. That's the way it is."
Asamoah Gyan, Ghana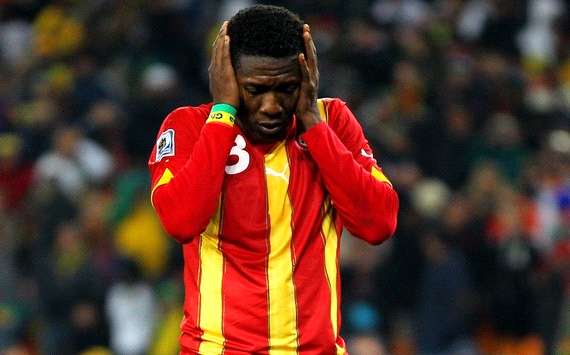 Hold your heads high, Ghana
...
Using hands to parry a net-bound ball attested to how reduced and feeble Uruguay had been during the dying minutes of the game. Ghana had pushed and pressed them to an extent that they had to apply an unconventional means of defending and fending off dangers. And to justify how hard they needed that action, Luis Suarez was lifted shoulder high by his mates as the hero of the evening during their bliss celebration after the game.
I am not here to execute Suarez, he and his team got their lot – a red card, a penalty and a possible two-game suspension – what I'm trying to point out is that Ghana deserve kudos for rocking the two-time world champions Uruguay down to their knees.
When a boxer reaches for a knife to fight instead of his fists, it's a sign that he has been over-powered by his opponent. Ghana won somehow last night. The crying can stop.
Kingsley Kobo, Goal.com
Manager lashes out...
"I'm embarrassed by what is being asked by the British press. That is truly shameful. They have been speculating about an action that happens on a football pitch and is dealt with in the laws of the game. It happened in Australia's game with Ghana. It happened in 1990 when Uruguay played Spain and a player on the goalline blocked a shot with both hands.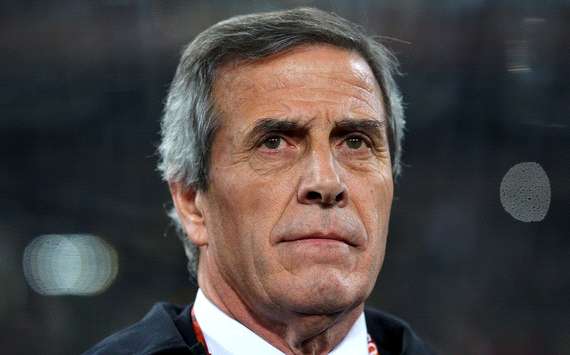 It was an instinctive act, nothing more. Suarez couldn't have foreseen that, afterwards, Ghana would miss the penalty. Don't talk to me about a lack of humility. The Uruguayan people bring out their collective personal strength when they have to. We are very proud, and we're upset by this topic. We're proud of our performances and what we've contributed to this World Cup. Uruguay went through the three previous games with hardly a yellow card, so please don't tell me we're cheats."
Oscar Tabarez, Uruguay coach
Was it really cheating?
With years of hard work a split-second from going to waste, Suarez intentionally handled the ball, and in doing so, gave Uruguay a hope of not losing the game.
Morally, his action was as reprehensible as a professional foul: a clear violation, but understandable based on cost/benefit analysis. There was no attempt to deceive the referee, and Suarez was punished according to the rules of the game.
Some have claimed that a goal ought to have been awarded and that Suarez should be banned for months. Their complaints should be directed to FIFA, and not the player himself.
Clark Whitney, Goal.com
No blame?
I can't blame Luis Suarez for his handball. It is the chance for the semi-final of a World Cup, it's all or nothing. What Suarez did was not fair, but there are rules for this and the Ajax striker was punished directly on that.
The referee saw everything and sent him off. There would not be a discussion if Gyan just shot this penalty on target. No one would talk about Suarez. So for me people are just looking for an excuse, because they would love to see an African team in the semis. They had their chance, and they failed. They failed in the borders of the game.
Suarez is no hero for what he did, but he isn't Henry or Maradona. Those didn't get punished - that's cheating.
Francois Duchateau, Goal.com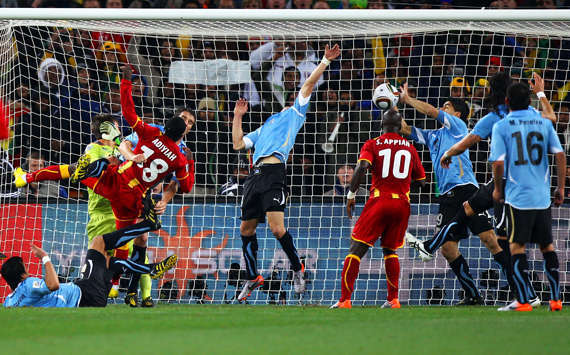 The last word from the man himself...
"The 'Hand of God' now belongs to me. Mine is the real 'Hand Of God'. I made the best save of the tournament.
"Sometimes in training I play as a goalkeeper so it was worth it.
"There was no alternative but for me to do that and when they missed the penalty. I thought it is a miracle and we are alive in the tournament.
"Now we are in the semi-finals although I was very sad because no-one likes to be sent off.
"The celebration afterwards was impressive, but very quiet because nobody gave us a chance but, with courage, we move forward."
Luis Suarez, Uruguay