DUNGA (Brazil)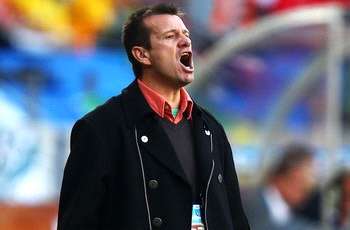 Stubbornness
1) Refused to call up Milan duo Ronaldinho & Alexandre Pato, despite their world class pedigree. Also left at home new Roma signing Adriano and Real Madrid's Marcelo. These four players would have strengthened the Brazil team and squad considerably.
2) Snubbed stars in top form like Ronaldinho, and instead kept faith with players who had had disastrous club seasons like Felipe Melo. Too much favouritism.
3) Too much emphasis on defence, set-pieces, physical power and counter-attack, and not enough on quality and skill.
Dunga's Brazil could not chase a game, as proven when they attempted to break down little North Korea, and when they failed to recover against The Netherlands. Obsessed by doctrine.
4) Poor bench. Brazil's attacking substitutes were Grafite, Nilmar and Baptista who are simply not good enough at this level.
The Selecao did not have the alternatives to their starting XI, but they would have done had Dunga chosen the correct squad.
Outcome
Brazil eliminated in the quarter final by Holland, losing 2-1.
MARCELLO LIPPI (Italy)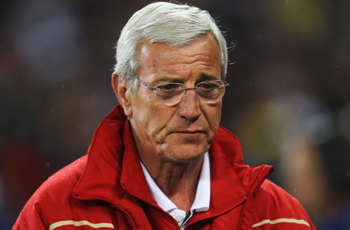 Stubbornness
1) Lippi's decisions were dominated by politics. He refused to call up Antonio Cassano due to a personal rift, and wouldn't consider Fabrizio Miccoli because the Palermo man had earlier testified against Luciano Moggi.
The 62-year-old showed favouritism towards his friends from 2006, selecting clearly past-it veterans such as Rino Gattuso.
2) Like Dunga, Lippi didn't trust fantasy players and individuals with skill, technique and quality - instead favouring those with power, physique and quantity.
With no trequartista, suitable backup regista for the injured Andrea Pirlo, or attacking midfielders capable of linking the middle third to the final third, Italy weren't even good enough to open up New Zealand.
His forward selections - and snubbing of Cassano, Miccoli, Francesco Totti and Mario Balotelli - was a crime against football.
These attackers alone would have ensured at least a semi-successful World Cup.
3) Lippi had two years to reinvigorate an ageing side by bringing through some of the many young talented starlets.
Italy were in a weak qualifying group, and were also present at the 2009 Confederations Cup, which presented the perfect opportunity to mould together a younger team who would be ready by 2010. Lippi flatout refused to do so.
4) 4-3-3. How many times did this system have to fail over the course of Lippi's second spell before he realised that it was unworkable?
Stubbornly, Lippi continued to keep using it, along with a ton of other formations. By the time the World Cup came along, the team didn't have a clue what and how they were supposed to play.
Outcome
Italy eliminated in the first round, finishing bottom of a weak group containing Paraguay, Slovakia and New Zealand with no wins and just two points.
FABIO CAPELLO (England)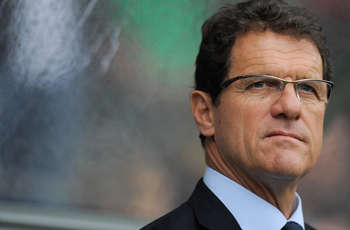 Stubbornness
1) 4-4-2. The other three on this list really make up the numbers, but the refusal to switch back to the 4-2-3-1 that had served England so well in qualifying was a massive error.
If you play 4-4-2, you are only as good as your players and England's players are not good enough. Steven Gerrard and Frank Lampard are incompatible in this system, it is too easy for top opposition like Germany to play through two lines of four, and there isn't the protection that two slow centre backs, including John Terry, require.
2) Players out of position. Steven Gerrard was wasted out on the left of a four man midfield, completely unbalancing that side of the pitch by cutting into the middle.
The likes of Aaron Lennon and Shaun Wright-Phillips - right wingers - were also switched to the left. Capello didn't utilise most of his squad in the same positions they had played for their clubs.
3) Quantity over quality. England may contain very few creative players, but one who could have given them something a little more continental was Joe Cole.
Capello refused to bow down to public opinion, instead selecting the predictable and limited James Milner against Germany.
4) Sergeant Capello. Over the course of a league season, it works to be disciplined and tough. But in a cup competition, like a World Cup, the beauty of expression is far more important.
Capello has never understood the mechanics of knockout football, and his militaristic demands on-and-off the pitch weren't going to work in South Africa.
Outcome
Having struggled to qualify from a poor group involving USA, Slovenia and Algeria – winning just one game – England eliminated in the second round after being thrashed 4-1 by Germany.
RAYMOND DOMENECH (France)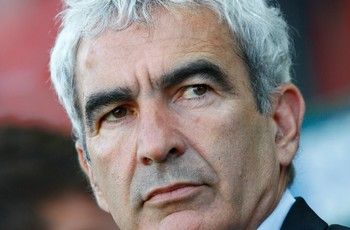 Stubbornness
1) Squad Selection. Just like Dunga and Lippi, Domenech selected his favourites in his 23-man World Cup squad.
Karim Benzema and Samir Nasri were left at home despite clearly being better than many players chosen instead of them. Meanwhile, the likes of Sidney Govou - who even received the No.10 shirt - were taken to South Africa and played a big role.
2) Italian Hatred. Once again Domenech snubbed all players who plied their trade in Serie A.
Fiorentina's Sebastien Frey is comfortably the No.1 French goalkeeper in circulation. Roma's Philippe Mexes may have not been a regular club starter in the second half of last season, but he would have easily been at least Les Bleus' second best centre back.
Meanwhile, team-mate Jeremy Menez had a brilliant second half of the campaign, and has more talent in his pinky toe than Govou and Andre-Pierre Gignac put together.
3) Tactics and insistence on two defensive midfielders. Domenech infamously once played two anchor men in a game against the Faroe Islands, and he wouldn't budge from this philosophy.
Domenech's tactics and substitutions were the complete opposite from what was called for by every French person outside of the FFF.
4) Losing the dressing room. Virtually no one in the France squad had any respect for Domenech due to his character and personality, and this resulted in fallouts with half of his players, a fight with Florent Malouda, William Gallas issuing a press silence, captain Patrice Evra being dropped, and Nicolas Anelka being sent home after telling the boss to "f**k off you son of a whore"
Outcome
France eliminated in the group stages, finishing bottom of a group including Uruguay, Mexico and South Africa, gaining just one point and scoring a solitary goal.
No trip to South Africa is complete without a visit to its most beautiful and sunniest city. Durban offers much more than sandy beaches, safaris, casinos and the World Cup, for information on what to do and see, please click here.