World's media react to favourites crashing out...
The Brazilian
media and the world's press have reacted to the Selecao's surprise exit from
World Cup 2010
following their 2-1 defeat to the
Netherlands
in Friday's quarter-final.
Brazil took an early lead through Robinho and seemed to be on their way to the semi-final, but an own goal by Felipe Melo and a Wesley Sneijder winner turned the tables.
The glue that was holding Brazil together then disolved 12 minutes before full-time, as Melo received a red card for a stamp on Arjen Robben.
And despite the loss, which saw goalkeeper Julio Cesar in tears post-match, most of Brazil's national media adopted a conciliary tone after the game.
This is what they said in Brazil:
Globo
:
Brazil out of WC with Netherlands upset
Globo
then added:
An undigestible orange for Brazil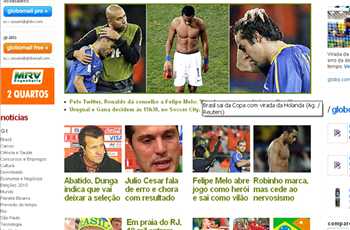 Globo despair

Terra
:
Goodbye World Cup...
Lancenet
:
Brasil beats its head and are out of the World Cup... until 2014
Yahoo
:
'Hexas' Dream Over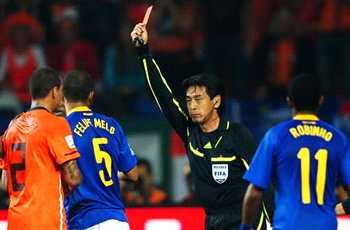 On your bike|
Melo is sent off
The rest of the world's media also reacted:
French paper
L'Equipe
led with:
Netherlands samba
Record
went with:
A clockwork orange; Brazil's run ends

Il Corriere Dello Sport
:
Shock as Brazil are ousted, disaster Felipe Melo


Who has the best chance of winning the World Cup? Check out Castrol Football's 2010 FIFA World Cup Winner Predictor.

No trip to South Africa is complete without a visit to its most beautiful and sunniest city. Durban offers much more than sandy beaches, safaris, casinos and the World Cup, for information on what to do and see, please click here


Our

provides the best breaking news online and our

football fan community is unmatched worldwide. Never miss a thing again!