In our World Cup Comment series, individual writers at Goal.com offer their views on the hot World Cup topics of the day with local expertise and a global outlook...
"Where has the Brazil team we all know disappeared to in this World Cup?" asked Johan Cruyff on Wednesday. "I look at this team and I remember people like Gerson, Tostao, Falcao, Zico or Socrates. Now I only see Gilberto [Silva], [Felipe] Melo, [Michel] Bastos, Julio Baptista. Where is the Brazilian magic?" The answer, unfortunately for Cruyff, is that Brazilian magic has taken a new and far more pragmatic form.
You would be hard pressed to find two sides in world football who are so defined by past actions as Brazil and the Netherlands. For many, the phrases joga bonito and Total Football remain eternally synonymous with the two respective nations. In reality, though, the modern incarnations of these two sides have strayed a long way from those now deeply stereotyped guises, and both are products of football's modern movement towards homogeneity. So much so that you would probably describe Brazil's style as European - albeit infused with the technical proficiency still prevalent in South American football.
Zico | part of last truly artistic Brazil side of 1982
Brazil's set-up can broadly be described as a 4-2-3-1, but unlike the rigid little diagrams you sometimes see in newspapers, Brazil's formation is quite tangibly lop-sided. There are two principal reasons for this: Maicon's attacking potential, and Robinho's tendency to drift beyond the line of attacking midfielders to become an auxiliary forward. This contrasts interestingly with Netherlands' system which, in terms of delineation at least, is the same - although it is actually applied far more rigidly, with a far greater positional symmetry.
A distinct shift in emphasis has taken place from the reliance on individual flair to collective coherence. No matter how incongruent that may sound when used in conjunction with Brazil, it is the unromantic truth. Dunga's side are a veritable winning machine. Their shape and style has barely altered since he took charge in 2006 and his record is hard to criticise - conceding just 11 goals in their 18 qualifying matches.
While many speak about their ability to press, they do so in a very controlled fashion, often allowing their opponents across the halfway line before squeezing shut space and time on the ball. This does two things; it allows Brazil to avoid exhaustive closing down in the opponents' third in which they will be, invariably, outnumbered; it also draws the opposition further up the pitch, creating space in behind them which has the potential to be exploited on the break. It is on this basic premise that Brazil's operations are based.
The nature of the pressing also makes Brazil extremely defensively robust. Allowing the opponent to advance into their half compresses the play, meaning that less space needs to be covered, and interchanging of passes becomes harder. As soon as possession is obtained, Brazil spread and stretch play. Their finesse and intelligence in the final third makes them extremely dangerous, especially when a counter can leave them either equal with the opposition, or even outnumbering them.
There is, of course, a fairly obvious way of countering this set-up. As was evidenced by the goalless draws Brazil had at home to three of the weakest four sides in qualifying, not allowing yourselves to fall for Brazil's lure can damage the efficacy of their system. The problem being that, just as Chile found earlier this week, scoring a goal against Brazil with several attackers committed to playing offensively can be difficult - scoring with fewer is nigh on impossible.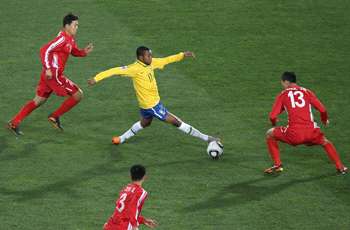 Robinho | vital to Brazil's asymmetric system
The question for the Dutch is whether they can impose themselves on Brazil without leaving the back door open. There is no doubt that when stationed with Mark van Bommel and Nigel de Jong in front of them, Netherlands' back four appear perfectly resolute. However, with Robinho's drifting between the lines, one may well be called to track the attacker on occasion, leaving the other to look after Kaka and exposing the defence that no longer has its protective screen. While Jonny Heitinga and Joris Matijsen are capable defenders, neither are convincing when turned round by pace - a virtue that underpins the quality of Brazil's counter-attacks.
On the left of the Brazilian backline, Michel Bastos coped admirably against the pace and flair on Chile's Alexis Sanchez on Monday. Much has been made of the Lyon winger's move to full-back at international level, but that composed performance will have done much to convince. Arjen Robben is likely to be his next direct opponent, and the Dutchman will ask different questions of Brazil's number six. As Slovakia failed to do in their match against the Dutch, Bastos would be prudent to force Robben away from goal and prevent the Bayern Munich winger getting onto his stronger left side.
On the other flank, Dirk Kuyt may well retain his place with the brief of keeping Maicon penned further back. Kuyt's diligence and industry is likely to be preferred over the more artistic tendencies of Rafael van der Vaart, whether the Real Madrid man has recovered from his calf injury or not. Another example, if it were needed, of functionality over artistry. Sorry Johan, but magic isn't quite what it used to be.