Many people felt African teams would perform better than ever at this year's World Cup because of homeland support, but my modest experience in sports gave me, earlier on, the guts to argue that fans' ovations don't pad talents or tactics.
On the streets, across major African cities, soccer pundits and amateurs air their particular views – regrets or justifications – for the premature eliminations of the departed African teams. You'll hear some say Algeria would have joined the last 16 if not for the blunder of their goalkeeper in their opener against Slovenia.
You'll hear others say Ivory Coast were good but only unlucky to fall into the Group of Death – but this is the World Cup, why should you hand pick your adversaries? You also hear some Lagosians say Sani Kaita's idiotic red card sank the Super Eagles' boat in South Africa – but a number of teams have won matches with one or two players short.
Still, they'll tell you Cameroon messed up because Paul Le Guen went with inexperienced players – but what about Ghana? And for host country South Africa, I have heard some say the World Cup was only an avenue to show the world that the Bafana Bafana have come along – what an objective for a World Cup team!
I have also heard people say that some big and promising teams didn't live up to expectations at South Africa 2010 because of the fatigue their players came with from the long and gruesome European leagues. Teams like England, France, Italy, Ivory Coast, etc, have benefited from these private excuses; but what about players from North and South America? Where do many of the players of Brazil, Argentina, Paraguay and Uruguay ply their trade? Is it not the same European leagues?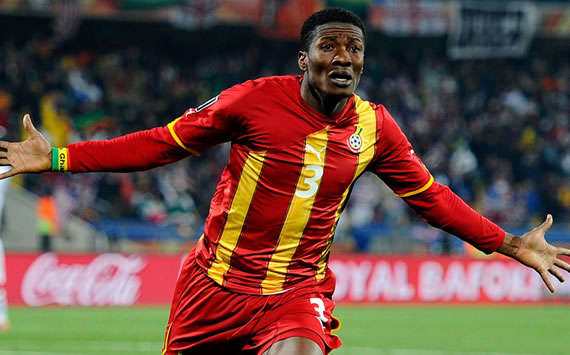 The magic number | Gyan has hepled lead the Black Stars to the quarter-finals
I believe facing the fact may save us now and help future generations. Were African teams really equal to the task? Were they strong, fit, combative and cohesive enough to vie with renowned teams? I think the answer lies somewhere between "no" and "not sure".
The FIFA World Cup is not for the weak. The tournament is partitioned in an order of strong, stronger and strongest. The so called "strong teams" are filtered out, gradually, leaving the stronger teams, who in turn find themselves sieved away for the strongest squads to stand out.
It's like climbing a hill. At the base, many candidates are excited, but as the climb intensifies the feeble participants cede and roll down while the able contestants move on.
So, instead of finding cheap reasons to justify and comfort ourselves for the failures of our African teams, let's concentrate on, and learn from, the Ghanaian example. A young and determined team is about to make history. Since Angola 2010, the Black Stars have been proving to us that star players don't win tournaments; it's a star team that wins.
Besides talent, the west Africans have been showing how teamwork, patriotism, selflessness, togetherness, common goal and resistance pay more than any other attributes in sports.
But before you watch their next match against Diego Forlan's Uruguay, hail them for their journey this far at the World Cup.