In our World Cup Comment series, individual writers at Goal.com offer their views on the hot World Cup topics of the day with local expertise and a global outlook.
..
1974 Holland – Brazil 2-0
Second Group Stage, July 3, Dortmund
With the game taking place in the final round of the second group stage, it was practically a semi-final. Both Holland and Brazil had won their first two games versus East Germany and Argentina, but a draw would be enough to see the Dutch through thanks to a superior goal difference. As the match would decide who would face West Germany in the final, it was somewhat bizarre that a German referee, Kurt Tschenscher, was assigned to it.
The game will be remembered for some dirty play, mostly by the Brazilians, with Ze Maria and Marinho Peres stopping the Dutch with tackles more suitable for American football. The level of violence was so high that some even compared the match to the infamous Battle of Santiago between Chile and Italy in 1962.
Brazil might have had to win the game, but Holland were superior throughout. Leao made a great save from Cruyff in the first-half after a dreadful miskick by Ze Maria gifted the ball to the Dutch genius, and the keeper was then called into action again to prevent Wim Suurbier scoring from a brilliant Wim van Hanegem pass.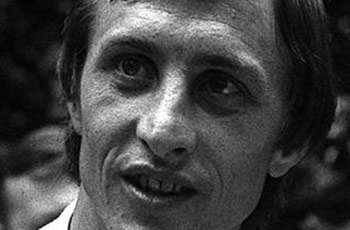 Finally, the Dutch took a deserved lead on 50 minutes, with Cruyff setting Johan Neeskens for a beautiful shot over Leao. Just 15 minutes later and it was all over for the defending world champions, with Cruyff making it 2-0 after a great cross by Ruud Krol. With only pride to play for, some crude tackles continued from both sides, and eventually Luis Pereira was sent off for an absolutely shocking foul on Neeskens. With Pele watching from the stands, Brazil surrendered their crown and did little to improve their image.
1994 Brazil – Holland 3-2
Quarter-finals, July 9, Dallas
Carlos Alberto Parreira's Selecao qualified for the quarter-finals after a very difficult 1-0 win over hosts the United States. They went into their meeting with the Dutch without left-back Leonardo, who had been sent off in the USA match for elbowing Tab Ramos. Dick Advocaat's Holland weren't very impressive either, but they won with greater ease against Ireland, 2-0, largely thanks to the infamous mistake by Pat Bonner.
Midday Texan heat in Dallas suited Brazil much better, but it turned out to be the best game of the tournament by both of the rivals, and made an instant classic. Selecao were stronger in the first-half, but couldn't score, with Mauro Silva and Marcio Santos, of all people, having the best chances.
Brazilian pressure intensified after the break, and almost inevitably they took the lead on 52 minutes, with Bebeto sending a delightful cross from the left and Romario finishing with a sensational one-touch shot. Bebeto missed a great chance soon after, but he wasn't to be denied on 61 minutes, rounding poor Ed de Goey and rolling off to celebrate with the iconic Cradle Rock, joined by Mazinho and Romario.
That should have been it, but it wasn't. Young Dennis Bergkamp immediately put the Dutch back in it, making the score 2-1. Then, with just 14 minutes left, Aron Winter took advantage of a bad mistake by Taffarel to head in from the corner, and Holland were level. Brazil were shocked, but Branco had other ideas. The veteran left-back, who was just replacing Leonardo in the starting line-up for his first game of the tournament, was brought down some 30 metres from goal, and sent his trademark rocket free-kick into the bottom corner, with De Goey a little slow to react.
This time the game was much calmer than 20 years ago, with just one yellow card for Brazil. Funnily enough, Dunga was the one to get it.
1998 Brazil – Holland 1-1 (4-2 on penalties)
Semi-finals, July 7, Stade Velodrome, Marseille
24 years after losing out on a place in the World Cup final in Dortmund, Mario Zagallo was on the Selecao bench again, and this time he took a sweet revenge. It wasn't easy to say the least. While world champions and pre-tournament favourites Brazil failed to impress in a 3-2 win against Denmark in the quarter-finals, the Dutch arrived in Marseille after one of the most dramatic victories in their history, a 2-1 success over Argentina with Bergkamp scoring a sensational late winner.
Guus Hiddink's Oranje knew that they had to stop Ronaldo, the superstar supposed to take Brazil to their fifth title, and he was constantly fouled. However, on 46 minutes, with the Dutch defence "still in the dressing room", he received a great ball from Rivaldo and converted it in style through the legs of Edwin van der Sar to give Brazil the lead. Ronaldo should have added another one when beating an offside trap and racing to meet Van der Sar, but Edgar Davids somehow managed to chase him and prevent a certain goal.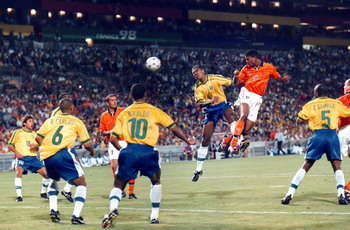 That tackle was crucial, as the Dutch were better in the second-half, and five minutes from time they were level. Ronald de Boer sent in a very good cross from the right, and Patrick Kluivert headed it past Taffarel for 1-1. It was a "golden goal" tournament, thus one strike could decide it in extra-time, with Brazil going very close with a great overhead kick by Ronaldo, only to be denied by Frank de Boer on the line.
So it came down to penalties, and Taffarel saved from Phillip Cocu and Ronald de Boer, while none of the Brazilians made a mistake. In case you're wondering, Dunga scored the last penalty for the Selecao, and left the Dutch heart-broken for the second tournament in a row.