In our World Cup Comment series, individual writers at Goal.com offer their views on the hot World Cup topics of the day with local expertise and a global outlook...

Often when
Germany
win games, their opponents are criticised for poor defending. It happened in the wake of Australia's 4-0 loss to die Mannschaft, and has happened again following
England
's 4-1 defeat to Joachim Loew's side. Rarely it is that the true reason for Germany's success - their movement - is properly recognised.
Mesut Oezil may not be technically on a par with Lionel Messi, and Miroslav Klose may no longer possess the goal-scoring threat of David Villa, but there is reason to believe that Germany are the best counter-attacking nation at the World Cup. If not, the Germans are at least the most intelligent, insightful, and dynamic.
There is little I can say for the brilliance of Miroslav Klose's opener (
click here
): that resulted from terrible defending and the Bayern Munich striker out-muscling Matthew Upson. It wasn't pretty, but it was very effective.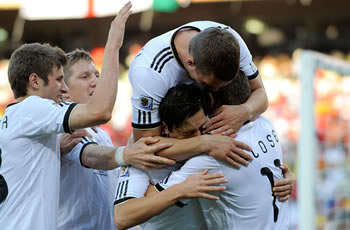 Before that, however, Mesut Oezil had a great chance (
click here
) to score. While many may dismiss it as a defensive breakdown, Oezil's opportunity comes at the end of some exceptional teamwork. As Bastian Schweinsteiger reaches the midway line, note the positions of Klose, the most upfield German player, and Oezil, who is just off him. As Schweinsteiger continues his run, three things happen: 1) Klose drops deep, bringing Upson along with him; 2) Gareth Barry, who was closest to Oezil, is distracted by Schweinsteiger's run; and 3) Oezil peels away from Barry and into the vacuum behind Upson. The only "mistake" England made was not picking up Schweinsteiger early in his run. Even so, it was a minor error that was masterfully exploited by the German attack.
After Klose's opener, England were not yet over-committed to the attack, but again fell victims to the Germans' outstanding movement as the German striker was again through on goal (
0:48 here
). This time, much like before with the Oezil chance, Mueller thinks a step ahead of Barry. Aware of the fact that Germany effectively have four forwards marked by four defenders, Mueller passes to Sami Khedira (marked by Upson), before running directly into the void where Upson had just stood. After receiving a gorgeous back-heel from Khedira, Mueller then cuts to his left, doing just enough to pull John Terry out of the path of his eventual through ball. Klose slips behind Terry and Glen Johnson to receive the pass, but his final shot is saved. Being fair, no English defender made a mistake. Mueller and Khedira simply connected in a near-telepathic manner, and created a scoring chance.
As the cliche goes, the third time is a charm. Surely enough, Germany's third attempt to unravel the English defence produced a goal, this time finished by Lukas Podolski (
click here
). On this one, observe Thomas Mueller (near side) as he sends a first-touch ball to Oezil. Immediately, Mueller turns to get a step ahead of Ashley Cole. Seeing Mueller's run, Oezil delays his delivery to Klose (forward on the touch line), forcing Terry to step towards him. Klose had always intended to take Upson out of the play and set up a team-mate, and surely enough, he flicks ahead to Mueller who, with three members of the English defence stuck on the near side, has little difficulty finding Lukas Podolski for the goal. On this play, the only English "mistake" was Cole turning his back to Mueller for just an instant. That and perhaps James Milner not backtracking to mark Podolski.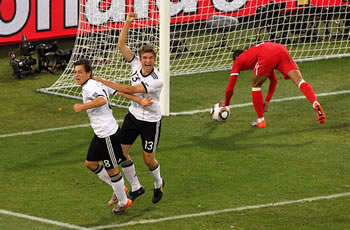 Germany's second half goals were not quite the artistic masterpieces of their predecessors, but deserve a few comments. For Mueller's first goal (
click here
), the only English mistake is Barry touching the ball too heavily to concede possession. After that, it's a classic 3v3 breakaway for the Germans, who executed brilliantly. Note first how Mueller (far side) is marked, and forced to send the ball to Schweinsteiger (near side). Seeing this, Oezil makes a run straight through the centre, drawing Frank Lampard towards him and leaving Mueller wide open. Schweinsteiger wisely cuts to the centre, making it easy for him to find Mueller, who converts with a classy finish.
Lastly, let's take a closer look at Mueller's second goal (
click here
). This one is simpler than the last, and ultimately comes down to Oezil outpacing the hapless Barry before setting up Mueller for the easiest of finishes. Still, credit should go to Oezil for wisely slowing his run and waiting for the perfect moment to deliver a flawless ball to the onrushing Mueller.
Looking back on the game, England were torn apart defensively in the first half, but you can hardly fault their players. To do so would be not only be overly harsh on the Three Lions, but gravely unjust to the Germans, who are now set to face Argentina in a re-match of their clash at the 2006 World Cup. Both Germany and Argentina have improved in recent years, but perhaps this time, the Germans' telepathic connection, rather than their aptitude in penalties, will be decisive.