A collective failure. The sort of decisions that make you wonder whether they've ever seen a football game before, let alone participated in one. And no apparent communication so that they arrive at the correct decision.
No, not the beleaguered officials – they'll get enough criticism from other quarters. Let that debate rage on elsewhere.
Instead, let's address the
REAL
reasons England are out of the World Cup:
A defence that had not been sufficiently road tested and crashed at the end of the first long straight (or long Manuel Neuer punt upfield, anyway).
A midfield where the glamour boys fell foul of their own vanity.
A strikeforce that began the World Cup as an afterthought, became the go-to plan, then finished back on the scrapheap.
And worst of all, none of the units seemingly knowing or caring what the other was doing.
Let's take these one nightmare at a time:
Play up, son - no, not Upson

The curious case of Matthew Upson. Yes, he was a regular during England's World Cup qualifying campaign, but by the time of the finals themselves, he was fifth in line.
The West Ham man did not see a minute of action in the warm-up games against Mexico and Japan, then looked on as Rio Ferdinand and Ledley King injured.

Klose encounter | Germany striker left Upson all at sea with his devastating movement
Yet instead of coming into the team against Algeria, Fabio Capello opted for Jamie Carragher, only recently returned from international exile. Carragher then ended up suspended, and Upson helped England to the necessary clean sheet against Slovenia.
The warning signs were there though. Upson's finest moment in that game was a wonderfully timed last-ditch tackle on Zlatko Dedic. But for it to become last ditch, he had to have been beaten for pace, either in thought or deed, or both.
That didn't escape the attention of Miroslav Klose, who schooled Upson throughout a brutal opening period in Bloemfontein. Chance after chance after chance, and every single time Upson was to blame, at least in part.
His central defensive partner John Terry was barely any better, and the lack of communication between the two made one wonder if Upson was a fully paid up member of Team Bridge.
Hollywood dreaming

One mitigating cause in the Terry-Upson debacle was the lack of protection in front of them. Gareth Barry will have to shoulder most (though not all) of the blame for that – as the nominal holding midfielder, he should have been in a position to break up the sweeping German play that repeatedly had England fans covering their eyes. Goal No.4 was the cruellest depiction of it, Barry's lack of pace shown up for the world to see.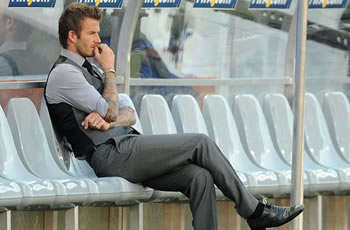 But in truth the midfield had (or should that be has?) a bigger problem, and it's one that has lingered for three England regimes – the Hollywood pass.
It's most dramatic failure prior to the Germany debacle was a 1-0 defeat to Northern Ireland in World Cup qualifying in 2005. At Windsor Park, Sven-Goran Eriksson played David Beckham in the 'quarterback' role, specifically to play over the top, diagonal passes from deep.
The Hollywood pass (so called because it looks good and is reserved for the 'stars') reared its botoxed head again against the USA, to the extent that Franz Beckenbauer wrote off England as a kick and rush team.
Offended, Capello and his troops went back to base – and practiced long passes. It was the Jabulani ball, y'see, and the altitude. Presumably Windsor Park is up a mountain too, then, and the Hollywood pass isn't a horribly flawed idea at international level when possession is paramount.
Of course, the crazy diagonal passes worked for England against Slovenia, primarily because the Slovenians were content to sit on a 1-0 deficit and hope that the United States didn't score against Algeria.
And so throughout the Germany encounter, Frank Lampard and Steven Gerrard swung their right foot through the ball like a golfer would his clubs on the range, and you wouldn't try to control a Tiger Woods drive, would you? And looking on was one David Beckham.
Rooney on the wane

Where to begin? Or rather, did Wayne Rooney and Jermain Defoe even get started? Rooney has cut a frustrated figure in this World Cup, and doubts will always exist as to how fit he was. He has now played eight games in the World Cup and never scored.
The last time he shone at an international tournament was as a precocious 18-year-old at Euro 2004. This flop will be a stick with which his critics can beat him with for at least the next four years.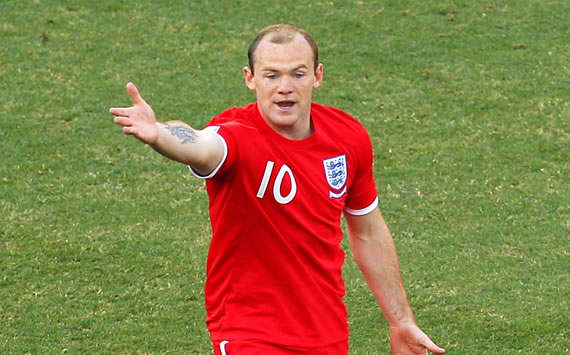 Where's Emile? | Rooney's 'perfect partner' was Heskey, then Defoe, then Heskey
Defoe was sprightly enough but his pairing with Rooney was – like the Hollywood pass – given false hope against Slovenia. Capello started the tournament with Heskey alongside Rooney to get the best out of his best player; at some point along the road to disaster, that gameplan was mislaid.
And so instead England entered the Germany game with a pairing that had never hit it off at this level, and at 3-1 down, Capello put Heskey (hardly a goal threat even when in-form) on for Defoe, his team's sole goalscoring forward in the World Cup. The lack of joined up thinking is surprising, and something that Capello cannot escape criticism for.
Collective failure

Ah, yes – joined up thinking. If only England had played as a unit, perhaps the collective would have been more than the sum of its parts. Instead, it was less. The defence worked separately from the midfield, and the midfield separate from the attack.
The only exception to this was Ashley Cole, a genuinely world class talent who stitched together the left side of the England team as best as he could. His overlapping runs, particularly in the first half, almost made up for Gerrard moving in off his flank and the general lack of width that plagued England throughout the World Cup.
And to think the goalkeeping position began the World Cup as England's biggest issue, only to be overtaken by every other department.
Lessons must be learned, but the same was said after Croatia '07, Portugal '06 and Portugal '04. And judging by the way Capello ranted and raved on the touchline in each game, you wonder if the players are even listening any more.
MORE
Our

provides the best breaking news online and our

football fan community is unmatched worldwide. Never miss a thing again!