By
Amar Singh
in Johannesburg
With the group phase of the
2010 World Cup
almost over, supporters now face the nail-biting prospect of extra time and the dreaded penalty shoot-out.
None more so than England fans, who will be praying that Fabio Capello's men oust bitter rivals Germany from the tournament on Sunday.
MORE...
England have a woeful record in penalty shoot-outs going out Germany, Italy and Portugal in the last two decades.
Often derided as a 'game of chance', penalty shoot outs can nevertheless be won and lost depending on who triumphs in the battle of the mind between goalkeeper and taker.
Sports giant Adidas brought together three of the world's top goalkeepers in Johannesburg on Friday to share their thoughts on the penalty shoot-out.
Oliver Kahn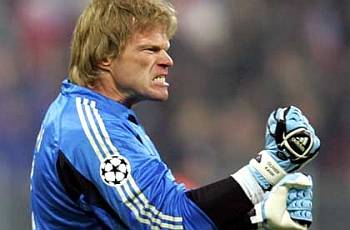 Ex Germany captain and goalkeeper, Kahn was declared a 'God of football' by the German press when he saved to penalties in the 2001 Champions League final to seal victory for Bayern Munich.
"In order to be able to save a penalty you always need a certain amount of luck, but you need more. Preparation is important," insisted Kahn.
"You need to familiarise yourself with who will be taking a penalty, what preferences does this player have? Is he more of a technical player? Is it a player that will resort to the power in his kick. You can read a lot from the body language from the player and where he is going to kick. It is a psychological game between the goalkeeper and the taker.
"It has a lot to do with eye contact and body language. You can irritate the taker of the penalty with your body language, you can see when a player is fearful and you can see it from the eyes. This psychological between the keeper and the player is often invisible to the spectators."
He added: "I think its just a question of absolute concentration, I still remember very clearly the Champions League final in 2001 against Valencia. I was informed by my coach, who would be taking the penalties, which corner they generally preferred, what their tactics are - i forgot all of that.
"I moved into a phase of absolute concentration and was no longer aware of the spectators around me. Even after I was able to save the last decisive penalty in that game I was not certain about whether we had won or not, I actually had to look at my team to get feedback from them and then I realised 'well this was probably the last one'".
Sergio Goycochea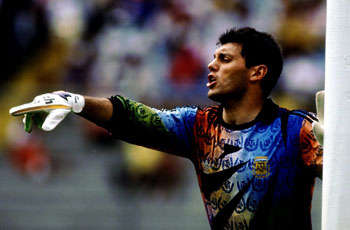 Former Argentina goalkeeper who made his name at Italia 1990 with a string of stunning penalty saves including two in the semi-final to deny the hosts.
"I used to joke that it is good luck when i jump and save the penalty by choosing the right way, however the goalkeepers with talent , skill and power will do well and they must also be calm," conceded Goycochea.
"I do not like it when people say 'this is a lottery, 'it is a Russian roulette', it's not a case of chance. The quality of the goalkeeper that matters.
"When you are calm you can also show that the onus is on the kicker not the goalkeeper. In this way I try to concentrate and be in the best space, and also use the knowledge of the other players."
Petr Cech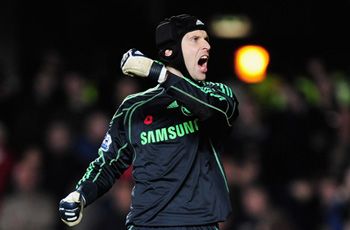 Czech Republic and Chelsea No.1, Cech is widely regarded as one of the best goalkeepers playing today. Cech first attracted attention when his penalty shoot-out heroics in the under 21 European Championship in 2002 helped Czech Republic beat France. The 28 year-old has also made several penalty saves for Chelsea since joining the club in 2004.
"It really is a psychological battle," Cech insisted.
"As a goalkeeper you will also have a psychological battle with yourself. You can do your homework on the player, learn what is his habit? Does he run fast, is he a technical player, does he wait for the goalkeeper or does he choose the corner?
"Then you need to keep your nerves, if you make your move too early or your decision making is wrong then you will never save it. You have to be stronger than the striker, you give him no indication of nerves. If you can get your homework working, then you have a chance."