By
Andy Brassell
Germany
and
England
meet for the first time in a
World Cup
finals tournament since the 1990 semi-final in Turin (when the former were playing as West Germany) on Sunday, and the first time in a competitive international since September 2001's World Cup qualification clash in Munich, which England won 5-1.
Despite the lack of direct competitive action between the pair in recent years, there should be few surprises for either Fabio Capello or Joachim Loew, with the two teams employing similar tactics to the 2006 tournament.
Goal.com UK
had a look at what England can expect to face....
Playing style



Attack, attack, attack. World Cup 2006 marked a watershed for Germany; a new, previously shied away from national pride, partly lit by the colour and vigour of Jurgen Klinsmann's young side.
His successor, Joachim Loew, has continued with the blueprint, and his side scored 26 goals in 10 matches during the qualifying campaign. This style is partly dictated by the make-up of the squad, with plentiful attacking talent often masking a creaky defence.
Formation



4-5-1 can be played in several different ways, and Loew's version is at the more flexible end of the scale. It functions as a 4-3-3 when Germany are attacking, with Lukas Podolski on the left and Thomas Mueller (who both play as forwards for their club sides) pushing up to join the centre-forward, which is usually Miroslav Klose.
Germany are also amorphous enough to move to 4-4-2 with Podolski advancing to join Klose, leaving Mesut Oezil and Mueller to swap wings at will.
Danger man


Oezil has caught the eye so far with some dazzling attacking midfield displays, reprising his key role in the European Under-21 Championship win last summer, yet it's hard to look beyond Podolski.
Prince Poldi
is the ultimate Jekyll and Hyde of modern football; profligate at club level - he scored just two Bundesliga goals last season with Koeln - and prolific with Germany. Already the proud owner of 76 caps at the age of just 25, he scores at a better than one-in-two average for his country. Podolski has the mobility and wit to cause a less than lightning-fast England central defence problems, and has a hammer of a left foot to boot.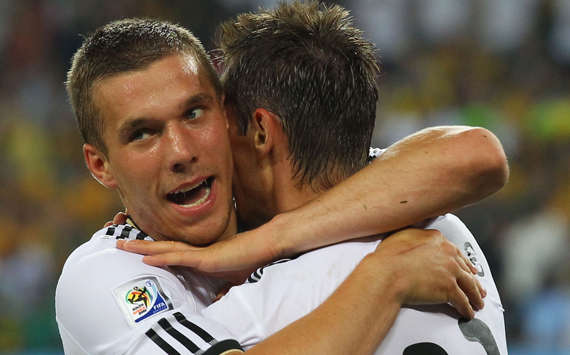 Poles apart | Podolski is even more important to Germany than Mesut Oezil
Weak link



Germany's defence can look prone, despite its physical presence. There is no effective organiser in the central pair of Per Mertesacker and Arne Friedrich, and goalkeeper Manuel Neuer was kept busy in the final group game against Ghana.
Mertesacker has been heavily tipped for a move to the Premier League with Arsenal, but has underwhelmed in the tournament so far. One clumsy first-half slip on Wednesday let in Andre Ayew and Neuer was forced to bail out his senior colleague.
Psychological state



Much has been made of the youth of Germany's squad and their comparative tournament inexperience, but conversely it seems the string of injuries to have blighted the squad in the run-up to the World Cup - notably that to captain Michael Ballack - have only brought the group closer together.
They made light of the sending-off of Klose against Serbia to pin their opponents back, and were unlucky not to take a point, and showed character to withstand Ghanaian pressure in the group decider. This squad is tougher than many expected.
Common game plans


Unlike many modern 4-5-1 formations, Germany don't play with two sitting midfielders. In fact, the one that did play against Ghana, Stuttgart's Sami Khedira, was given licence to bomb forward at regular intervals, with Bastian Schweinsteiger falling back to cover.
Loew trusts that his young side have the athleticism to reduce the risks that this tactic would normally incur. The movement of these two, and the nippy Oezil, gives Germany plenty of options when they have the ball, and makes the midfield runners difficult to pick up.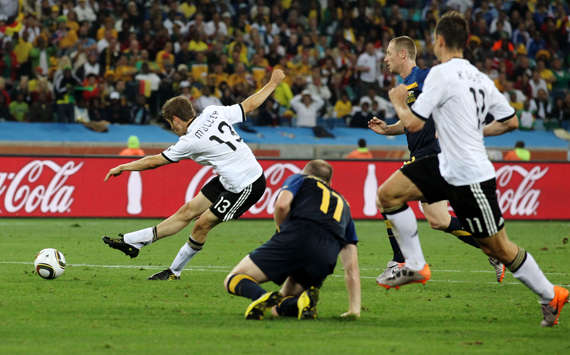 Go with the flow | Mueller's goal against Australia typefied Germany's fluid attacking
Recent form


Unpredictable. The resounding win over Australia was followed by a shock loss to Serbia, leaving Germany on a knife-edge going into the Ghana match. They held their nerve, but the feeling remains that the team made qualification a tad more difficult than it might have been.
There is no doubt that the group is prodigiously talented, but a fair few of the side are still feeling their way in top level international competition. It's hard to know what's coming next.