Wednesday's results in Groups C and D ensured that
World Cup 2010
will feature the compelling prospect of another
Germany
v
England
clash. The fixture is one of the great rivalries in world football because of previous titanic encounters between the Germans (including, from 1954 to 1990, West Germany) and the English.
Many of those past battles have entered footballing folklore, and several were ultimately decided by the special contribution on the day of one particularly shining talent among the 22. So who on Sunday will take his place in the pantheon of past match winners in this classic fixture?
MORE...
Maybe Wayne Rooney will rediscover his most clinical form at just the right time, Jermain Defoe extend his scoring streak or Frank Lampard time his runs into the box to perfection to fire a winner. Or perhaps Germany's rising star Mesut Oezil will take the game by the scruff of the neck, Lukas Podolski poach a pivotal goal or Bastian Shweinsteiger, if recovered and able to start, dictate the play from midfield.
There are certainly some illustrious predecessors in this fixture from whom Sunday's contenders can draw inspiration...
Stanley Matthews - 1938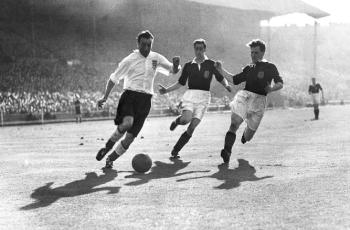 Germany and England first played each other back in 1930, a 3-3 draw in Berlin; but their third meeting, also in Berlin in
1938,
was redolent with propaganda and the sinister undercurrent of impending war. Brita
in's ambassador ordered the reluctant English team to give the Nazi salute as the teams lined up, to avoid offending their hos
ts, but when the action got underway the
visitors took their revenge.
Despite an intensive pre-match training regime in the Black Forest, Germany were no match for the determined English. And Stanley Matthews was in inspired form, running the home defence ragged all afternoon and mesmerising them once more before flighting a cross to Len Goulden who crashed home a 25-yard volley for England's final goal in an emphatic 6-3 victory.
Geoff Hurst - 1966


The most iconic game in the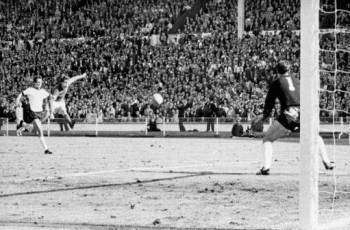 series, at least from an English perspective, was the 1966 World Cup final when Alf Ramsey's team went head to head with Helmut Schoen's at Wembley for the greatest prize of them all. West Ham fans insist the Hammers won the Cup for England thanks to captain Bobby Moore and goalscorers Martin Peters and Geoff Hurst.
And Hurst's contribution - he remains the only player to claim a hat-trick in the final - was the stuff of legends which the enduring controversy about his second goal has merely enhanced. He only got his chance (from the quarter-final onwards) because Jimmy Greaves, England's goal-poacher supreme, picked up an injury. Just this week the still sprightly Hurst revealed on British TV that not a single day has passed in the 44 years since his feat without somebody asking him about it.
Gerd Muller - 1970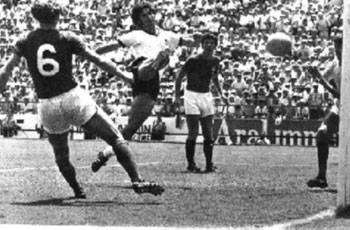 Four years later in Mexico as England defended their title they took what seemed a commanding two-goal lead in the heat of Leon thanks to Alan Mullery and Peters, both profiting from Keith Newton crosses. But in the second half they began to lose the initiative - and the match.
Franz Beckenbauer pulled one back in style, Ramsey made two ill-judged substitutions, Uwe Seeler equalised with an unorthodox back-header to force extra-time, and after Hurst had a goal disallowed, the lethal Gerd Muller - der Bomber - volleyed home from close-range against stand-in keeper Peter Bonetti to make it 3-2 and complete a sensational German comeback.
Gunther Netzer - 1972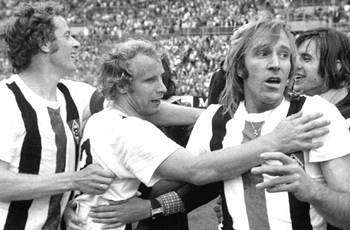 West Germany were blossoming while England were heading into decline when the sides met at Wembley in the first leg of their European Championship quarter-final. Beckenbauer - der Kaizer - was redefining the role of sweeper, commanding the territory both in front of and behind his defence.
But it was Gunther Netzer, lithe and fleet of foot, who proved the revelation in midfield, leaving Englishmen trailing in his wake and slicing open their defence with precision passes. Either side of goals from the eager Uli Hoeness and predatory Muller, Netzer converted a penalty, conceded by Moore, as the visitors triumphed 3-1.

Andreas Moller - 1996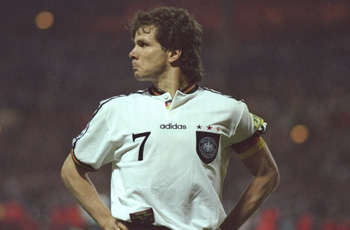 In the 1990 World Cup semi-final, a 1-1 draw after extra-time was followed by Germany defeating England in a dramatic penalty shoot-out, prompting the scorer of England's goal, Gary Lineker, to observe ruefully that "Football's a simple game; you run around for 90 minutes and in the end, the Germans win." Six years later at Euro '96, history repeated itself.
A pulsating semi-final saw Alan Shearer give England a dream start with a third-minute header, only for Germany to equalise through Stefan Kuntz on the quarter-hour mark. England regained the initiative, but not the lead, and extra-time was again necessary. It was a thrilling additional 30 minutes, both sides going all out for the Golden Goal.
Darren Anderton's effort rebounded from the post into Andreas Kopke's arms; Kuntz headed home from a corner but the whistle had blown for a foul; the effervescent Paul Gascoigne just failed to make decisive contact on a Shearer cross with the goal gaping. It was end-to-end, but ended in a shoot-out. The first ten spot-kicks gave neither keeper much chance. The 11th, taken by Gareth Southgate, was gathered by the grateful Kopke. That left Andreas Moller to slam home the winner and dance a victory jig in celebration.

Alan Shearer - 2000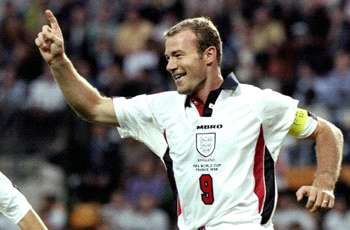 On a June night in Charleroi, following a shocking opening defeat against Portugal when they'd squandered a two-goal lead to lose 3-2, England rekindled their Euro 2000 hopes with a victory over Germany that helped ease the pain of Italia '90 and Euro '96.
It was a personal triumph for Shearer, who was under pressure after going seven games without an international goal. He answered his critics in the best possible way in the 53rd minute. David Beckham's free-kick eluded Michael Owen, Paul Scholes, Markus Babbel and Jens Jeremies before arriving, after bouncing, at the far post, where Shearer launched his header beyond Oliver Kahn and into the net. It was a goal the England captain deserved and it postponed his international retirement by one more game.

Dietmar Hamann - 2000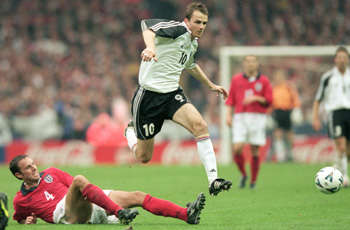 The last match to be played at the old Wembley Stadium was a 2002 World Cup qualifier that also signalled the end of Kevin Keegan's decidedly patchy reign as England manager.
Under leaden October skies on a rain-sodden pitch, England toiled but lacked creativity or craft. Germany, in truth not much better on the day, nevertheless triumphed through a low free-kick struck with precision by English-based Didi Hamann. Keegan announced his resignation immediately after the game.
Michael Owen - 2001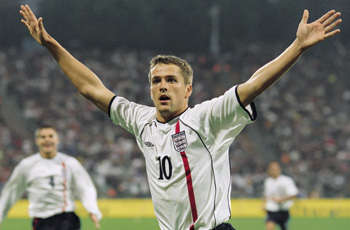 The return match in that 2002 World Cup qualifying campaign saw a revitalised England, under new manager Sven Goran Eriksson, reach previously unsuspected heights with a majestic performance in Munich that led former top German striker Karl-Heinz Rummenigge to remark: "I have never seen such a terrible defeat... This is a new Waterloo for us."
Ironically, Germany took the lead when Carsten Jancker scored after just six minutes. Then the English onslaught began, and their lethal weapon was Owen. Six minutes later he volleyed the equaliser past Kahn, before Liverpool club-mate Steven Gerrard drove home England's second following a Beckham cross. Early in the second half the unmarked Owen seized on Emile Heskey's headed pass and shot into the right-hand corner of the net.
On 66 minutes Gerrard won possession and played a perfect through-ball for Owen, who raced into the box and fired the ball over Kahn's head to become the first England player since Hurst to score a hat-trick against Germany. There was still time for Heskey - also with Liverpool at the time - to add a fifth England goal from a Paul Scholes pass. The 5-1 victory made a deep impression on the English psyche: in a 2002 British TV poll on
Channel 4
of the '100 Greatest Sporting Moments', this game was voted second, one place ahead of the 1966 World Cup Final.