Wednesday afternoon finally brought about the event that the entire nation had been willing, a win for
England
at the
World Cup
.
Having dispatched of Slovenia 1-0, thanks to a first half strike from Jermain Defoe, the Three Lions secured their place in the last 16 having progressed from Group C.
Nonetheless, former Everton loanee Landon Donovan steered the USA from the clutches of elimination to the top of the group with his stoppage-time winner against Algeria, meaning that Capello's charges had to settle for second spot, and a last 16 meeting with the old enemy, Germany.
Goal.com UK
takes a look at the top lines, on the World Cup's headline match...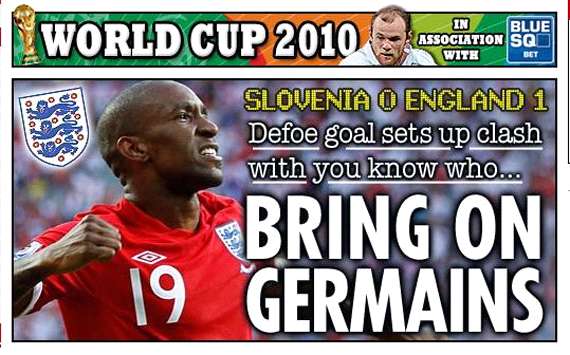 Take it as Red | The Sun
"JERMAIN DEFOE fired England into the last 16 of the World Cup - and a crunch clash with old enemy Germany."
Meanwhile, the German press has been quick to point the finger at England's shortcoming...
Last gasp US top group ahead of England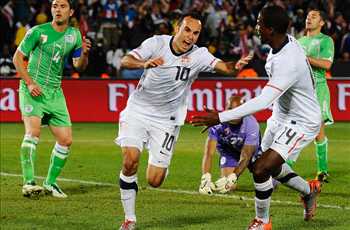 Bild | Early mind games, or frank honesty?
"England disappointment at failing to top the group is tempered by relief at getting their first win, although they really should have scored more goals as they dominated a poor Slovenia side almost from start to finish."
Well, that may be true, but The Sun continues to focus on England's strengths, and in particular, the courageous performance of John Terry...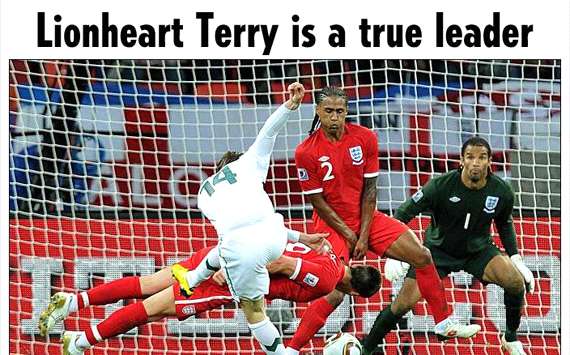 NUT CASE | The Sun
"After the corrosive few days John Terry endured in the build-up to this pivotal match, the Chelsea skipper is entitled to take a huge, magisterial bow. There's no reason for him to apologise about anything now."
And the Mirror, cottoning on to Capello's post-match exuberance, have offered their take on the news that the Italian tactician offered the players a cold one the night before the Slovenia match; Three Lions, three cheers...
BEER WE GO!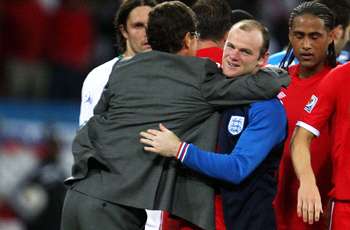 Relief all round | The Mirror
"Disciplinarian Capello ditched his strict boot camp rules the night before England's make-or-break showdown with Slovenia and offered his players a beer."
But with progression secured, and Group D in the bag, the Germans are looking ahead to Sunday's challenge...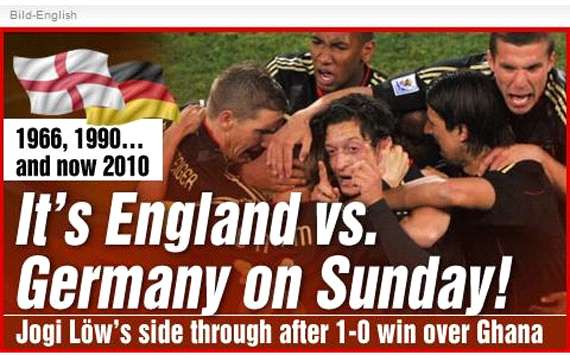 Bild | 1966 and 1990, a diplomatic approach
"Germany beat Ghana 1-0 with a cracking Mesut Oezil goal to seal a place in the last 16 and set a mouthwatering date with England in Bloemfontain on Sunday."
No trip to South Africa is complete without a visit to its most beautiful and sunniest city. Durban offers much more than sandy beaches, safaris, casinos and the World Cup, for information on what to do and see, please click here