It has been a long time coming. Back in 1954, South Korea flew to Switzerland for their first ever World Cup. The journey, in a military transport plane, took more than a day. After two thrashings, 9-0 at the hands of Hungary and a 7-0 Turkish beating that was far from delightful, the team must have wished it hadn't bothered.
Six more appearances on the global stage followed. One of those was a wonderful fairy-tale march to the semi-finals in 2002 in front of their own fans in East Asia but on foreign soil, the Koreans were still searching for a first appearance in the second round.
No longer. It wasn't easy, it wasn't always pretty but second place in Group B behind an impressive Argentine side, is what the players deserve for their efforts in South Africa. A 2-0 win against Greece, a 4-1 defeat at the hands of Argentina and a 2-2 draw with Nigeria may not be perfect but for a team ranked 47 in the world by FIFA, a place in the history books is assured.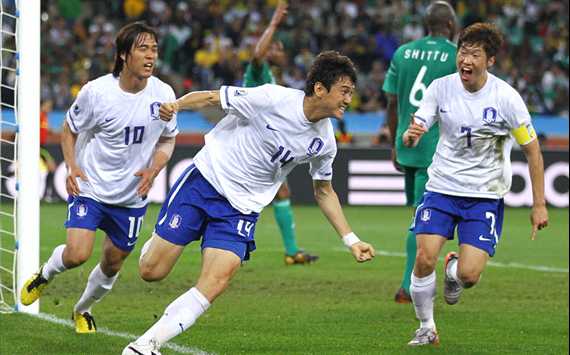 Beautiful South | Lee Jung-Soo grabbed his second of the tournament
On Saturday, South Korea will take on Uruguay in Port Elizabeth with a place in the quarter-finals at stake and then, as the survivors from 2002 will be telling their younger team-mates, anything can happen.
Much happened in a roller-coaster 90 minutes against Nigeria in Durban on Tuesday evening. There were mistakes from both teams in defence and attack but it was a contest that held the attention of all as the traditional powerhouses from Africa and Asia slugged it out. The contrast in styles was clear. Nigeria pitted their power and physique against the technique of the smaller but quicker Koreans.
The men in green may point to an unbelievable miss from Yakubu Aiyegbeni and then a close call from Obafemi Martins but Korea gave as good as they got in Durban with the majority of the 61,000 fans behind the Super Eagles. It may have been another dark day for Africa but in Asia, especially the southern half of the peninsula hanging off the eastern edge, Wednesday morning has already dawned in the brightest of fashions.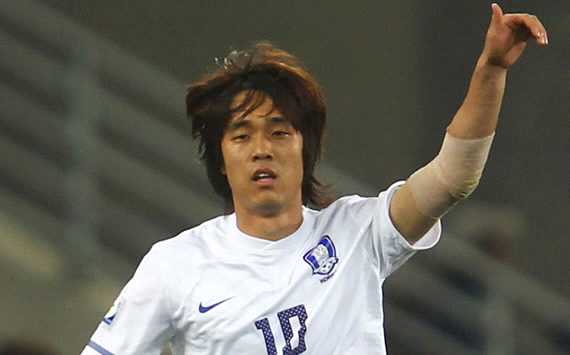 Striking Performance | Park Chu-Young impressed again for South Korea
Korea fell behind early but stayed resolute to go in at the break level thanks to a somewhat ungainly equalizer from Lee Jung-Soo. Three minutes after the restart, Park Chu-young, who had scuffed a couple of first-half attempts, scored the first goal direct from a free-kick at this World Cup. With Argentina knocking at the Greek door in Polokwane, one that was soon to be forced open, things were looking good for the Taeguk Warriors. Midway through the second half, Kim Nam-Il's clumsy challenge in the area gave Nigeria a way back into the game that Yakubu didn't waste and from then on, it was always going to go down to the wire.
Both teams could have won but in the end, it was Korea who got the draw they needed. Korea may have a little improving to do before heading to Port Elizabeth on Saturday to take on Uruguay but first Huh Jung-moo and his men deserve to enjoy a little of their historic achievement.