England 0-0 Algeria
England
, as
Fabio Capello
's men slumped to a goalless draw with
Algeria
that has thrown their World Cup ambitions in a stark light.
The opening exchanges looked a little rushed and revealed little apart from that once again the Jabulani ball might cause problems, with Algerian keeper Rais M'Bholi reaching behind his head to collect a towering, if aimless, cross which seemed to balloon over him unexpectedly.
MORE...
Ryad Boudebouz led a raid down the right for the Algerians, but the match was a cagey affair by and large, with good, if at times a little fraught, defending frustrating the early thrusts from both sides.
Final ball delivery from both open play and set-piece was terrible, continuing the theme of much of the tournament so far.
Jamie Carragher looked lively and just about quick enough at the heart of the defence though, whilst Gareth Barry's ability to calm things down in midfield was already apparent in the otherwise fragmented early minutes.
David James faced his first test on 11 minutes, when a poor clearance from Glen Johnson just about got rid of the danger after another high cross, this time from Rangers defender Madjid Bougherra, swirled high over his head. His punch was okay, and James looked typically insouciant afterwards, but it made English hearts race a little faster all the same.
He was forced into action once again, when Carragher nervily glanced a cross back to him. Communication looked to be hampered by the anxiety that seemed to be growing in the Three Lions' ranks, although Carrager looked decisive when called into action.
Barry's defensive qualities were shown again when he made a crucial challenge to deflect a Bougherra corner away from Hassan Yebda in the six-yard box.
James confidently claimed the resulting corner and seemed to grow in confidence from then, his early nerves settling.
Steven Gerrard swapped wings with Aaron Lennon on 24 minutes, as Fabio Capello's animation in the dugout increased, with things not quite clicking for England in attack, the fans' enthusiasm rarely matched by the players' movement or quality.
Lampard almost combined with Rooney on the edge of the Algerian area after half an hour, with England gradually looking more fluent, at least in parts.
Lampard it was who properly tested M'Bholi for the first time on 32 minutes, when a cross from Lennon, now back on the right, fell to him just inside the area. The Algerian held the snap shot well.
England continued to labour manfully, but lacked the kind of calmness that can produce inspiration. Barry forced M'Bholi to make another save, and Rooney started to look like he was beginning to bubble, but it was unthreatening stuff generally as the half petered out.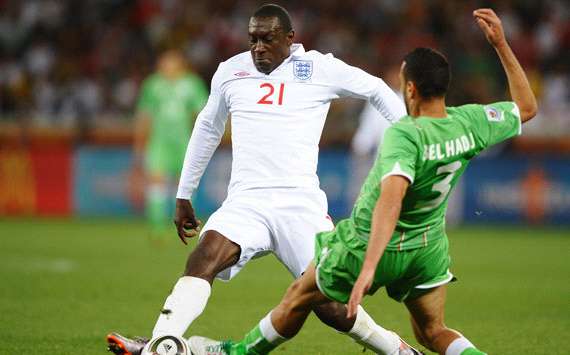 Dead heat | Emile Heskey and Nadir Belhadj vie for possession in a tepid encounter
The second half continued in much the same vein, with neither side showing any real sign that the interval was likely to improve things.
Algeria won a couple of free kicks in England's half, but they were blocked by the wall without ever looking anything like troubling James.
MORE...
Heskey's bungled attempt at a cross from the right summed things up perfectly as far as England were concerned: purposeless, inept and nervous.
ROONEY CONTROVERSY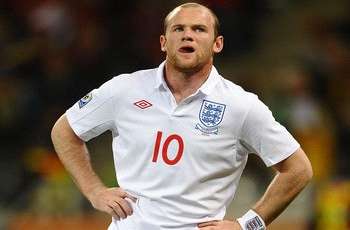 At least Carragher looked to be keeping his head, relatively speaking, at the back as Algeria looked to threaten on the counterattack.
Ziani gave the ball away on 54 minutes on the edge of his own box, but Gerrard couldn't convert the chance that was awkwardly worked.
Even Rooney's touch and control began to fall victim to what looked to be mounting and increasingly clueless anxiety in the England ranks, for all captain Gerrard's anxious expressions.
Carragher was booked in the 57th minute for a foul on Hassan Yebda, who almost rolled the Liverpool man on the edge of the box. He will now miss England's concluding group game against Slovenia.
Aaron Lennon managed to chip in a cross from the left that almost found Rooney's head, before Capello moved to change things just after the hour, bringing Shaun Wright-Phillips on for the Tottenham Hotspur winger. There was no change of shape.
John Terry produced what could have been a game-changing blunder on 63 minutes, woefully underhitting a back pass, to which James had to react smartly and smash away. England really were looking like a team that was beating itself by this stage, with Algeria having to do little to exert additional pressure on Capello's team.
Gerrard and Heskey combined well on the right of the Algerian penalty area on 70 minutes. Gerrard then forced a save with a header from the resulting corner, as Jermain Defoe warmed up on the sidelines.
The Spurs striker replaced Heskey on 73 minutes, but there was no alteration of England's formation, with Gerrard still playing from the left.
His first opportunity came as a result of Gerrard surging into the centre of midfield to make the play, but the Three Lions were still nervously inept in their execution. The Algerians were content to try and hit on the break, but failed to stretch James in the second period.
Both sides seemed to have settled for a draw by the time Peter Crouch replaced Gareth Barry on 83 minutes, England's shape remaining 4-4-2 with Rooney switching to the left flank.
The fact that the jeers of the England fans managed to drown out the ubiquitous drone of the vuvuzela spoke volumes for the change in mood around the stadium as the game had wore on. The frosty relationship between players and supporters will only become more apparent in light of Rooney's comments as he walked off the field, saying to an on-field camera "nice to see your own fans boo you", which was picked up by a television mic.
England must now beat to Slovenia to reach the second round, while Algeria can also go through if they defeat the United States and Slovenia beat England. Group C remains wide open.