A scathing attack on the ball that has destroyed the spectacle...
FIFA are seemingly very cautious when introducing changes to the word's most popular game. Every little change to the rules, like additional referees behind the goals, is tested in minor competitions to make sure it works properly. Using technology is strictly forbidden to preserve the game's pure character and natural flow. There is, however, one single object that is deemed to be so irrelevant to the game by a certain Sepp Blatter that it can be substituted every time the World Cup, or any other big competition, comes around. We are talking, of course, about the ball.
Adidas, FIFA's partner since 1970, is making money off producing a new ball ahead of every World Cup. While I fully understand the commercial needs of that company to abuse under-paid children in the East to improve its balances, it appears to me that the new brand of balls don't necessarily have to ruin the world's biggest sporting event. After all, when a manufacturer for Formula 1 decides to rebrand its vehicles, it doesn't produce a car with three wheels and no clutch. And if for some idiotic reason that sort of car is produced, drivers won't be forced to try it for the very first time in the most important race of the season. Otherwise, the race will turn into a horrific car accident, which is exactly the disaster FIFA managed to arrange in South Africa 2010.
There is no secret that Jabulani's characteristics differ significantly from all the balls the 736 players participating in the World Cup have ever tried. Bizarrely described as "the most perfectly round ball ever made", it's lighter and more unpredictable than its predecessors. Without opening the debate whether that kind of ball will make the game better -
Goal.com
's Carlo Garganese will do that after the World Cup - it's obvious to state that players need time to adjust to it in order to use it properly. They were not given that time, and that's why most of the games in South Africa are of such a low quality.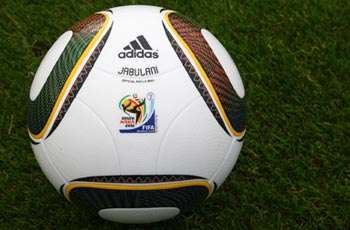 Just try to count how many times the commentators mention that "the ball was too long and went out of play", how many crosses flew over the penalty box and how many wild shots went straight into vuvuzela-blowing stands. That's not because the best players in the world all of a sudden completely lost their form and are incapable of completing a medium-range pass. The reason behind the amazing percentage of bad passes, dreadful crosses and terrible misses, not to mention goalkeeping blunders, is that players are simply not familiar with that Jabulani fellow, which is supposed to be a regular ball, but in reality is anything but.
You can feel that players are now forced to think and pay attention to the ball even when performing the easiest actions, which would be normally made effortlessly. That extra thought slows the game, and makes the players nervous. They don't want to look silly or be responsible for some Robert Green-like accident, and kicking the ball high up is never thought to be too big a mistake. And up that Jabulani goes!
That's why we finished the first round of the group stage with an appalling ratio hovering somewhere above one goal per game. The authorities are trying to explain that things will improve once the players feel more comfortable with Jabulani. That is probably true, but why on Earth are players made to suffer and adjust to new balls
during
the tournament? It's the event we've all been waiting for for four long years, and all 64 games should be played in the best conditions possible. If FIFA really thinks constantly changing the ball is "for the good of the game", why not give the players a season to learn how to use that Jabulani? Or is than not financially beneficial to them?
It might be sensible to bring the best stars in the world to play in winter conditions, on high altitude, on porous pitches (those in Port Elizabeth, Pretoria and Rustenburg are more suitable for planting potatoes or accommodating homeless moles), and deafen them with vuvuzelas. After all, Sepp has always promised to bring the World Cup to Africa.
But to make those stars play with a completely new ball on the biggest stage in the world is more than outrageuos. That kind of decision shows total lack of respect for all involved - the players, the fans, the World Cup and the game as a whole. It's an undefendable crime against football, and someone in the FIFA offices must be held responsible for it, so that we won't have the very same problem with a brand new Samba ball in Brazil 2014.