Albicelestes fans get up early to watch thumping win
Cafe Gauna is a bar like a thousand others in Buenos Aires. Located in the working class barrio of Villa Crespo, it is the kind of place where everybody knows your name and regulars sit for hours over an espresso waxing lyrical over love, life and, of course, football.
Today it was standing room only at 8am as the neighbourhood gathered to watch Argentina taking on a tricky South Korea side. A good old-fashioned, English style drinking session was out of the question at this hour - this is a work day after all - so the faithful sat comfortably with their
cafe con leche y medialunas
(latte coffee with croissants) and fell silent in anticipation of their heroes' arrival.
The early birds were not disappointed as a Pipita-fuelled Argentina demolished their Asian rivals.
Knowing that he needed a big performance to prove himself as an international goalscorer, Gonzalo Higuain responded in the best possible fashion by netting a hat-trick of close range chances. But the three-goal ex-River star was not
the hero
for the Albiceleste... step forward one Lionel Messi.
There is a certain inevitability about playing against Messi; you know exactly what he's going to do, but there is just no way to stop it. The Koreans tried double teaming the Argentina lynchpin, they tried closing him down and infinite times they resorted to simply kicking him, but the little man from Rosario was irrepressible and was involved in almost everything positive that Argentina created.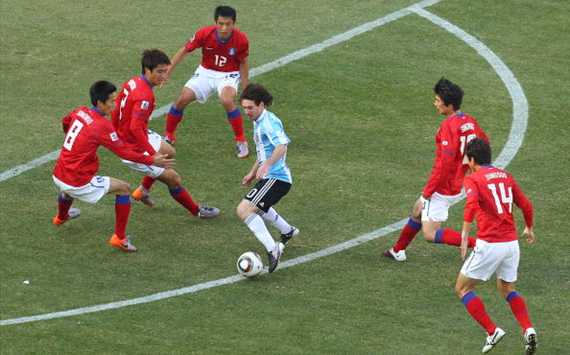 Maradona Mk II | Messis dance around Koreans, similar to famous Diego photo
Despite the scoreline, the game was not without its scares for the Argentines. They raced into a first half lead through a Park Chu-Young own goal and an Higuain header, both from set pieces. Corners and free-kicks are bound to be common place for this team with teams hacking down Messi as a least bad option, so the two dead ball goals along with Heinze's on Saturday give a much-needed extra dimension to their attacking threat.
On the stroke of half-time however, Martin Demichelis' brain became detached from his feet as an awful error led to the lead being halved as the whistle blew. Big questions have to be asked about the pony-tailed centre-half, who could prove to be a liability at the back in tighter games.
This led to a nervous mood on the pitch and in Cafe Gauna, as Argentina retreated tortoise-like within themselves. Passes went astray, cynical fouls were committed and South Korea started to impose themselves, hunting for an equaliser. Back in the bar, the screen was oscured by a fog of cigarette smoke as the regulars started to let nerves get the better of them.
Rumours of Sr. Maradona's tactical ineptitude though are greatly exaggerated, and the excitable chap in what appears to be his big brother's hand-me-down suit pulled a masterstroke with 20 minutes remaining. The excellent Tevez was taken off and Atletico prodigy Sergio 'Kun' Aguero bounded on the pitch; the weary Korean defence should protest to FIFA at the sheer injustice of having a player of this quality sitting on the sidelines.

From that moment it was no contest. Kun and Messi gleefully ripped the backline to pieces, and it was Higuain who took advantage with two goals presented on the proverbial silver platter. You could almost see the relief in Korean eyes when the Kun-inflicted knife-twisting was ended by the referee's whistle - but not before the ex-Independiente star came within a whisker of his own goal.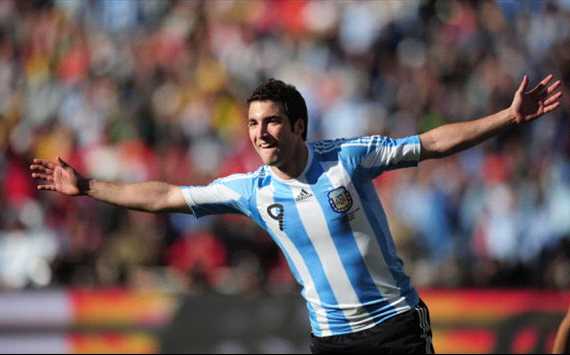 Give us a Hig | Gonzalo nabs impressive hat-trick
There are still serious questions for the Argentina team to answer before they can be considered real candidates. The defence is fragile, fantastic at bringing the ball out to midfield but nervous when on the back foot, and the Demichelis calamity almost cost the team dear.
In attack however, and especially with Messi in full flow on the counter, this team looks terrifying. Four goals by no means flatters this team, and even Higuain could have added a couple more to his tally. Argentina are now top scorers in the tournament and, passage to the second round safely in the bag, chances are us out in Argentina will be hearing the fantastic, so biased it makes Jonathan Pearce sound like King Solomon, local commentators screaming "GOL" many times over.

Overall then Diego, Lio and the rest of the lads were given a resounding vote of confidence from the bleary-eyed football fans of Buenos Aires, for whom now begins another day of school and work. All that remains is to teach a certain Bayern Munich defender to control a football, as the likes of Germany, Italy and Brazil will not be as obliging as the Koreans when the later rounds arrive.
No trip to South Africa is complete without a visit to its most beautiful and sunniest city. Durban offers much more than sandy beaches, safaris, casinos and the World Cup, for information on what to do and see, please click here.