Just when you thought things couldn't get any worse for
Italy
...
Goalkeeper-legend
Gianluigi Buffon
has been diagnosed with
spinal disc herniation, and with a short-term recovery looking extremely unlikely,
it appears very probable that he will not only miss Sunday's Group F game against New Zealand but will also have to sit out the rest of the World Cup.
Buffon has been with the Italian national team since 1997 and has been part of every single major international competition since then except Euro 2000, which he missed due to a broken hand.
Four years ago Italy won the World Cup with the best defensive record - Marcello Lippi's side conceded just two goals - an own goal and a penalty - and one of the best players was Buffon, who won the Yashin Award.
Against Paraguay on Monday Italy didn't have many problems defensively but one can rest assured that the Azzurri's shaky backline will give future opposition an incentive to come out at them; and when that happens, the man with the gloves will have to stand up and be counted. Unfortunately for Italy, Buffon will not be that man.
The Juventus star's loss is a potentially huge blow. Granted, he has not been at his best since 2006 - which also coincided with Juventus's backline going from bad to worse - but the 32-year-old remains one of the world's three best custodians, one of the most astute organisers in the penalty box whose ability to command his area is unparalleled.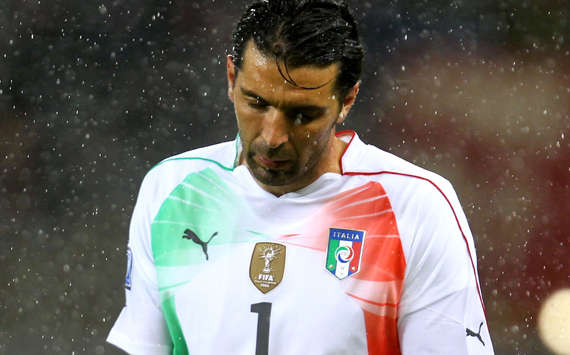 Buffon's replacement, Federico Marchetti, is good but is he good enough to fill Buffon's boots? He plays for Cagliari - not Inter, Milan or Juve; when the 27-year-old came on at the start of the second half against Paraguay, an Italian expat sitting next to this writer remarked,
"Who is this goalkeeper? I have never even heard of him!"
Morgan De Sanctis, and Salvatore Sirigu if he is given clearance by FIFA to step in, are the other two goalkeepers but they will be behind Marchetti in the pecking order. None of the three are top class. Or experienced. Or well known. Or well endowed. Or legends. Buffon is all of the above.
You could argue that if you have 10 great outfield players, you don't necessarily need a brilliant goalkeeper. But Italy don't have 10 great outfield players and neither is their defence exceptionally watertight. Against better opponents, the Azzurri backline will show cracks, which Buffon could potentially have papered, but will Marchetti be able to?
How a goalkeeper can win or lose a game for his side at the World Cup was perhaps best demonstrated by England's fiasco against the USA. The Three Lions lack a goalkeeper who can actually be termed 'good' but Fabio Capello's side may well have won their opening match had Robert Green not done a David James, who is potentially England's number one - and you don't need to have followed football closely to realise how pathetic James can be.
Marchetti is neither a Rob Green nor a David James; but he is not a Buffon either.
Who has the best chance of winning the World Cup? Check out Castrol Football's 2010 FIFA World Cup Winner Predictor.