"I hope that people will now realise that the role of Spain as favourites is nonsense. We have never even reached the final. We have many good players, but favourites….. no."
It may well have simply been a snap reaction to a surprise defeat, but
Gerard Pique's
comments following
Spain's
1-0 humbling at the hands of
Switzerland
in Durban on Wednesday suggest that Vicente del Bosque's side aren't enjoying being the team everyone wants to beat.
The European Champions have long been installed as the World Cup winners-in-waiting, and given the supposed fragility of tournament veterans such as Italy, France and Germany, simply disembarking in the Rainbow Nation would all but guarantee a straight shoot-out with the Brazilians for global domination.
But the loss to Ottmar Hizfeld's efficiently-organised outfit will perhaps curb the enthusiasm of the glossy-eyed pundits no doubt craving a 'victory for football' in the broadest terms. There are elements to tournament play that cannot be taught; rather they have to be earned. The aforementioned (
Never write off the
) Germans, (
1-0 to the
) Italians, and of course the (
So good, they let us keep it
) Brazilians have created a big-game persona, and have established a reputation for going deep into this, the most prestigious of all football events. They are good at this; indeed, they have made it an art form.
That fact, coupled with Spain's notorious penchant for slipping up (Switzerland add their name to Northern Ireland, Nigeria and South Korea in the hall of shame) means it was perhaps premature to consider Spain to be so vastly superior to teams who have been here and bought the T-shirt.
Pique, the coach and the squad have accepted with reluctance their position on the parapet, within the crosshairs of teams out to stifle the expressionism of del Bosque's 'team to beat'.
And so Pique's attempt to manage the world's expectations may not wash with all of those who leapt onboard the flair-football fanaticism, but hopefully it will allow Spain to concentrate on nothing other than producing the calibre of football that only they, of the 32 nations in South Africa, are capable of.
On the face of it, his comments appear negative, but they are merely a tool to allow the team to build themselves back up from their brief slip from the summit. The leap to assumed tournament winners has been too great – it is time to contemplate, reassess and re-evaluate.
Step one: escape Group H.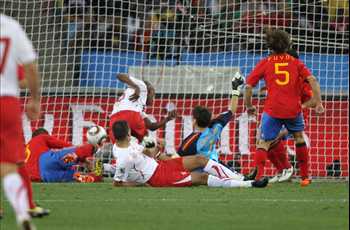 Puyol | Can only look on as Fernandes nets
But the beauty of knockout competition, and also the downfall of great sides of the past, is that suffering one off-day, one below-par 90 minutes, or enduring the perennially-cliched 'one of those days' at an inopportune time can ultimately end in elimination.
Spain have arrived uncharacteristically, but if there is ever a time to be on the receiving end of the unequivocal shock of the event so far, the opening match is that time.
The quotes emanating from the camp echo a feeling of frustration, of disbelief, but also of single-mindedness in winning the next two matches and emerging from Group H, generating momentum in the process.
Such a reaction will be pleasing for Del Bosque; the players didn't stoop to being critical of the ball, or the officials, or the vuvuzelas, or any other excuse being conjured by teams unwilling to accept a result for what it was. His players are acutely aware that another off-day will be their demise. What remains key is that Del Bosque reminds his players of what they have achieved; the European success, the incredible unbeaten run, the flawless qualifying campaign, simply remind them that this was a mistake – but one that can be readily mended.
And in spite of the perceived lack of fluency in Spain's performance, there were also positives to be generated on the pitch, too. Fernando Torres didn't look at his best, with his touch and finishing slightly askew, but he collected another 30 minutes of competitive football, and is gaining sharpness with every stride he takes.
Jesus Navas was spritely in the second half, and put himself in real contention to start ahead of the off-colour David Silva in Monday's clash with Honduras, while Xabi Alonso and Xavi, as always, scarcely surrendered possession.
There would also perhaps be more concern if Spain hadn't threatened, but 22 efforts on goal, including 10 on target, is a sizeable total, and on another day, better finishing and a slice of luck could have led to a significantly different final score.
After such a surprise there is, inevitably, a tendency for overreaction, over-deliberation and analysis that in many ways could be deemed unnecessary. None of the major sides, with the exception of the Germans, have arrived in South Africa with any statement of intent. It just means that Honduras had better beware of a backlash – and a furious one at that.
How has Spain's defeat affected their chances of success? Use the Castrol FIFA World Cup Predictor to find out...