By
Amar Singh
in Cape Town
England
arrive in Cape Town today ahead of Friday's must-win
World Cup 2010
match against
Algeria
.
Aside from the well-publicised dilemma over whether to stick with goalkeeper Robert Green after his howler against the United States on Saturday, Capello has also revealed that he is mulling over whether to stick with Emile Heskey or bring in Jermain Defoe for the match.
Capello said: "I know my team. We will play Barry, he is back, he is okay, but I have to decide about two positions. These are goalkeeper and forward - Heskey or Defoe."
Capello's revelation surprised many seasoned England watchers and, provided it is not a smokescreen to move attention away from the 'big goalkeeper question', it has once again brought to the fore a debate that has existed throughout the Italian's England tenure; who should partner Wayne Rooney in attack?
The Work Horse | Emile Heskey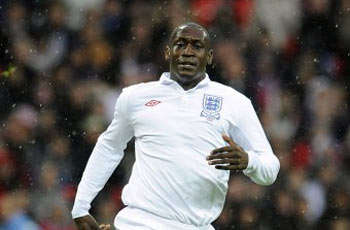 Age:
32

Caps:
59

England goals:
7

Goals per games:
One every 8.4 games
A poor finish aside when through one on one with Tim Howard, Heskey's performance against the USA was one of the few positives England took from the match last weekend. He battled for every ball with giant US defender Oguchi Onyewu and his clever reverse pass to Gerrard led to England's opener.
But, with such a poor goal return, the enduring argument for picking Heskey has always been that he 'gets the best out of Wayne Rooney'. But the Manchester United striker drifted in and out of the match on Saturday and their partnership failed to set the World Cup alight.
The Speed Demon | Jermain Defoe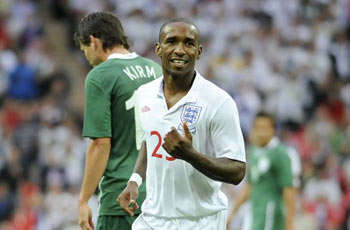 Age:
27

Caps:
40

England goals:
11

Goals per games:
One every 3.6 games
Defoe has often delivered a better goal-scoring return for his country when coming off the bench and his seven starts alongside Rooney in the past has delivered a return of just one goal. But Defoe offers pace and a directness that Capello may feel could trouble the lumbering Algerian defence.
With Gerrard likely to move to the left as Gareth Barry returns, Defoe spearheading the attack would appear to suit Rooney's natural game of dropping into the hole more.
The forgotten man |
Peter Crouch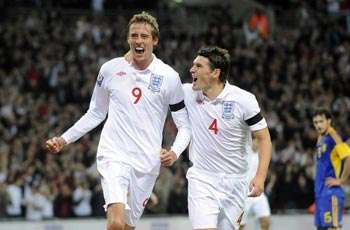 Age:
29
Caps:
39
England goals:
21
Goals per games:
One every 1.8 games
Talk of Crouch's formidable international goal-scoring record has often come packaged with one caveat; most of his goals have been scored against 'weak' opposition. In which case, a place in the team against Algeria, ranked 30th in the world by FIFA, should be a formality.
But there is a question mark over whether Crouch is in the best of form. He was out for almost all of March with a hamstring tear and only scored one goal for Tottenham Hotspur since his return to the side in April. Another suggestion is that Capello and his team have decided that England should 'play on the floor' as much as possible due to the Jabulani. Despite his obvious skill and preference to receive the ball at his feet, England often revert to playing the long ball when the 6ft 7in striker is on the pitch.