Everywhere you go in South Korea you can see young, sometimes very young, boys and girls, walking the streets in white Tae Kwon Do uniforms. The sounds from thousands of studios spill down every street from morning to evening.
On Thursday evening Seoul time, however, all will be quiet as the kids head home to watch the Taeguk Warriors take on Argentina in the second match of Group B. And like many of their compatriots, they think they can shock the South Americans.
After the draw was made in December in Cape Town, Argentina coach Diego Maradona was invited to cast his mind back to when the two teams met at the 1986 World Cup. Then, the world's greatest player was given a little rough treatment by the Koreans — especially their hard-running and hard-tackling midfielder Huh Jung-moo, who is now the coach of the East Asians.
"I remember Huh very well," Maradona said.
"In 1986 the Koreans played Tae Kwon Do, not football, against us."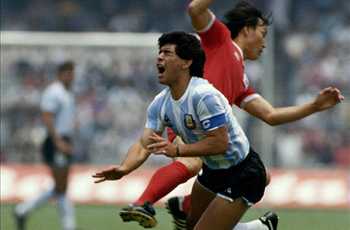 New fight | Maradona and Huh now meet as coaches
In the official pre-match press conference, Huh was asked about the comments.
"If we are to compare ourselves as players, he was a world class player and I respected him then and now," Huh said.
"There were physical tussles and that is natural. He was a great player and it was difficult to mark him, so we probably got a bit physical because of that, but it was not malicious."
Back in 1986, Korea were experiencing their first World Cup for 32 years as they fought Argentina every step of the way before losing 3-1. Back in 1986, rare was the player who had European experience and back in 1986, Tae Kwon Do was one of the nation's most famous exports.
In 2010, however, there are others. Park Ji-sung showed his Manchester United class as he scored the second goal, a fine goal, to secure a 2-0 win over Greece last week. Park Chu-young of AS Monaco troubled the Greek backline with his movement and running, and Bolton Wanderers' Lee Chung-yong asked questions of the 2004 European champions.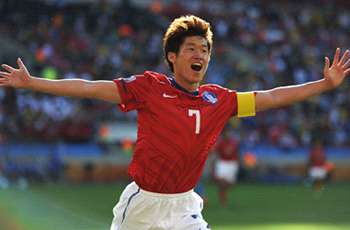 Flying start | South Korea have signalled their intent
These attack-minded players at a tip of a well-organised, experienced but energetic side may be reined in a little at Soccer City in Soweto on Thursday as coach Huh considers changing a 4-4-2 to a 4-2-3-1. It is understandable that a team ranked 47 in the world, too low, strengthens its spine heading into a game with the mighty Albicelestes.
Much talk in the Seoul media has been centred on how to stop Lionel Messi. Since the Greece victory however, more and more headlines have speculated on whether a shock is on the cards. This is not a team that practices martial arts but a team that plays crisp and efficient football and while it expects to spend a good deal of time on the backfoot, it will attack whenever the opportunity arises.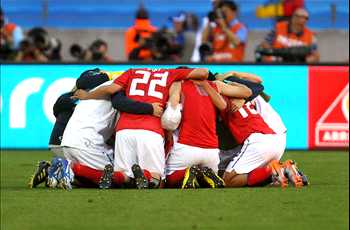 United cause | Can Park and co grab all three points?
For South Korea, this is a chance to see how far they have come. They have been Asia's best for the past year or so, qualified through a tough group with the minimum of fuss and dominated the 2004 European champions in what was perhaps the most one-sided Asian win ever at an overseas World Cup.
There is still a long way to go and while Argentina should be ready for a hard-working South Korean team, Huh claimed to have drawn inspiration from North Korea's performance against Brazil on Tuesday, it is the football battle that Maradona's men have to win.
John Duerden
Asia Editor
john.duerden@goal.com