In part three of a four-part exclusive series, the former Germany manager admits that too many U.S stars think they have made it when they earn college scholarships
EXCLUSIVE
By Ryan Dempsey
It's clear that the United States is producing more and more talented players capable of plying their trade in top foreign leagues, as well as making the U.S. men's national team increasingly competitive at international level.
The majority, if not all, of the USA's current crop of top stars played for American youth clubs that charged fees for travel, tournaments, and coaches. However, every talented youngster across the country cannot afford such expenses, and thus the 'pay to play' model that currently dominates American youth soccer limits the USA's ability to harness all of its talent.
In addition, young players in America grow up in an environment with more options and different pressures than youth players in most parts of the world - creating both positives and negative effects. One of the positives is that soccer can be a unique vehicle for young people to get a college education. On the other hand, the pressure to get a soccer scholarship and possibly a professional contract can hinder a player's development, which is similar to what happens in other countries.
"Well, there's a mindset danger because sometimes the biggest goal of a player is getting a scholarship so they can go to a good college," U.S. men's team coach Jurgen Klinsmann told
Goal.com
.
"Please do not misunderstand me. I think going to college is wonderful. But, on the inside of a player, the most important aspect should be 'I love this game and I want to make it in this game'. I think the inner-drive of the player is the most important element for success in addition to playing quality.
"Instead of the mindset being 'I want to become better and I want to be the best soccer player that I could ever be', it sometimes becomes 'I want to get a scholarship or a professional contract'. But there needs to be a love for the game. You only get to the highest levels if you really love what you're doing."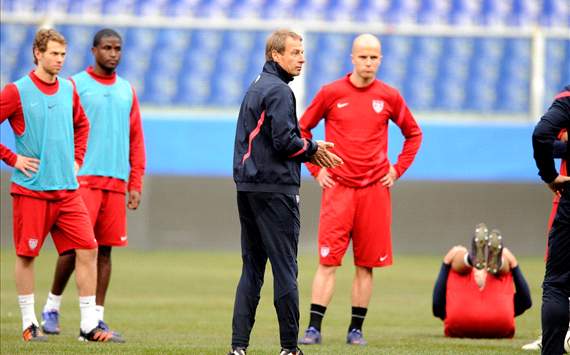 For the love of the game | Klinsmann believes young players must want to be the best
In the U.S. a player's motivation and even the coaching styles they experience can be fuelled by the desires of parents who invest a lot of money in the pay-to-play youth soccer environment to enhance their children's opportunities for success.
"The expectations from the parents and coaches puts pressure on the kids," Klinsmann said. "And, it puts pressure on the coaches to win and get their players scholarships or possibly professional contracts.
"Often the development of the player comes in a bit too short. Is it the player's real wish to pursue his career through soccer or is he only 80 percent convinced that this is the right sport and 20 percent already doubting that this is his favourite sport or activity? When external pressure is the motivation and the player is not fully convinced on their own that they want to be the best soccer player possible, it is very difficult for coaches to develop the best in players."
Klinsmann's message is a simple one. Players have to want to play - and need to be allowed to make decisions about their future in the game both on and off the field.
"Whenever I speak to parents and youth coaches, I always try to tell them to let the kids play on their own," he said.
"Let them make their own decisions. You know, soccer is a self-driven game. So, you can't teach the game of soccer. You can guide it. It's the boys and girls on the field that make the calls. They make the decisions. All you can say as a coach or parent is 'Hopefully, I was a good guide. Hopefully, I organised good training sessions, and I created a good, positive environment'. Then you have to let go and let the players take over their game and their interests."
Klinsmann went on to explain why soccer is different from most other team sports, and why that can be an issue for American parents.
"Soccer is a player's game," he said. "It's difficult for some Americans because in other team sports the coach and people on the outside have more input. Like American Football, where it's all by the playbook. And, in basketball you can call time-outs and you can have your specific plays almost anytime you have the ball.
"But, in soccer you can't predict what happens next. The players always have to find new ways of solving problems. And, if you, as a parent or a coach, try to solve the problems for your child, the child will never learn to solve them by him or herself.
"So, again, when I talk to coaches and parents, I always say, 'Please let them play the game'. Let them make mistakes. Let them discover the game and let them find their own solutions on the field. It's an inner-driven game. It's a self-teaching game. And, some players will get it quickly and some players will take a little bit longer."
Don't miss next week's final entry when we cover Klinsmann's challenge of infusing a more attacking style and what role he will take on to improve youth development in the United States.