Arsenal
legend
Thierry Henry
has completed his long-awaited move from Spanish giants
Barcelona
to the
New York Red Bulls
on a "multi-year contract" - and will make his debut against old rivals
Tottenham Hotspur
.
Henry, 32
,
had been linked with a switch to the Major League Soccer outfit throughout last season after making just 15 La Liga starts for Barca over the course of the campaign.
MORE...
He will be formally presented at a press conference tomorrow and is expected to make his first appearance for his new side in a friendly against Spurs at the Red Bull Arena on July 22.
The World Cup and European Championship winning forward joins as the Red Bulls' second designated player, alongside former Aston Villa hit-man Juan Pablo Angel.
He is expected to use his vast experience, which also includes stints with sides including Monaco and Juventus, to help continue the development of the sport in North America.
Speaking to his new club's official website, Henry couldn't wait to get started in the United States. He said: "This marks an exciting new chapter in my career and life.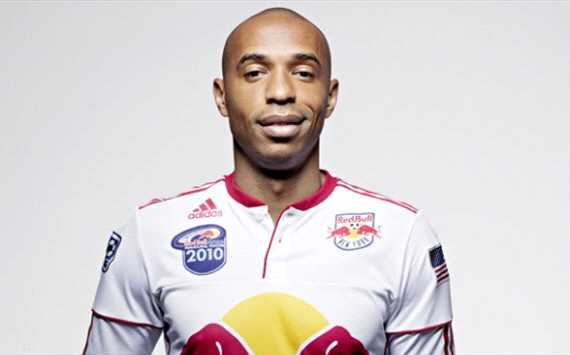 Spreading his wings | Arsenal legend Henry will now play in the US
"It is an honour to play for the New York Red Bulls. I am fully aware of the team's history and my sole goal during my time here is to help win the club its first championship.
"Knowing Red Bull's significant commitment to soccer locally and internationally, I am confident that my team-mates and I will succeed."
Henry was also quick to blast critics who said he has only followed David Beckham's path to the division to seek a bumper pay cheque at the end of his career.
The Frenchman insisted his desire to win still burns as strong as ever and that he was determined to be a success on the pitch for the Red Bulls.
"Some people are going to say I've only gone here for the cash and, well, I do go here for vacation but it won't be a vacation this time," he said.
"I am a competitor and don't like to lose. I'm not going to say we're going to win every single game or win everything. I'm a competitor and even in training, or with some friends when I play in the park I just want to win.
"I try to do everything in my power to win and that's all I can say."
Head of Red Bull Global Soccer, Dietmar Beiersdorfer added: "It is without question that Thierry Henry is one of the most successful and recognisable soccer players over the past 15 years.
"We are thrilled that Thierry has decided to come to New York to help the Red Bulls compete for championships this year and for years to come. His international pedigree is second to none and he is a proven winner."
"Thierry is not only a world class player who will undoubtedly improve our squad, but he has shown most importantly throughout his career that he is a winner," continued Erik Soler, Red Bull New York General Manager and Sporting Director.
"He has made it clear to us that he is committed in the short and long term to help in our vision of making our organization the premium franchise in Major League Soccer."