Avid supporters from all over the continent have made the European Championship the highlight of the football calendar in recent years. Spectacular football on the pitch has been matched by passionate support in the stands, and this summer's event in Poland and Ukraine promises to be no different.
Three great European Championship Atmospheres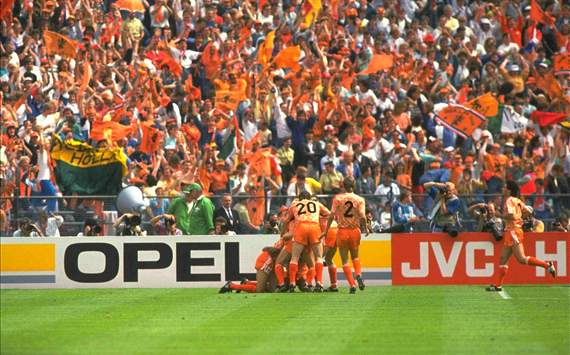 Euro 1972 final
West Germany 3-0 Soviet Union
Thousands of Germans gathered on the touchline to greet the final whistle in Brussels
Euro 1988 semi-final
West Germany 1-2 Netherlands
AAA

Dutch fans packed out one end of the Volksparkstadion in Hamburg
Euro 2008 quarter-final
Croatia 1-1 Turkey (AET)
Estimates suggest that 200,000 fans made their way to Vienna for the clash
This desire seems to have gone from strength to strength, with the tournament in Austria and Switzerland four years ago showcasing some truly awe-inspiring followings to perfectly compliment some of the most dramatic games in football history.
The dramatic semi-final between Germany and Turkey in the Swiss city of Basel attracted around 100,000 fans to the city. Pre-match estimates suggested that 64,724 gallons of beer would be drunk by the next morning, but the figure was probably doubled after Philipp Lahm's late strike handed the Germans a dramatic 3-2 victory.
And with 200,000 supporters said to have flocked to Vienna for the quarter-final between Crostia and Turkey, Euro 2008 was no stranger to vast followings. In fact, Netherlands supporters turned up in such numbers for their three group games in Bern that the city's mayor offered fans and officials the turf from the Wankdorf Stadium!
Portugal was no different four years earlier, when thousands of England fans made the trip to the Iberian nation for their opening game against France.
Steven Gerrard later noted it in his autobiography: "The ground held 62,847 that night and they all seemed to be English. White flags waved everywhere. Even in the French corner, I saw hundreds of England supporters, faces painted with the cross of St George."
But this staggering passion is not a recent phenomenon. Thousands of German supporters gathered on the touchline in anticipation of West Germany's first European title way back in 1972, and they ran onto the pitch at the final whistle to engulf their heroes.
McDonald's Passion Meter
To find out more about McDonalds' Passion Meter, click on the link HERE.
And you can download the Android App from the store HERE.
And in Euro '88, 14 years after West Germany had beaten the Dutch in the World Cup final, the Oranje boys were back in Hamburg looking for revenge. They were backed by a raucous following and, despite being officially limited to 6,000 tickets, many more Netherlands fans piled into one end of the Volksparkstadion to witness Marco van Basten's late semi-final winner.
As you can see, this kind of overwhelming support can really make the difference at the European Championships, so make sure you are ready to cheer your team on to glory this summer.
With that in mind the question is, who do you think has the most passionate fans?
McDonald's are helping fans show their passion this year so click HERE to cheer for a country and show your passion for football during the Uefa Euro 2012.