Rafa Benitez says that Chelsea striker Fernando Torres did not play badly in the 1-1 draw against Sparta Prague that sealed the west London club's progress to the last 16 of the Europa League.
The Blue's interim manager had to wait until the last kick of normal time to see his team avoid extra time and possibly penalties as Eden Hazard struck to ensure they drew 1-1 on the night, for a 2-1 overall aggregate victory.
TIRED OF TORRES?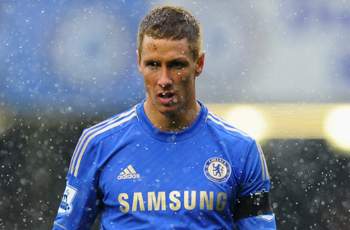 PLAYER RATING VS SPARTA PRAGUE



Another performance more suited to a pantomime than a professional football match. From the moment he missed an early half-chance by inches the confidence drained away, and what ensued might have been hilarious were it not so strange or sad. Luck, too deserted him in his better moments, but there can be no more excuses. The panto season has long since past, and it appears Torres' time has, too.
Benitez has been under pressure since landing the job back in November, and some fans have been vocal in their opinions.
Torres again failed to produce, as he has done for most of the season, but Benitez defended the striker whose only goal in the last 14 games came against League 1 opposition, Brentford.
"[Torres] didn't play badly tonight," Benitez told reporters.
"You can analyse a striker for the number of goals he scores. Maybe you're right. But he did a great job for the team tonight. It's not easy against a team playing deep, but he was winning the ball in the air, bringing options for those around him.
"I thought he was playing well. I disagree he was playing badly. But of course we want him to take the chances that come his way.
"If he continues working like today and playing like he did today, he will score goals. I'm convinced about that. We could be talking about Fernando not scoring goals, and he had four chances. But he had four chances."
Benitez will hope his side leave last night's sloppy performance behind them as they prepare for a trip to Manchester City on Sunday in a bid to close the gap on Roberto , before a midweek journey to Middlesbrough, where victory will set up an FA Cup quarter-final against Manchester United.