EXCLUSIVE
By Matthew Weiner | Arsenal Correspondent

It may seem remarkable, but having joined Arsenal in 2003 from French side AS Cannes, young left-back Gael Clichy has now been at the club for seven years.

In just his second season at the club, the Toulouse-born defender earned himself a
Premier League
winner's medal; two years later he was involved in the Gunners' fateful run to the
Champions League
final against Barcelona.

Now, aged 24, he is a relative veteran in this young Arsenal side that is looking to win the club's first silverware since the days of the Invincibles.

In this exclusive interview with Goal.com UK, Clichy reveals why he'd rather win the domestic title over anything else this season and why he'd like to face long-term Arsenal transfer target Marouane Chamakh in the quarter-finals of the Champions League.


So Gael, what were your aims both personally and for the club at the start of the season?
For the team it was about winning as much silverware as possible – of course, now that's just the
Premier League
and the
Champions League
. The Premier League is really good and close. The confidence is there and the quality is there – it's all for us to take - so hopefully we can make it.
And for you personally?
My personal goals are the same as the team's. If I can play well then I can go to the World Cup and for any player that is a dream come true. To do that I need to maintain my form from the last few games until the end of the season.
If you had to choose between the Premier League and the World Cup what would it be?
Hey, you said this was going to be an easy interview – you can't ask me this! [Laughs] To choose it would be really difficult. The World Cup is the best competition ever but at the same time I know that if I'm a champion with Arsenal then I've got a good chance of going to the World Cup. So I'd say I'll go for the Premier League.
What would be the best thing about winning the league this season?
Even though I didn't play many games, I won it a few seasons ago and it was a great feeling. When you work so hard for one year you go through good results and bad results; good publicity and bad publicity – but when you win the title it shows you've been the best team. That's why I want to win the Premier League over the Champions League. The Champions League may be a better trophy in the eyes of everyone but the Premier League shows a lot of character over a whole season so I really hope we're going to make it this year.
Is the atmosphere within the team better this season than ever before?
No, it's different. If you talk about the team that won the title without losing a game they had an incredible atmosphere and spirit. This year, we've all been playing together for four or five years and we're all the same age. So a player like Kieran Gibbs or Jack Wilshire who is 16 or 17 doesn't feel bad because we are all the same age, we can all laugh about other players and there is no trouble. That's what makes it special this year.
What is Cesc Fabregas like as a captain?
Cesc is a leader but on the pitch he just lets his football do the talking. When we're struggling to beat a team he's the one who pulls the team up. He's scored 17 goals and 16 assists – you cannot do more than that. He's not the kind of guy who says 'Come on man, we have to do this!' On the pitch, the only thing you can do is try to do as good as him because he's so great.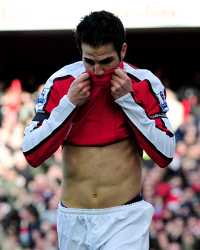 "Cesc is a leader but on
the pitch he just lets his
football do the talking.
When we're struggling to
beat a team he's the one
who pulls the team up"

Arsenal keep on being written off this season and yet you keep coming back. Has there been one game that made you really believe you can win the league?
It's not just one game but a lot of games. After the home game against Chelsea when we lost 3-0 we found ourselves 11 points behind them and you start asking questions of yourselves. But then a few weeks later we beat Bolton 4-2 and we were top of the league - so in this job you can never give up until the last minute. Everything is possible, particularly this year with teams dropping points against anyone at any time - that's been good for us.
The Arsenal fans certainly enjoyed the last-minute winner against Hull. How does it feel as a player?
It's great! If you lose, when you go back home to London you feel tired and you don't want to talk to anybody. In the week following the game you feel really down, nobody is talking and nobody is laughing. When you win you don't feel tired. If you have a game in two days you don't have a problem. You feel ready to go again. So Hull was really important for the confidence and the mentality of all the players. Hopefully against West Ham we can do better and kill the game earlier.
Arsenal have found it tough against West Ham in the past. You drew against them earlier in the season when you should have won. What is it about them that causes Arsenal problems?
They've got good players and they play good football even though this season they've been struggling. They've got great players up front, in the middle of the park and in defence plus it's a London derby. We know we can win against any team but it's a derby and you cannot always say that Arsenal will win by five goals.
This season, in sharp contrast to previous years, Arsenal have got the best away form in the league. What's this been down to? Have you been doing anything different?
No, no, no. It's just the way we play. It's difficult for teams to play against us because when you're home, it's supposed to be you making the game and taking responsibility for going forward. That's what we like – when teams challenge us and leave space for us to exploit. We have exciting players going forward and Cesc and Tomas Rosicky can always find the last pass. So it's good playing away from home even if sometimes you can have a hard time.
Why do you think Arsenal struggled against Manchester United and Chelsea this season? Was it because they refused to give you that space to exploit or they were too physically strong?
No, the last two games we played against them we conceded five goals and all five goals were due to individual mistakes. So, although it's really easy to say but if we can avoid individual mistakes then we can win the game. If you find yourself 2-0 down after an hour, it's difficult to go and win the game. Maybe we were not focused enough but in terms of quality we are up there with them.
Was it perhaps a lack of belief that led you to 'play with the handbrake on' and not play your game?
I'm not talking about Man U because we weren't up for the challenge. We were losing every 50/50, we were always second best. But against Chelsea, they played well and scored two goals – but apart from those two goals and Drogba's free-kick against the bar they didn't make any other chances and we had most of the ball. Of course you don't play football to keep the ball and to have more possession and more passes than the other team but it shows you that away from home we still controlled them and if it wasn't for the mistake and the first goal, who knows what would have been the result.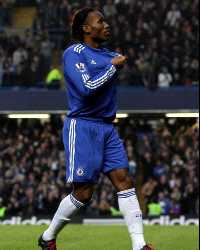 "Chelsea played well [against Arsenal] but apart from those two goals and Drogba's free-kick against the bar they didn't make any other chances and we had most of the ball."










Arsenal have played 4-3-3 this season. Does that change the way you play your role?
Yes, with 4-4-2 when the left midfielder gets the ball he is closer to me. So to overlap him is really easy and you can make a difference. But with 4-3-3, when the winger gets the ball he is really high up the pitch so it's really difficult to overlap him. You have to run maybe 40 metres without the ball to get anywhere near to him and by then he may have passed the ball or gone inside already. With 4-3-3 it's all about choosing when to go and when to stay, rather than just going for the sake of it. Sometimes you feel tired after an hour of the game so you have to be cleverer. It's harder for us full-backs but as a unit we are looking stronger and more solid than we did playing 4-4-2.
So is it a system you're still getting used to?
Yes, the first few games were difficult. I'm the kind of player who always tries to give 100 per cent, even if I know I'm not going to get the ball I go because I can take a player with me and that will open space for the midfield. Maybe now I'm being more careful, focusing on my defending and that's made it easier because now I feel less tired and so my crosses are better. It's something I have to think about but the most important thing is the team, so if we win something it doesn't matter if we play 4-3-3 or 6-2-0 or whatever.
The Champions League draw is on Friday. Who would you like to avoid and who would you like to face?
I'd like to avoid an English team. Not because they're strong because at this stage of the competition whoever you play are really good. But because you want to play a French team, a Spanish team, an Italian team – you want to taste this Champions League perfume. I'm French so I'd like to play a French team. I haven't played a French team since I joined the team so it would be so good for me and the French boys.
If you had to choose between Bordeaux and Lyon who would you pick?
I'd go for Bordeaux because I'm from Toulouse which is only an hour and a half away so my family and friends would come to the game. That would be amazing for me.
Plus we'd get to see Marouane Chamakh play against Arsenal...
Yeah! That would be good as well. We've heard a lot of Chamakh and Arsenal so that would be good for the fans to see how good he is because we don't really know him.
What would be your dream final?
My dream final would have been against Madrid – the way they play and the white shirt are all famous. But of course now the team to beat is Barcelona. Playing against Thierry would be great for the Arsenal fans and for us. Playing against a team like Barcelona is always a dream – especially if we win. So if I have to choose one team to beat in the final it would be Barcelona. For me, to win against the holders would be the dream final.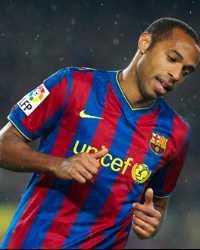 "Playing against Thierry would be great for the Arsenal fans and for us. So if I have to choose one team to beat in the Champions League final it would be Barcelona"


What's the best piece of advice Arsene Wenger has ever given you?
In France the managers have this thing that they want to make a player better in all aspects of their game. So if you're left footed they want you to be better with your right and even if you're one metre high they want you to be better in the air. The boss is like this as well but he's more 'Your qualities are pace, anticipation and left foot – so improve this. Improving those qualities will make you a better player.'
You've only ever scored one goal for Arsenal. Is that something you'd like to add to before the season is over?
[Laughs] That would be nice. Especially as I've got a challenge with Bacary Sagna and Johan Djorou about who can score more goals this season. It won't be difficult - only one goal will win it!

Gael Clichy models the new Umbro Stealth boots, designed for the smarter player. The kind of player who can out-think the opposition, hunt down the ball and use skill to find the net. With Stealth, you have to decide, are you fox or chicken?
For more info check Umbro.comBecome a fan of Goal.com UK's Facebook fan page for all the latest news and insight into everything related to the beautiful game!