Indian tycoon 'craves credibility' of owning Premier League giant
By
Neil Jones
| Liverpool Correspondent
The ownership situation at
Liverpool
has dominated the news around Merseyside for longer than most Reds would care to remember. The ill-fated reign of American duo George Gillett and Tom Hicks has hit the headlines for mainly the wrong reasons since they arrived at Anfield in 2007.
Debts of £237 million, a stadium which remains un-built despite promises of 'a spade in the ground within 90 days', almost three years ago, and a series of PR-gaffes – the latest of which saw Hicks' son, Tom Jnr, step down from the board after sending an expletive-laden e-mail to a concerned supporter, have all left most Liverpool fans feeling rather disillusioned.
Little wonder, then, that the news of potential new investors for the club has been greeted with cautious optimism on Merseyside. Indian tycoon Subrata Roy – the Chairman of Sahara, one of India's largest savings groups – is rumoured to be willing to take on Liverpool's spiralling debt, in return for a 51 per cent stake in the club.
But just who is this mysterious tycoon preparing a takeover bid for one of English football's great institutions? Goal.com UK caught up with Indian financial journalist Sharat Pradhan to fill in the blanks...
Subrata Roy, through Sahara, is heavily involved with India's cricket and hockey sides, so why the sudden interest in football? Is he known to be a football fan?
Roy neither had any love for cricket or hockey, nor was there any evidence of his being a football fan. He has never been involved with football in the past. It is widely perceived that all his "love" for sport has its roots in his business interests.
Since the bulk of his wealth comes from small savings from poor and semi-literate people living across the poverty-ridden and socially backward regions of Eastern Uttar Pradesh and Bihar, the Sahara tag displayed with India's most popular sport, cricket – or, for that matter, hockey - gives the company much credibility with the depositors. Sport was/is being used by the company to establish its credibility, which otherwise stood very low.
Is it known why he is targeting Liverpool specifically? Simply a financial reason or is there a genuine affinity or desire to improve the club?
Sure enough, financial reasons. There is no evidence to suggest that improvement of Liverpool Football Club has some kind of personal relevance to him.
Sahara were linked with a sponsorship deal with Manchester United recently – is there any truth to this? Their deal with the Indian cricket team also expires this year, is that likely to be renewed? Will such deals have an impact on any future investment?
When the Manchester United story came up, no one really took it seriously. There have been no real updates on that. As for the Indian cricket team sponsorship, for all we know they will secure a renewal. Anything that Sahara does is with future investment in mind.
Reports suggest Gillett and Hicks would be unwilling to cede a majority stake in the club. Would Roy be prepared to buy a minority stake at Liverpool to begin with, or is a majority, controlling interest the only possibility?
Roy would certainly want a major stake in Liverpool, but to begin with even a minor stake would do - his whole idea is to gain entry.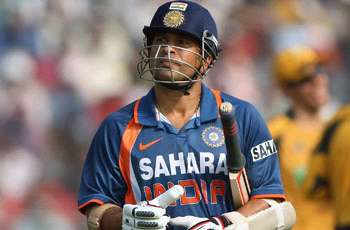 Brand power | Sahara sponsors Indian cricket team
He is something of a controversial figure - linked with politicians and celebrities regularly. Do you think he would relish the prestige of being involved with a club the size of Liverpool?
Roy has always thrived on publicity. Whether it is a company event or a private function. For his son's wedding he invited a who's who of Indian celebrities including Sachin Tendulkar, Amitabh Bachchan, and even ex-prime minsister Atul Behari Vajpayee attended. He knows the advantages of being associated with Liverpool as he has always craved credibility – and has been unable to establish it despite incredible wealth - so the prestige of a club like Liverpool would surely help boost his profile.
Liverpool have had plenty of problems with unfulfilled promises from their current owners, how has Roy handled the demands of fans/workers in the past? Is he someone who is known to deliver on his promises?
Other than his employees, I do not think the company has any 'fans' as such. As for employees, they have no real democratic voice, as the company has a highly regimented and feudal culture. But he is certainly known to fulfil his unilaterally announced promises to his employees.
Sahara is known for its almost cult-like work-force, with their own specific greeting for each other. Does that imply that Roy's leadership is very autocratic, or is he one for delegating effectively? Does he have a well-known team around him?
You said it; it is a cult-like organisation, where Roy's word is law. The employees are provided with booklets carrying Roy's thoughts and teachings - which need to be learnt by heart. Even the annual appraisal of the performance of the employees is done largely on the basis of their knowledge about these thoughts and teachings.