Arsenal and Tottenham dominate our XI this week, with five players from north London making the cut after both sides secured impressive victories over the weekend.
Gervinho features in our TOTW for the first time this season after scoring twice in the Gunners' 6-1 demolition of Southampton on Saturday, with team-mate Mikel Arteta also included and Kieran Gibbs unlucky to miss out in favour of Manchester United debutant Alexander Buttner.
For Spurs, double-goalscorer Jermain Defoe, Jan Vertonghen and William Gallas are all rewarded for their role in Sunday's 3-1 win over Reading – Andre Villas-Boas' first in charge at White Hart Lane.
Monday night's clash between Everton and Newcastle ended in an enthralling 2-2 draw, with one player from each team making our side. Demba Ba is included for the Magpies following his heroics as a second-half substitute, while Steven Pienaar seals a place in our XI for the second time this year.
A 1-1 draw with Stoke may not have been the result Manchester City were anticipating this weekend, but Javi Garcia grabbed a goal on his Premier League bow, and fills our final midfield slot.
Elsewhere, Matt Lowton is included at right-back following his influential role in Aston Villa's 2-0 victory over Swansea, with West Ham's Jussi Jaakelainen completing our TOTW in goal.
Leighton Baines, Brett Holman, Damien Duff and Dimitar Berbatov are all unfortunate to miss the cut, while youngster Raheem Sterling continued to impress for Liverpool.
JAASKELAINEN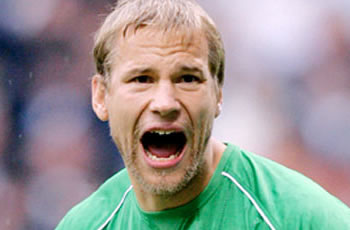 WEST HAM

vs Norwich (A)
Rating:




TOTW Apps:

1
LOWTON
VERTONGHEN
GALLAS

BUTTNER
ASTON VILLA

TOTTENHAM
TOTTENHAM
MAN UNITED
vs Swansea (H)
vs Reading (A)
vs Reading (A)

vs Wigan (H)
Rating:
Rating:
Rating:
Rating:

TOTW Apps:

1

TOTW Apps:

1

TOTW Apps:

1


TOTW Apps:

1
ARTETA
GARCIA
PIENAAR
ARSENAL

MAN CITY

EVERTON

vs Southampton (H)
vs Stoke City (A)
vs Newcastle (H)

Rating:
Rating:
Rating:

TOTW Apps:

2


TOTW Apps:

1

TOTW Apps:

2

BA
DEFOE
GERVINHO
NEWCASTLE

TOTTENHAM

ARSENAL

vs Everton (A)
vs Reading (A)
vs Southampton (H)

Rating:
Rating:
Rating:

TOTW Apps:

1

TOTW Apps:

1

TOTW Apps:

1