Chelsea trio Didier Drogba, Frank Lampard and Ramires all feature in our XI this week after their display in Sunday's 5-1 FA Cup semi-final victory over Tottenham.
The Ivorian opened the scoring at Wembley with a superb strike to give his side the lead, with the 34-year-old justifying Roberto Di Matteo's decision to start him ahead of the in-form Fernando Torres.
Ramires capped an impressive midfield display with his side's third goal of the evening, and Lampard joins him in the centre of the park following his blistering free-kick at Wembley to kill the game at 4-1.
Manchester City's Carlos Tevez makes his debut in our side after his hat-trick helped Roberto Mancini's side to an emphatic 6-1 win away to Norwich City, with team-mate Vincent Kompany making his fourth appearance in our XI this campaign.
Victor Moses and Gary Caldwell both feature in our TOTW for the second time in a row after Wigan's 2-1 victory away to Arsenal on Monday, while Ali Al-Habsi's superb display in goal also helped the Latics pull five points clear of the relegation places with just four games of the season remaining.
Swansea City's Joe Allen is rewarded for his efforts in Saturday's 3-0 victory over Blackburn at the Liberty Stadium, while Everton's Leighton Baines and West Brom's Billy Jones complete our defence at left-back and right-back respectively.
Honourable mentions must go to Liverpool's Andy Carroll and Chelsea's Juan Mata, who both just missed the cut despite their impressive showings at Wembley, with double goalscorers Wayne Rooney and Sergio Aguero also unfortunate to miss out.
AL-HABSI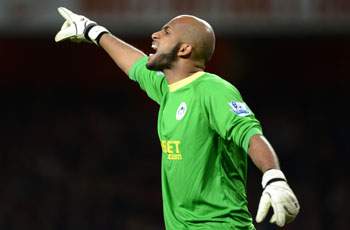 WIGAN
vs Arsenal (A)
Player Rating:
7.5
TOTW Apps:

4

JONES
KOMPANY
CALDWELL
BAINES
WEST BROM

MAN CITY
WIGAN
EVERTON
vs QPR (H)
vs Norwich City (A)
vs Arsenal (A)

vs Liverpool

Player Rating: 7.0
Player Rating: 7.5
Player Rating: 8
Player Rating: 7.5

TOTW Apps:

1

TOTW Apps:

4


TOTW Apps:

2


TOTW Apps:

5

RAMIRES
LAMPARD
ALLEN
CHELSEA

CHELSEA
SWANSEA CITY

vs Tottenham
vs Tottenham
vs Blackburn (H)

Player Rating: 7.5
Player Rating: 7.5
Player Rating: 7.5

TOTW Apps:

3


TOTW Apps:

5


TOTW Apps:

4

MOSES
DROGBA
TEVEZ
WIGAN

CHELSEA
MAN CITY

vs Arsenal (A)
vs TOTTENHAM
vs Norwich (A)

Player Rating: 8.0
Player Rating: 8.0
Player Rating: 8.0

TOTW Apps:

3


TOTW Apps:

1

TOTW Apps:

1