Theo Walcott, Robin van Persie and Bacary Sagna star in our TOTW following Arsenal's stunning 5-2 comeback victory over Tottenham on Sunday.
After a poor first half-display, Walcott eased the Gunners to victory with a well-taken second-half double, while Sagna continued his assured performances at right-back as the Frenchman's header kick-started the home side's resurgence.
Captain Van Persie makes his ninth TOTW appearance after he levelled the scores just before half-time with a curling effort from outside the box, before teeing up Walcott to extend his team's lead to 4-2.
Partnering the 28-year-old up front is West Brom striker Peter Odemwingie, who scored twice to help the Baggies to a 4-0 rout of Sunderland, while James Morrison capped a fine display with his side's second effort of the afternoon and the former Middlesbrough player makes his TOTW debut.
Joining Morrison in the centre of the park is Frank Lampard. The Chelsea man captained his side to a much-needed win over Bolton on Saturday, with his goal rounding off a 3-0 victory at Stamford Bridge.
Stewart Downing is included due to his exploits in Liverpool's League Cup final victory over Cardiff, although goal-scoring duo Martin Skrtel and Dirk Kuyt just fail to make the cut.
Bluebird's stopper Tom Heaton and central defender Mark Hudson both feature following a valiant defeat on penalties at Wembley, with Fulham's Brede Hangeland and Manchester City's Aleksandar Kolarov rounding off our TOTW defence.
Honourable mentions must go to Manchester United's David de Gea and Fulham's Mark Schwarzer, while attackers David Silva, Didier Drogba and Moussa Dembele all just miss out.
HEATON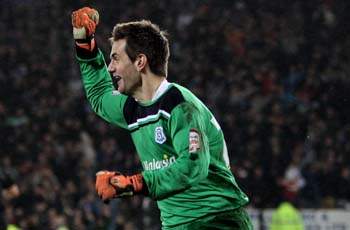 CARDIFF
vs Liverpool
Player Rating:
8
TOTW Apps:

1
SAGNA
HANGELAND
HUDSON

KOLAROV
ARSENAL

FULHAM

CARDIFF
MANCHESTER CITY

vs Tottenham (H)
vs QPR (A)
vs Liverpool

vs Blackburn (H)

Player Rating: 8
Player Rating: 9
Player Rating: 8
Player Rating: 8

TOTW Apps:

2


TOTW Apps:

2


TOTW Apps:

1


TOTW Apps:

1

WALCOTT
MORRISON
LAMPARD

DOWNING
ARSENAL

WEST BROM

CHELSEA
LIVERPOOL

vs Tottenham (H)
vs Sunderland (H)
vs Bolton (H)

vs Cardiff

Player Rating: 8
Player Rating: 9
Player Rating: 8
Player Rating: 7.5

TOTW Apps:

5


TOTW Apps:

1


TOTW Apps:

4


TOTW Apps:

1



VAN PERSIE

ODEMWINGIE









ARSENAL

WEST BROM






vs Tottenham (H)
vs Sunderland (H)







Player Rating: 8
Player Rating: 8.5






TOTW Apps:

9


TOTW Apps:

1