Howard Webb will take charge of the
Champions League
final between
Inter
and
Bayern Munich
on Saturday for what will undoubtably be the biggest game of his career.
Goal.com UK
introduces the man who will be in the middle of this season's biggest game, and also be England's representative at the World Cup this summer.
'Ello 'ello 'ello
The former policeman from Rotherham certainly isn't one to be messed with, perhaps an attitude carried over from his stint in the thin blue line.
And with his beefy appearance and shaved head, England's World Cup referee this summer prefers to officiate with intimidation rather than with constant name taking.
The 38-year-old has taken charge of over 300 games since becoming a Premier League referee in 2000, and in ten years of officiating has only dished out 45 red cards in career, thats 0.14 per game.
Known in England as straight-talking, strong-willed ref, Webb has a good relationship with players and managers.
Big Moments
2007 Carling Cup
Webb's first big game was the 2007 Carling Cup final between Chelsea and Arsenal and it was a bit of a baptism of fire, when the match ended with a large brawl, with all but two of the players on the pitch getting involved.
Chelsea's John Obi Mikel and Gunners pair Kolo Toure and Emmanuel Adebayor clashed for which all three received their marching orders, Adebayor for hitting Wayne Bridge during the melee.
This was the first time that three red cards had been shown in a League Cup final. Indeed, prior to this game only three red cards had been shown in all of the previous finals.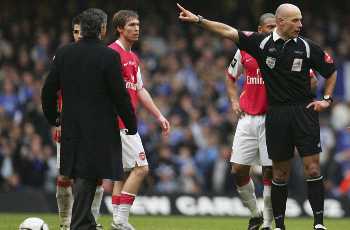 Clear off
| Jose enters pitch during heated final
No way, Jose

Saturday won't be the first time Webb has come face to face with Jose Mourinho - the pair have clashed while the Portuguese manager was in charge of Chelsea, including that Carling Cup final.

And while Jose had complimentary words for Webb, saying "he is a good referee who seems to get the big decisions right which is important", he wasn't so happy in September 2007 after Webb disallowed a Salomon Kalou goal for offside against Blackburn.

"I told him what I had to tell and what I told him was I am waiting for his phone call tomorrow to apologise," said Mourinho at the time. Three years laters it's not clear if that call ever came, but Mourinho will get the chance to ask on Saturday.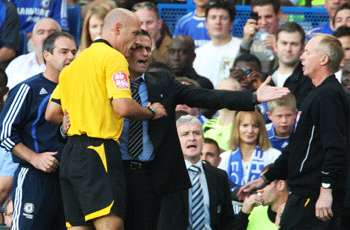 Call me | Jose wanted apology in 2007
Euro 2008
Webb's first match of his first big tournament was between Poland and Austria and ended in controversial circumstances.
With seconds remaining and Poland leading 1-0, Webb gave co-hosts Austria a penalty when he spotted a shirt pull by Sebastian Prodl on Mariusz Lewandowski. The penalty was converted and while the Poles went mad, some pundits described the decisions as "brave".
He further riled Poland by claiming after the match not only was the penalty the right decision but he should have disallowed Poland's goal for offside.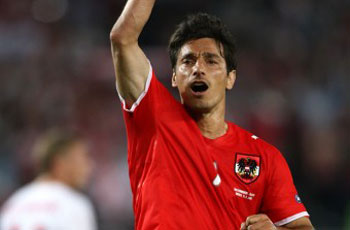 How is that
| Vastic scores pen gifted by Webb
February 2010
Webb upset Liverpool manager Rafa Benitez in February this year by not awarding his side a last minute penalty at the Emirates after Cesc Fabregas bizarrely handled from a Steven Gerrard free-kick. Fabregas raised his arm like a kid answering a question at school and clearly handled, but while standing outside the box.
Webb gave nothing and the Gunners won 1-0.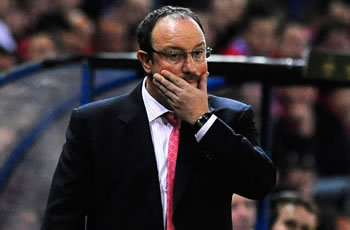 Fact
| Rafa got caught up in Howard's Webb
European games this season
Group Stage
Bayern 0-0 Juve - Three yellow cards, no reds.
Milan 1-1 Marseille - Three yellows, no reds
Dynamo Kiev 1-2 Barcelona - Seven yellows, no reds
Knockout Stage
Olympiacos 0-1 Bordeaux - Four yellows, no reds
Inter 1-0 CSKA Moscow - Three yellows, no reds
Goal.com World Views

Carlo Garganese, Goal.com International
: "Oh dear, the most over-rated referee in the world. Howard Webb is the kind of referee who will be perfect for 89 minutes, but will ALWAYS make one huge, decisive mistake per game. I don't like him - and I expect him to make one BIG error on Saturday."
Francois Duchateau, Goal.com Germany:
"I already know the German opinion: 'An English referee? Inter has won already'."
Sergio Chesi, Goal.com Italy:
"But he has the look of Tom Henning Ovrebo..."
SPOT THE DIFFERENCE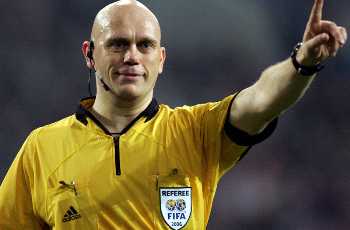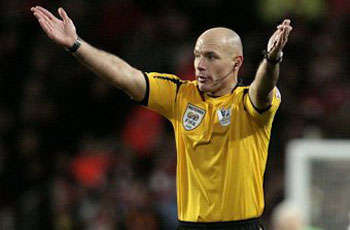 They could be twins...
Become a fan of Goal.com UK's Facebook fan page for all the latest news and insight into everything related to the beautiful game!